CONTACT
CLEO COYLE AT

CoffeehouseMystery(at)
gmail(dot)com
CLEO IS ON
FACEBOOK!


Click here to visit Cleo's Facebook Page. If you read her books, she will be delighted to accept your friend request. See you there!
---
---
To learn
more or buy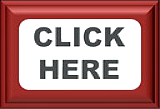 Or to find an
Independent
Bookstore
near you,

CLICK HERE.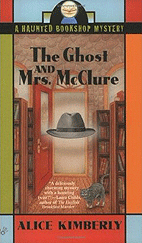 HAUNTED BOOKSHOP
MYSTERIES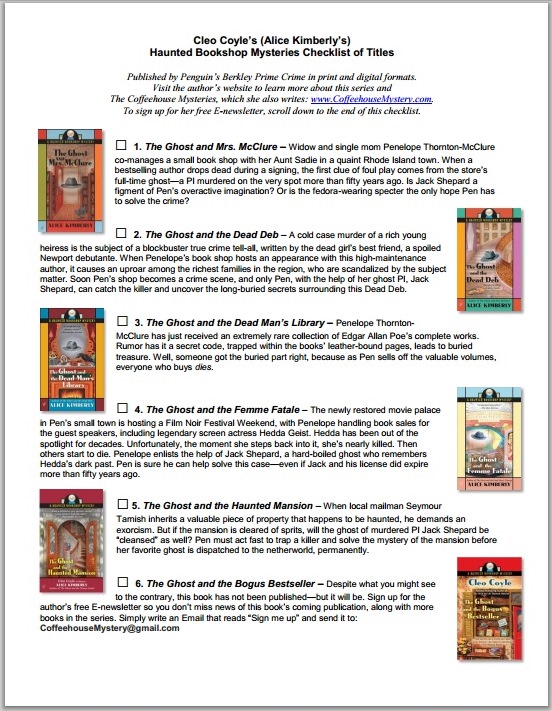 CLICK HERE
FOR TITLE
CHECKLIST



---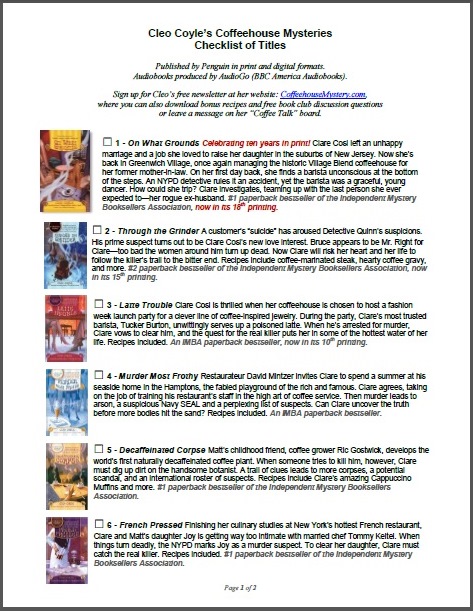 For a free checklist of the Coffeehouse Mystery books in order click here.
---
WHO IS
CLEO
COYLE?

To read Cleo's
essay "Brewing
up Murder"
The essay
appeared in
the Quarterly
Issue of Mystery
Readers Journal
---
To read
Cleo Coyle's
WIki Entry
Click Here
---
American
University
Magazine
interviewed
Cleo Coyle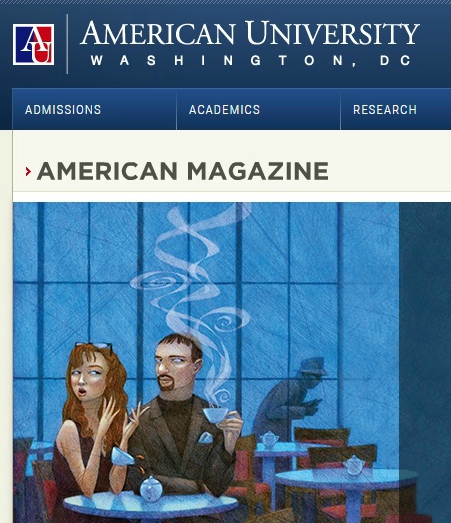 ---
**NEW**
INTERVIEW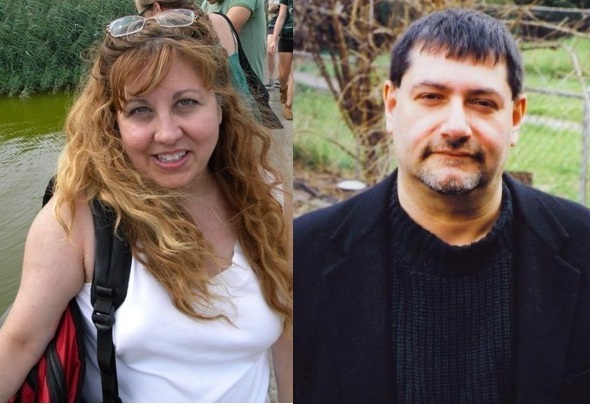 *NEW*
Cleo Coyle Interview, Click Here to read it at the award-winning blog: Lesa's
Book Critiques
*
---
What is a
cozy mystery?
The Cozy
Mystery
List tells you!

Click here
to learn more...
---

Gumshoe
Review
Interviews
Cleo Here
---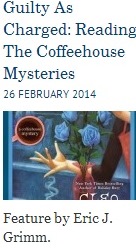 Sprudge.com
is the "most popular
coffee publication
on the planet."
Read Cleo's
interview with
Sprudge by
clicking here.
---
LIBRARY
THING
Hosted a chat
with Cleo.

Read it by...
---
A BLOG
POST FOR
WRITERS:
Read Cleo's
Guest Post at
Mystery Writing
Is Murder

"Genre Blending
and Your Character's
Love Life"
Click here
to read.
---
Cozy Murder
Mysteries Blog
Interviews
Cleo
---
Fun Foodie
Book Resort
Interview
with Cleo
Here.
---

Cleo's Q&A
with the
Hartford
Examiner


---
FREE
READING
GUIDES

COFFEEHOUSE
MYSTERIES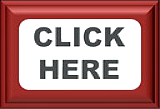 Book Club
Discussion
Questions
---
How to Clean
Your Drip
Coffee Maker...
Your best tasting
cup of java will
come from a clean
coffee maker!
*
*
For more coffee
tips, scroll down
this left column...
---
NYPD DET.
MIKE QUINN'S
BEAT
Click » NYPD: Official Website for New York's Finest
Click » NY Crime File (Daily News)
Click » Police Blotter (NY Post)
---
How to Make
Cuban Coffee
CLICK HERE
for video
* * *
For more
info on the
Moka Express
stovetop pot
used in the
above video,
---
*Starred Review*
~Library Journal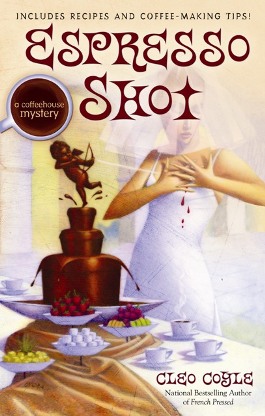 To learn more
or buy...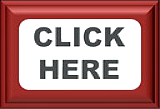 CLICK HERE
TO READ A
FREE EXCERPT
---
How to Make
Coffee in a
French Press
---
Cleo's Past
Coffee Pick was...
Kafe Lespwa
"Coffee of Hope"
from Haiti

Click here to
visit Just Haiti.org
and sample the
coffee for
yourself!
A
Good
Cause!
See more of
Cleo's past
coffee picks
by scrolling
down the
right column.
---
Publishers
Weekly
Bestseller
LEARN MORE
OR BUY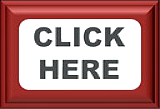 "Fun and gripping…"
~ Huffington Post


"Some of the most
vibrant characters
I've ever read."
~ Mystery Scene


"This one will keep
your cup
piping hot."
~ Kirkus




vif
---
Welcome to Cleo's
Coffee Talk
Message Board!
TYPE YOUR POST BELOW.
HIT THE SAVE BUTTON.

Readers are also welcome to
"Friend" or "Follow" Cleo on
Facebook by clicking here.


You can also e-mail Cleo at this address...
CoffeehouseMystery@gmail.com

jazzy egg * donut egg * haunted egg
September 4, 2009
Antonio Banderas as Matt!
CASTING MATTEO...
I "see" an Antonio-type guy as Matteo whenever I read the Coffehouse books!
Hugs,
Janet
(your new Pgh-area writer friend)
Cleo's reply: Hey, Homegirl! I found a little Video Clip to illustrate your great suggestion.
*CLICK HERE to see Janet's hot "pick" for my
Coffeehouse Mystery character Matteo Allegro.
*Disclaimer: This is a link for a video posted at YouTube.com. If you have any questions or problems with this YouTube content, please contact YouTube, which posts videos under it's own licenses and legal terms of service. Thank you.
Hmmmm...You know, I just remembered something... At the end of Decaffeinated Corpse, Matt wears a costume to an exclusive Halloween party. The costume depicted the legendary pulp character ZORRO, who was played in the movies by Antonio Banderas. LOL!
~Cleo
September 4, 2009
Tom Hanks as Jack
Hi Judy,
Your certainly right about Tom's Shoulders and Age, I was seeing Tom's facial features in the pic Cleo posts as what she pictures Jack as looking like. Btw, my mom's name is Judy and her neighbour kids can't pronounce her name so they call her Julie, they sent her a card one time and it was even addressed to Julie lol.
~Chelle
in Canada
September 3, 2009
Coffee Quote
Hello! I came across the best quote just now and wanted to pass it along.
"Actually, this seems to be the basic need of the human heart in nearly every great crisis—a good hot cup of coffee"
~Alexander King.
(I say, who needs a crisis?) Isn't a great quote though? Have a great day!
Annette the RN
:)
September 1, 2009
My pick for Jack
I love Tom Hanks as an actor but I think he's too old to play Jack and he definitely does not have the shoulders! I think that Phillip Winchester (the actor that plays on "Crusoe") would make a good Jack. Great build and great chin! I'll interview him for the role, if you insist.
~~Nurse JudyMac
August 29, 2009
Tale of a Texas
Re-posted from Cleo's e-mail box at VillageBlend@aol.com...
Hi Cleo,
I'm a big fan of your books and your Web site. My aunt sent me this picture of a rattler! I don't know if you are from Texas, but those rattlers (rattlebugs, that's my grandmother and I call them) get huge!
This picture reminded me...
I once stepped on one by accident! My grandparents had a house out of the city and all of the family was visiting that day! Well, thank goodness my husband told me to wear my boots that day! It was dark and I was loading my son up in the car, I hear something rattle by my foot! Let me tell you it was a rattlesnake!
Luckily, I had stepped on it's head. Then, my little cousin came around the corner, and I was holding her away from it so my uncle could pick it up with a shovel and throw it in the pasture! That whole time I never lifted my foot until my uncle came! I was terrified!
When we got home I looked at my boots, and sure enough there was an imprint of where it tried to take a bite of me! Thank you to my husband, uncle, and my thick boots! This is not the picture of my rattler! This one is from my aunt!
Take care,
Tiffney
Abilene, Texas
Cleo's reply: Hi, Tiffney. I love that picture and your story, too. I hope your aunt doesn't let that delicious rattlesnake go to waste. Because... although I'm not from Texas (I grew up in Western, Pennsylvania), even I know that rattlesnake is good eatin'!
CLICK HERE
for Rattlesnake Recipes!
Wishing you java joy,
~Cleo Coyle
August 29, 2009
How about Tom Hanks as Jack
Hi -
I like that Sandra Bullock Idea for Clare. :-)
I have another one, I keep thinking of Tom Hanks as Jack. the pic Cleo posts of what Jack looks like reminds me of Tom Hanks. Finally!...
September is here I love Autumn, the kaleidoscope of bright coloured leaves, the golden lights shining on the rain soaked pavement to welcome you into homes and shops and best of all, the new books will be getting released including Holiday Grind!
I requested it at the library and I'm number 1 on the list, there's 3 books ordered by them and at last look 3 or 4 people waiting on the list already :-) ty for the anticipation Cleo.
Chelle in Canada
Cleo's reply: Thanks, Chelle! I love your description of the coming fall...so glad to hear you're anticipating HG, too. As always, great to hear from my girlfriend up north.

~Cleo
August 28, 2009
Loved Espresso Shot - and Sandra Bullock as Clare Cosi!
Miss Congeniality
click to see...
Starbucks meets the FBI
Starring Sandra Bullock
Re-posted from Cleo's
e-mail box VillageBlend@aolcom
Hello Cleo,

I was just enjoying your Web site (again!) and I had to respond to something you posted. I think Sandra Bullock would make a GREAT Clare Cosi! In fact I often think of actors to portray characters in my favorite books, especially ones with recurring (and beloved) characters.
I think it would be awesome if your books made it to the big screen! I also loved the quote about addicts waiting in line. I sincerely believe there should be a line for people who NEED coffee and another line for everyone else (ie: tea drinkers, people who don't know what they want and those odd people
who actually order decaf aka "why bother").
I just finished ESPRESSO SHOT and loved it!...I had to laugh when I read Clare talking about macchiatos. At Starbucks I was taught to "mark the foam" the opposite way that the Blend does. Now I know better! Thanks for several weeks of great reading! I SO look forward to HOLIDAY GRIND!
~Annette, RN
(and former barista) Chicago area
Cleo's reply: "Casting" my books is an awful lot of fun. I guess next we have to figure out who should play "Matt"-- maybe a reader poll on the site in the near future?! Nice to hear from you again and thanks for your nice words about ESPRESSO SHOT!
~Cleo
August 24, 2009
In Defense of Food...blog review
Re-posted from Cleo's e-mail at VillageBlend@aol.com...
Hi there. This is Cleo Coyle posting today. A woman named Tina signed up for my newsletter with a signature that included a link to her blog (see the link below). I noticed that she had reviewed Michael Pollan's bestselling book In Defense of Food...
Tina's lively, personal review brought back many of my own memories of growing up with Italian immigrant parents and grandparents in Western Pennsyvlania, including my dad bringing in dandelions from the yard for dandelion salad and making homemade wine from the grapes he grew in our suburban back yard.
(The piping of an old swing set served as a makeshift but ingenious framework for his grape arbor.)
I hope you'll enjoy Tina's review as much as I did. You can read it by clicking here...
~Cleo Coyle
August 24, 2009
Love your books!
I love reading your books and learning about coffee at the same time! I'd love to have a Village Blend in my neighborhood (sans the murders, of course!)
Cleo's reply: LOL! Love the "sans the murders" part! Thanks for dropping in and making me smile today. Check out my Java Emoticon...
FYI - The history of emoticons is fascinating. Believe it or don't, the first documented use of smiling and frowning emoticons was at my old alma mater (CMU)...more absolutely useless trivia to toss into your brainpan.
~Cleo
August 23, 2009
Artemis Cafe - Portland, Oregon
Re-posted from Cleo's e-mail box at VillageBlend@aol.com...
From: Wendy
To: Cleo
The Coffeehouse Mysteries are my favorite mystery series because they make my mouth water so much. Every time I read one, I am inspired to try new coffees and find new favorite coffee spots.
My current favorite is the Artemis Cafe. (I live in Portland, Oregon.) They brew single-varietal Stumptown Coffee, and while their espresso is tasty, I can't rave enough about their drip coffee. It is fantastic, and I feel like I've traveled the world through their coffee cups.
Wendy continues...
Of course, it doesn't hurt that the place makes an amazing double-chocolate chip cookie that is like tender, intense chocolate meringue and truly remarkable pies. The Shaker Lemon is outstanding.
Thanks much,
Wendy
http://operabuffo.blogspot.com
Cleo's reply:
Hi, Wendy. First of all I'm thrilled that you're enjoying my Coffeehouse Mysteries—especially gratified because you are such a lover of the bean. Also happy to hear a good personal review of Stumptown. They are legend in Oregon, of course, and now they're coming to New York City so we're about to experience them on this coast, too.
I clicked over to your blog and read your recent post about writing as a drug. I couldn't agree more. I'm so happy when I'm writing, too. I go into the legendary "bliss" state.
As Joseph Campbell described it: When you are doing something that you enjoy so much you lose track of time (almost entering a trance state), that's pretty much the definition of being involved in a "blissful" activity. (And yeah, it's also the def. of being happily medicated, too -- lol!)
No kidding though...I'm convinced that hard alcohol and most antidepressants would be thrown into the bin if people paid more attention to what endeavor put them in their own bliss state—be it writing, quilting, cooking, ping pong, or rebuilding a car engine—and made time to enjoy it regularly.
That's my take on it, but I'm simply agreeing with you in other words...
In thanks for giving me *virtual* food for thought, I'm serving you a *virtual* big chocolate chip cookie - also in tribute to your favorite cafe's great CC cookie! Eat with joy, Wendy, and keep in touch!
Cheers,
~Cleo
Joseph Campbell: "Have you ever read Sinclair Lewis'Babbit?"
Bill Moyers: "Not in a long time."
Joseph Campbell: "Remember the last line? 'I have never done the thing that I wanted to do in all my life.' That is a man who never followed his bliss."
: )
August 21, 2009
Love Jack and Penelope
Really, really enjoy your Haunted Bookshop series. Would like to date Jack, if there were two of them.
Looking forward to #6
Cleo's reply: Thank you, that's very nice...hold on a second. What? Jack's in my ear. What's that Jack? He says I should type the following...
What do you mean two of me? I'm right here, doll. In spirit. Give me the address of your crib, and I'm there.
Abysinnia...
- Jack Shepard, PI
Sorry about that. He gets fresh sometimes. If you feel an unnatural chill, don't panic. It's probably just Jack dropping in, uninvited.
Thanks for stopping by my *virtual* crib--and thanks especially for reading my books.
"Spirited" good wishes,
~Cleo Coyle
aka Alice Kimbery
aka Jack's typist.
August 21, 2009
Moosehead Quilts
What a great post, Cleo!
I've always loved the idea of quilting and the pictures of the quilts were amazing. Thanks for sharing this.
~Elizabeth
Cleo's reply: Thank you, Elizabeth. Joanna is such an inspiration - a breast cancer survivor with a true love of life and enough energy to light up New York City. She and "Madame" (one of the characters in my CM series) would get along just fine.
~Cleo
August 21, 2009
HOLIDAY GRIND!!!!!!! HOLIDAY GRIND!!!!!!!!!!!!!!
I just wanted to know when we would get an excerpt of Holiday Grind posted on your website. I thought I read that an excerpt would be available for viewing somewhere on this site sometime in July. Am I wrong?
Eagerly anticipating,
~Andrea
Southfield, MI
Cleo's reply: Hi Andrea - thanks for asking! The new release time for the exclusive excerpt is Labor Day weekend. If you are a subscriber to my e-newsletter (which I suspect you are), then look for the exclusive excerpt from Holiday Grind in my "Labor Day Extra" e-newsletter!
If you or anyone reading this
would like to sign up for my
free e-newsletter, it's very easy.
Just send an e-mail that says
"SIGN ME UP" to my e-mail address: VillageBlend@aol.com
Java cheers to you Andrea! Thank you being such an enthusiastic reader. I'm so happy that you're looking forward to Holiday Grind. I had the greatest time writing it. I hope you have as much fun reading it!
Early holiday greetings,
~Cleo
August 19, 2009
NOTE TO CLEO
I love the Haunted Bookshop series. Can you tell me when I can expect the next book?
Thank you.
Cleo's reply:
Look for the new book in the Haunted Bookshop Mysteries (also known as "The Ghost" Mysteries) next year - 2010. Here is the series title list in case you missed any of them...
Book 1 - The Ghost and Mrs. McClure
Book 2 - The Ghost and the Dead Deb
Book 3 - The Ghost and the Dead Man's Library
Book 4 - The Ghost and the Femme Fatale
Book 5 - The Ghost and the Haunted Mansion
Book 6 - Coming next year...
Thank you for stopping by the site (mysterious anonymous reader person) and thanks especially for reading my books...
~Cleo
aka Alice
aka Jack Shepard's typist...
(Jack's the ghost. An explanation for anyone
who has not yet read this series! LOL!)
August 18, 2009
Coffee and Books - I have left the Planet
Ms. Cleo:
I volunteer at a large library in Charleston on top of a full time job with the Federal Government. I love working there because I have found so many books by old and new authors and finally found you!!! What a blessing and am I'm having the time of my life.
Coffee and Books, oh! my! oh! my!. I can't stop.
I read the first, The Ghost and Ms. McClure and went back to the library and got the other four. Can't wait, Can't wait.
You are a great writer and the books was funny, enjoyable and I love Pen and Jack. I want to build and buy a bookstore one day. I hope I get a "ghost." Thank You, Thank You A Million Times.
Will be right there for the newest one.
Go!! Jack!
Cleo's reply:
HELLO
CHARLESTON!
Do not be alarmed. I shout-out things like that so folks who scroll down the page can find other readers from their towns, states, and (in some cases) countries...
Your post is wonderful and how I adore Charleston - the food, the history, the painted ladies, the ghost stories! I had some fun cooking lessons there (from a graduate of Johnson & Wales) and took an amazing Gullah tour, where I met Alphonso Brown
who introduced me to the renowned African-American blacksmith Philip Simmons! (A remarkable artisan and American treasure who passed away just this past June.)
Photo of Mr. Philip Simmons by Alice Alfonsi,
who writes as Cleo Coyle, taken with his
permission while Alice was visiting
with him in Charleston, SC.
Mr. Simmons's modest Charleston, SC, home is where he created the amazing wrought iron work that earned him the highest honor that can be bestowed on a traditional artist in the United States: an NEA National Heritage Fellowship. To the left is my own picture of Mr. Simmons, which I took when I met him at his home on Mr. Brown's excellent Gullah Tour. Below (also my photo) is an example of Mr. Simmons's wrought iron work, held up against the background of his Charleston home. (BTW One way that you can tell if wrought iron has been
worked by hand is by the extreme curls in the work. Mass produced iron cannot give you this kind of detail.)
"My instrument is an anvil," Mr. Simmons once said.
Back to you "Charleston Reader"...I'll call you that because you did not sign a name...
How wonderful that you are volunteering at a library on top of a full-time job. Sure, you like reading, and that's great, but it's still time out of your day and week and any volunteerism in this country must be applauded. Three java cheers for you and thank you also for saying you will "be right there" when the new book comes out. (I hope that means you will buy it. LOL!) I love libraries and librarians, but we writers do need to sell books to keep writing.
Making a living in the arts is a struggle (we do it for love not money but the bills do come in), and I'm so appreciative when fans say they want to buy and make "keepers" of my books to read again and again. It's more than a compliment to my ego: it's an active financial "vote" with their hard earned money, to keep me in the office, writing more entries in a series they (hopefully) enjoy. And speaking of writing...I'm off to do more of it.
Have a great day and thank you sincerely for taking the time and trouble to drop by and write me that wonderful note.
"Spirited" good wishes from Jack and Pen and...
~Cleo
"My instrument is an anvil. I guess some of you have heard me play a tune on the anvil, the old blacksmith tune…That anvil fed me when I was hungry and that anvil clothed me when I was naked. That anvil put shoes on my feet."
~Philip Simmons,
Master Blackmsith
of Charleston, SC
Recipient of the NEA National Heritage Fellowship, the highest honor the United States can bestow upon a traditional artist.
Love, Cleo
Photo of Mr. Philip Simmons by Alice Alfonsi,
who writes as Cleo Coyle, taken with his
permission while Alice was visiting
with him in Charleston, SC.
August 15, 2009
Addiction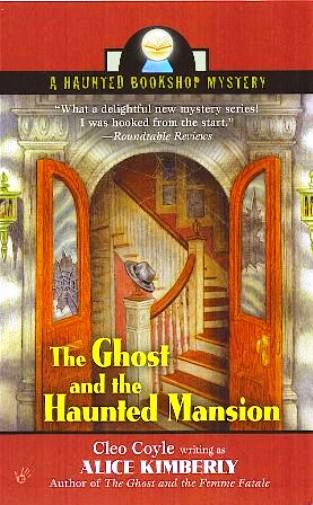 Hi Cleo!
I love your Haunted Bookshop series!! So much that I don't blame Penelope for falling for a ghost! Sometimes when my friends and I talk, I find myself thinking of how Jack would respond!
I truly enjoy reading your series. You have inspired me to write again! I used to write a few years ago--my own poetry and short stories but I stopped due to a lack of time and inspiration but I think you have brought that back for me. Can't wait for the next book! Keep up the good work! ;)
~Holly
PS: I might have the chance to take a detective fiction class sometime soon! If I do, I'll let you know!
Cleo's reply:
Hello Holly. Thank you so much for your amazing note. It literally made me tear up. If any of my books have inspired you to put pen to paper again, I'm thrilled. I owe my own debt to so many writers who have inspired me—your note make me feel that I'm beginning (even in the smallest way) to pay them back.
The detective fiction class sounds like a lot of fun. I hope you do take it and report back. I'm sure Jack will have a thing or two to say, as well. If you feel a chill, it's probably just him auditing. No doubt he'll have a few choice things to whisper in your ear about your teacher's opinons on portraying private eyes in fiction.
Thanks again for stopping by, Holly! Keep in touch,
~Cleo/Alice
August 15, 2009
Pictures?
Hi Cleo, Are there any pictures of you on the web site? I noticed that there are not author pictures in your books...Your readers would love to see pictures! I love, love, love your books and am anxiously awaiting the lastest one in November! I am thrilled to find this web site!
Take care,
Diane
Cleo's reply:
Hi Diane. Thank you for stopping by...
I think a writer's words are more important than what she looks like and I want my words to be more important than my image, you know? That's why I'm a writer. But if you'd like to see my picture, then click over to the blog where I post recipes and tips every Friday. Scroll down to my latest post and there I am...
http://www.MysteryLoversKitchen.com
I'm so happy to hear that you're enjoying my mysteries - I'm honestly inspired every single time a reader tells me that. No kidding: It means the world to me.
Wishing you java joy,
~Cleo
P.S. Below is a link that you'll also find on this Web site. It's an interview that I did over a year ago. (You'll notice I talk about Espresso Shot as an upcoming hardcover. By now, of course, it's already been out almost a year and Berkley Prime Crime is going to be releasing it in paperback this October). You'll also see in this interview that I talk about my collaboration with my husband and lots of other things. Cheers and thanks again for stopping by...
A SPOOKY CONVERSATION!
Amanda Killgore, reviewer for Huntress and Eternal Night, interviewed Cleo/Alice about her Ghostly series. Cleo/Alice discusses inspirations for her Haunted Bookshop novels, including her love of The Ghost and Mrs. Muir and (don't get spooked now) cemeteries.
Click here to read the interview
----------------------------------------------------------------------
August 14, 2009
Coffee is the lifeblood of nurses...
Reposted from Cleo's e-mail box...
VillageBlend@aol.com
Hello!
I just had to let you know that I have just recently discovered your wonderful books and have been thoroughly enjoying them! You are seriously into your coffee! I LOVE that!
I am an RN. Because of my "legal addiction" (as Clare would say) I became a part time barista for the love of the bean. Unfortunately the need to earn more money in today's economy forced me to work more at my profession rather than my other passion so I had to hang up my apron.
Reading your books has been so much fun from someone who really enjoyed the work. Thanks so much! And please keep them coming!!!
(Yes, coffee is the lifeblood of nurses--believe it! I am an ICU nurse too and we certainly need it for our intensity!)
Your sister in coffee
~Annette, Chicago area
Cleo's reply:
Hi, "Sister" Annette, LOL! I am grinning. Clearly, RN's and coffee DO go together! I have at least three nurses now who have posted on my Message Board. Watch for posts from "Nurse Judy," who, like you (and Clare and I) has a "legal addiction" to coffee. She even posted about her foodie tour of New Orleans about a month ago, which I made a Home Page feature.
I'm so happy that you found my books--and me. You're doing the work of angels. May Heaven help you daily because of it. Come on back and post again!
Warmest java wishes,
~Cleo
August 14, 2009
I'm addicted to Coffee House Mysteries
Hi Cleo!
Just wanted to thank you for opening up a whole new genre of reading for me. I always loved Murder She Wrote but never read a mystery until I decided to take a chance at the Library when I saw your book Espresso Shot (my favorite type of coffee totally addicted). I read it in one evening and logged onto your site the next day. I enrolled in your coffee sweepstakes and unbelievable won!
The next Saturday I stopped at Barnes and Noble and bought every book in the series, which I enjoyed reading along with the cofee you sent me. I can't wait for Holiday Grind.
My cat, who is pure white, is totally addicted to coffee (wish I had named her Java). Last night I came downstairs to find suspicious brown spots on her face. She got into the coffee grinds in the garbage. I have to unplug the coffee pot because she learned to turn it on. Well, I got long winded just to say your series is a wonderful escape from everyday!
~Jeanne
Cleo's reply:
Hi Jeanne! Thank you so much for posting about your experience with the wonderful world of coffee!!! Love the kitty story and you'll be especially pleased to know that a little white kitten has a very important role in my next CM Holiday Grind. I hope you enjoy that one, too!
Warmest java (& feline loving) wishes,
~Cleo
August 14, 2009
Hai's YouTube Coffee Pick
Hi,
I know that you've been telling your fans to tell you when they come across something on Youtube that is coffee related. Or that's just me paraphrasing. But somehow I really like this video, even though it's not music, it is very inspirational somehow to me. Hope you like this as well as I do. Oh, look at my signature! I am truly a fan of yours and coffee's.
Hai's pick for a
YouTube "Coffee Video"
CLICK THE LINK TO SEE...
http://www.youtube.com/watch?v=UGTaW082UFg
PS. My regular drink @ Starbucks is a 6- to 8-shot black Americano :). My rationale? Well I like strong coffee but just espresso is too expensive and not much to drink over a period of time.
"I believe humans get a lot done, not because we're smart, but because we have thumbs so we can make coffee."
~Flash Rosenberg
"Sleep is a symptom of caffeine deprivation."
~Some random person
~Hai
Cleo's reply:
Thanks, Hai. I'm so happy that you're one of my readers! Love your YouTube Coffee Pick, too.
Espresso wishes and latte joy,
~Cleo
P.S. Wow. You aren't kidding about loving coffee. Your choice of drink is serious!
August 13, 2009
Suggestion for finding your own
Hi Cleo!
I've noticed that many readers are looking for great coffeehouses near them. One idea is to log onto the coffeegeek site. Then go into the forums until you find the regional ones. They've given me several ideas-I can't wait to check out Comet Coffee in Ann Arbor, Mich, for example!
Best,
Debra
Cleo's reply:
Hi, Debra! I activated all of your links.
Everyone,
www.CoffeeGeek.com is a wonderful site for people interested in taking their coffee experience to the next level. (Warning: it's pretty wonky when it comes to coffee making--meaning if you aren't really making your own coffee yet, you might be a little put off by all the technical discussions.) But Debra's right: This is a great place to find a new, local coffeehouse in your area. Or ask the folks on the forum pages where to find one.
To get to the forums (aka online discussions), just use the link above in Debra's note that says forums. Now scroll down the page until you get to the very last foum topic titled "World and Regional" --now click on your region and you're ready to search or start a topic and ask about finding a good coffeehouse in your area.
Thanks again, Debra.
Great idea!
~Cleo
August 13, 2009
It's official...Chelle's making pizza
I now wear an apron for a living. I make pizzas to be exact, but after a few months of pizza and mostly learning how to work the till, I'm hoping that those skills will transfer and I can work at a coffee shop or bakery, it's a little more sophisticated :-) though my fellow staff members and management at this place are awesome.
It's really funny though, I'm only 4 foot 10 so I can't reach alot of stuff, for instance I have to jump to hang my apron back up and wrap the strings around me three times, I have to stand on a milk crate to use the machine that flattens the dough for pizza crust and bread sticks, and someone has to pull the pizzas and breadsticks out of the oven for me because the oven exit is level with my bangs and I'm scared I'll burn my arms if I try reaching up there. Now I know a bit of how the little people must feel....
~Chelle
on the coffee coast of Canada
Cleo's reply: LOL, Chelle! Good luck with the new job! To answer the question you had for me: Real life experience is very helpful. As a writer, I draw from my own experiences all the time (even if those experiences were years ago). Keep a journal of your triumphs and failures in your new job. Write down your feelings when dealing with co-workers, customers, your own challenges and successes—and especially the funny stuff that happens on the job, too. As a writer yourself, you'll realize (possibly even years from now) how valuable those experiences are...
~Cleo
August 13, 2009
Intelligentsia Report
Not knowing Chicago, you suggested I try Intelligentsia to simulate the Village Blend experience. Well, yesterday I stopped by 3123 Broadway and had a good experience. Though baristas don't wear nametags, I met Kyle Glanville, last year's winner of the U.S. Barista Championship and also an employee of Intelligentsia.
I've been having a problem with a leaking Toddy and have learned to use a basket filter. Bought some beans to try at home. Loved my iced latte. I'll return with some of the Cuppa Joe Mocha Drops I made sans coconut or nuts....
I'm almost finished with The Ghost and the Haunted Mansion, my first Haunted Bookshop Mystery. I'll read the rest while I wait for Holiday Grind... This is fun!!
Cleo's reply: Hi there. Thank you so much for trekking over to Intelligentsia and reporting back. I'm so impressed (I made you my site feature today - Aug. 13). I'm absolutely thrilled that you met barista champ Kyle Glanville.
If you post again, one small thing, would you mind signing with some sort of signature?
You can sign "Chicago reader" or with your initials. I just need a sig for you on the board. I assume you are a woman, but if you are a man, let me know so I can say "he" or "she" whenever I refer to you (as in the main page feature today - Thurs. 8/13 if you are reading this on another day). Thanks again!
Warmest java wishes,
~Cleo
August 11, 2009
Espresso Shot
I stayed up until 1 this morning finishing this book. Wow, what an attention grabber. I thought I knew who had done it, so did Clare but we were all surprised.
Your books are also good for the coffee industry. I had to go out and buy a coffee before I could finish it. Being that it is August, I had to get a cold coffee or Frappucino as they call the cold ones here.
Oh, I am a librarian and I both buy your books for our library and I also of course recommend them to our readers.
Keep up the good work. Your books are very interesting and teach me so much that I didn't know and for the longest time, didn't care about. Wish we could have coffee in our libraries to go with your books.
Will you be coming to Georgia any time?
~Jean Hughes
Cleo's reply:
Hello Georgia!!
Hi Jean,
I'm so happy that you posted...(me grinning). I'm always absolutely thrilled to hear from librarians—the hippest people on the planet, as far as I'm concerned, because you are the keepers of the literary flame.
Georgia is the home of "DragonCon," one of the most impressive sci-fi/fantasy conventions in the country and I had the greatest time the year I attended in Atlanta. All I wanted to do was stay in Georgia and tour around you amazing state--and keep sampling your delicious cuisine. ( I could eat my way through every Georgia town, I think! )
My writing sked these days is pretty killer, but I'm hoping it will let up soon. And if I'm ever able to go back to Georgia, you can be sure I'll post it on the site, mention in my newsletter, and look you up, too!
I sincerely appreciate your taking the time out of your day to stop by my *virtual* coffeehouse home. Thank you for the lovely words about Espresso Shot. I'm so happy you enjoyed it, and I hope you'll keep in touch!

Warmest java wishes,
~Cleo
August 11, 2009
Pam from Birmingham - Coffee Drawing Winner
Pam was last week's winner of Cleo's free coffee drawing. The following is Pam's reply to Cleo's notifying e-mail...
Thank you! I am so excited to win this coffee. It is one of my favorite—I visited Germany last November and brought back several bags as gifts for family and friends. It was recommended by a new friend from Germany.
I am really enjoying both of your mystery series. I started with the coffee theme and then when I ran out, I picked up the Haunted Bookstore series. Both are wonderful and I am looking forward to the next ones!
I love reading your newsletter, too!
Oh, by the way—I found your Coffeehouse Mysteries one day when I went to my local bookstore for coffee and a relaxing place to read. It's a winning combination! Thank you again,
~Pam
Birmingham, Alabama
Cleo's reply: I'm so happy you're pleased with the Coffee Pick prize. Thanks for letting me know and thanks also for reading my books!
Warmest java wishes,
~Cleo
Click here
to learn more about the Coffeehouse Mystery novels.
To purchase the books,
click here
or
here
or
here
.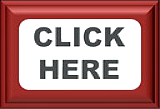 ---
Clare Goes to
Washington!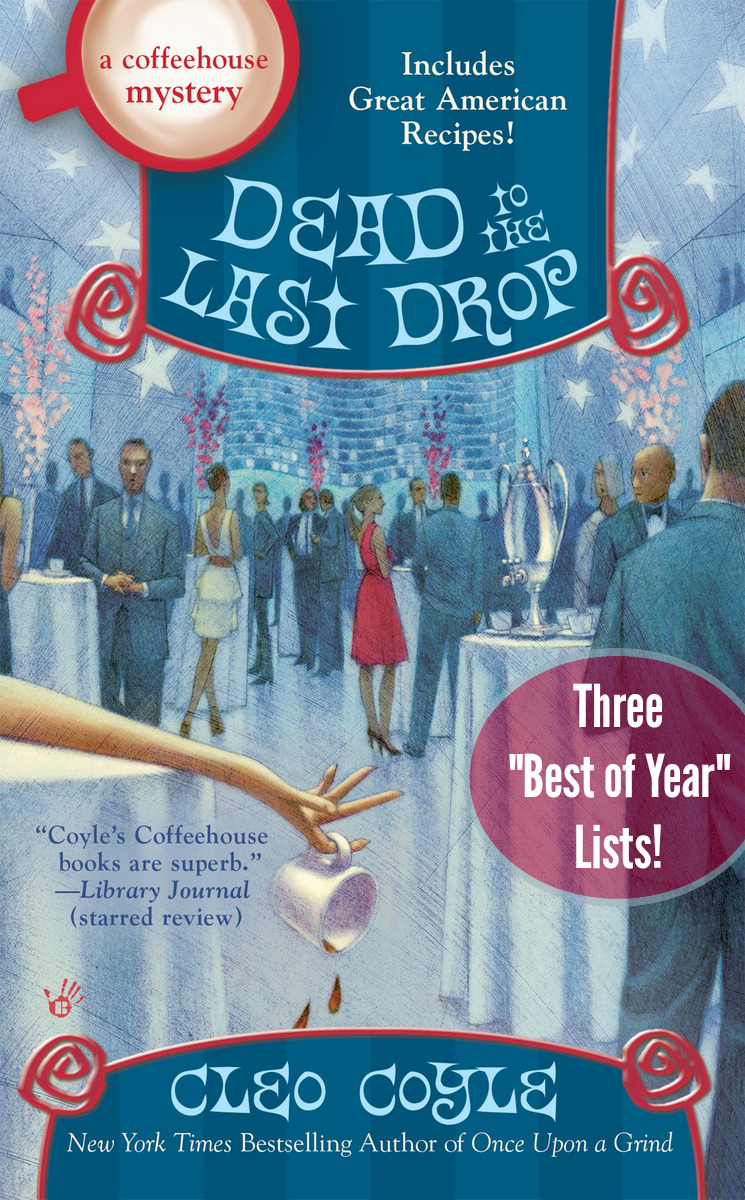 Dead to the
Last Drop
National Bestseller
3 Best of Year Lists!
TO LEARN
MORE or BUY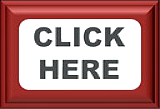 With an appendix of
amazing recipes...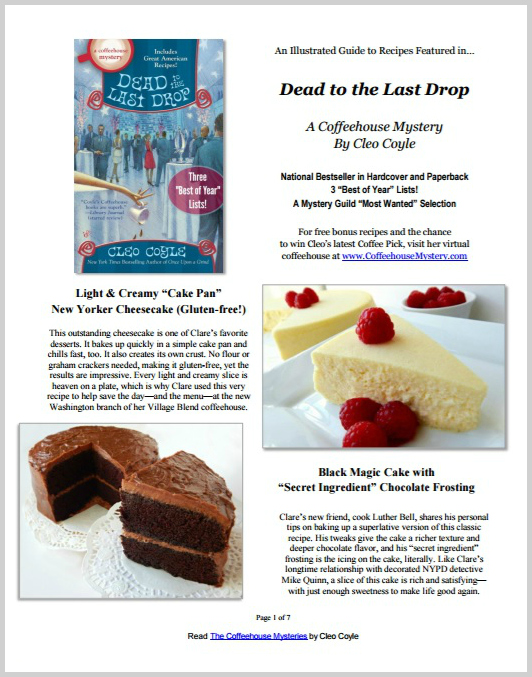 ---
FREE
READING
GUIDES

---
---
It's Official!

Now a
BESTSELLER
in paperback!
#3 bestselling
paperback mystery
at B&N Stores
Nationwide!

Cleo's 10th
Coffeehouse
Mystery
Murder
by Mocha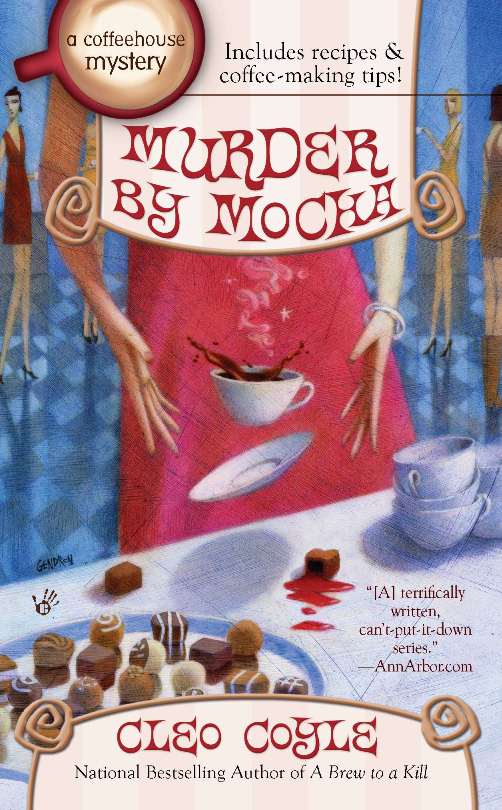 4 Year-End
Best Mystery
Lists!
This bestselling
hardcover is
now reprinted
in paperback,
and a...

TOP-10*
Mystery
Bestseller,
Nationwide!

*Barnes & Noble
*
Includes
Chocolate
Recipes!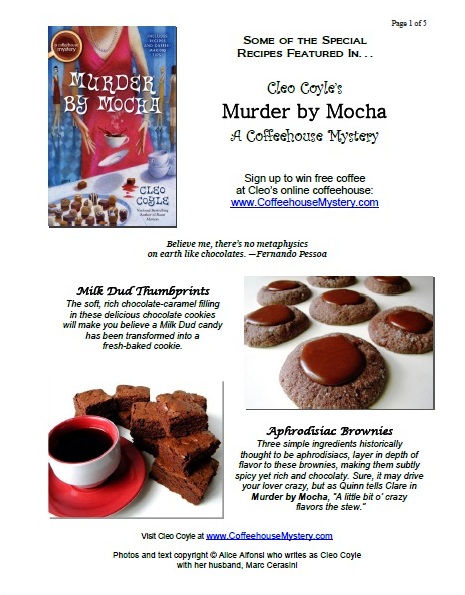 This is a
PDF document
and will take a
minute to load.
"...a tasty tale
of crime and
punishment
lightened by
the Blend's
frothy cast of
lovable
eccentrics."
~ Publishers
Weekly


---
Read
with joy!

~ Cleo
---
Arson leads
to murder
in...
ROAST
MORTEM

Named as a
"Favorite Book
of the Year!"
Reviewer's Pick
~ Bookreporter.com
Now a
National
Mystery
Bestseller!*
A deliciously
thrilling
culinary mystery
that's also a
tribute to
firefighters...

See some of
Roast Mortem's
featured recipes by
CLICKING HERE.


---
---
#1
Bestselling
Paperback
French
Pressed

#1 Bestseller
Independent
Mystery
Booksellers
Association
April 2008
---
Caffeinated
Cheers

to
COUNTER
CULTURE
COFFEE
"Top Innovator"
DETAILS magazine named Counter Culture Coffee as #1 (of North Carolina) among five industry "innovators creating coffees that have the complexity of fine wines."
I'm a big fan of Counter Culture and have written about them on this site and in my books. Read my Coffeehouse Mystery: French Pressed or scroll down this column to my "Coffee Pick" list.
Says Counter Culture: "We hope that such media coverage helps spread awareness that coffee can not only be an authentic, delicious food experience, but also a conduit for community, sustainable agriculture, and cultural exchange."
~ Cleo
---
A
#1 Bestselling
Paperback
Decaffeinated
Corpse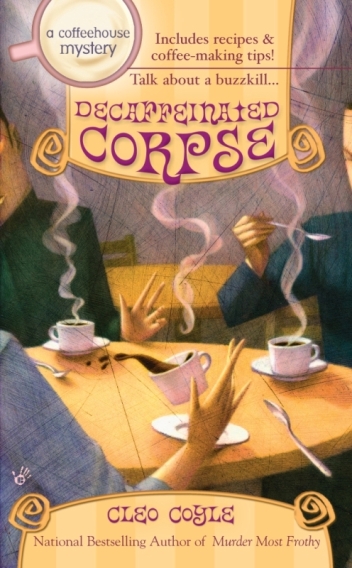 #1 Bestseller
Independent
Mystery
Booksellers
Association
July 2007
---
BULLETS
ON THE
BEACH
Murder
Most Frothy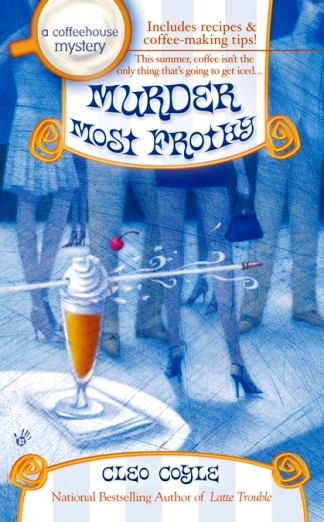 Murder Most Frothy
Cleo's 4th Coffeehouse Mystery gave her amateur sleuth, Clare Cosi, a summer job as a "coffee steward" at a posh new eatery in the Hamptons, the fabled seaside escape for New York's rich and famous.
When a co-worker is gunned down, she's on a case that leads her to strange clues on the beach, a rogue Navy SEAL, and a suspicious manager at the restaurant where she's pouring gourmet cups of joe...
NEW YORK
HAMPTON'S
COFFEE CO.
CLICK HERE to visit some real coffee peeps who work hard to give the Hamptons folks a great cuppa joe.
* * * * * *

And
just for fun...
Peter Pans

"Overstaying the
Hamptons Party"

New York
Times
Click below to read a past Times feature about "house shares" in the Hamptons and men who try to keep the postcollege "boys of summer" party going decades after their undergrad days. Shades of my character Matt Allegro? Hmm...
---
2010 WORLD
BARISTA
CHAMP
Mike Phillips, our U.S. Barista Champ, finished among the top 3 baristas in his first World competition, held in Atlanta, Georgia. The following year, in Olympia, London, he won FIRST PLACE and is now THE WORLD CHAMPION FOR 2010! Way to go, Mike!

How did he get there? "I really care about coffee and the entire chain of things, from where the coffee is grown and processed, all the way to the shop where it's prepared and the customers who enjoy it."
Mike worked at Intelligentsia Coffee & Tea when he won the barista competitions. To virtually visit the store, click here.
*
---
Java Master Gives
Tips on Making
the Perfect Cup
Italian-born Gennaro Pelliccia is responsible for the taste of the 108 million cups of Costa coffee sold in Britain each year. His policy with Lloyd's of London insures his tongue for 10 million pounds!

Click here to read Mr. P's tips on making a great cuppa joe...
FREE
EXCERPT!
for Cleo Coyle's
2nd series...
Haunted
Bookshop
Mysteries
THE GHOST
AND THE
HAUNTED
MANSION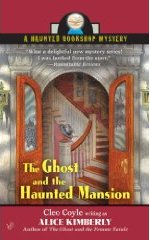 * National Mystery
Bestseller!
Independent Mystery
Booksellers Association
Meet the ghost at...
* A Fresh Fiction
Fresh Pick!
Click here
to read a
Free Excerpt

---
Want to Grow
Your Own
Coffee Plant?
Thanks to CM reader Linda for posting info about where to buy coffee plants and seeds. Click here to go to the coffee seed catalog page and scroll down. Look for the "coffea" plants listed in ITALIC alphabetically.
Coffea arabica
Coffea catura
Coffea kona
Linda also says: "Gurney's Plant and Seed catalog has small coffee plants for $8.95 each. Click here and look for item # 11295 for coffee plants."
---
WAKE UP AND SMELL...
THE CANVAS!
"I started painting with coffee because I wanted a cheaper medium that was accessible to me," says Filipino artist Sunshine Plata. A tube of oil paint costs at least 500 pesos ($11), while a jar of instant coffee is only around 150 pesos ($3). Click here to read more about Sunshine and her coffee art.
---
Caffeine
Myths
A New York Times story by the amazing Jane Brody examines coffee and health, click here to read more. (I learned a lot about the myths of caffeine!)
*
Click here to read about a Harvard study that shows coffee's link to preventing heart disease.
*
Click here to read how a cup of coffee a day may offset Alzheimer's disease.
---
In Memoriam
Sheena
2.21.2009
---
Ethiopian Coffee Ceremony!
Yes, like the Japanese with their tea traditions, the Ethiopians have a very special way of enjoying coffee. Click here to learn more!
---
Coffee Health News!
Coffee May Boost Memory
in Older Women
Women older than 65 who drank more than three cups of coffee a day — or the caffeine equivalent in tea — showed better memory retention than men, a French researcher reports. To read more in a Scientific American article, click here.
---
COFFEE NEWS!
Ethiopia announces commercial culitvation of low-caffeine coffee plants! Ric Gostwick's "dream" coffee from Decaffeinated Corpse is no longer fiction! To read about this amazing breakthrough, click here.
---
AND NOW
FOR SOME
OF CLEO'S
PAST
COFFEE PICKS...
---------------------------
SEPTEMBER '07
Cleo's Coffee Pick:
MAGNOLIA GRILL BLEND
With the tip of a chef's hat to the married couple who run Magnolia Grill, Cleo's coffee pick for SEPTEMBER 2007 was Magnolia Grill Blend sold by Counter Culture Coffee roasters.
---
OCTOBER '07
Cleo's Coffee Pick:
GOMBE RESERVE
Cleo's pick for OCTOBER 2007 was Gombe Reserve sold by Green Mountain Coffee Co. and endorsed by Dr. Jane Goodall.
---
NOVEMBER '07
Cleo's Coffee Pick:
MAJOR DICKASON'S BLEND
In tribute to the late, great Alfred Peet, Cleo's pick for NOVEMBER 2007 was Major Dickason's Blend sold by Peet's Coffee and Tea. To read Cleo's past featured article "Alfred Peet and the Birth of Coffeehouse Culture" as well as the article after it about the Major Dickason coffee blend itself, go to Cleo's article archives by clicking here and scrolling down.
---
JANUARY '08
Cleo's Coffee Pick:
"YIRG" - ETHIOPIAN YIRGACHEFFE
Cleo's pick for JANUARY 08 was Ethiopian Yirgacheffe sold by Counter Culture Coffee Company. This coffee was also featured in Cleo Coyle's Coffeehouse Mystery: FRENCH PRESSED.
---
FEBRUARY '08
Cleo's Coffee Pick:
RWANDAN VILLAGE BLEND
Cleo's FEBRUARY '08 pick was Rwandan Village Blend sold by Land of a Thousand Hills Coffee Co. To read Cleo's archived article on this coffee, click here and scroll down.
---
MARCH '08
Cleo's Coffee Pick:
KENYA
Cleo's MARCH '08 pick was Kenya, sold by Counter Culture Coffee, Co. and Peet's Coffee. This coffee was also featured in Cleo Coyle's Coffeehouse Mystery: FRENCH PRESSED.
---
APRIL '08
Cleo's Coffee Pick:
PURPLE PRINCESS
Cleo's April '08 pick was the amazing "Finca El Puente" from a coffee in Honduras nicknamed "Purple Princess" by the coffee director of Counter Culture Coffee of Durham, NC. This coffee was also featured in Cleo Coyle's Coffeehouse Mystery: FRENCH PRESSED.
---
MAY - JUNE '08
Cleo's Coffee Pick:
PAPUA NEW GUINEA
Cleo's June '08 pick was the "Jamaica Blue Mountain" of the South Pacific. An award-winning coffee grown on the exotic island of Papua New Guinea (north of Australia).
---
JULY - AUGUST '08
Cleo's Coffee Pick:
SOLAR ROAST COFFEE
Cleo's July - August '08 pick was Solar Roast Coffee of Pueblo, Colorado, the only company in the world that roasts its coffee using solar energy! Meet Dave and Mike, the two brothers who invented this one-of-a-kind solar roaster, and learn how you can purchase their delicious coffees for yourself by clicking here or typing SolarRoast.com into your browser.
---
SEPT. - OCTOBER '08
Cleo's Coffee Pick:
JOE'S VIENNA ROAST
from the NYC coffeehouse:
Joe, The Art of Coffee
The September-October '08 pick was Joe's Vienna Roast, sold by Joe, The Art of Coffee café in Greenwich Village, New York, recently named one of the best coffee bars in the country by Food and Wine magazine (and one of Cleo Coyle's inspirations for her fictional Village Blend!). CLICK HERE to visit Joe online. (To read Cleo's archived article about the Joe cafe, click here.)
---
NOV. - DECEMBER '08
Cleo's Coffee Pick
BOUCHON BLEND
This smooth, delicious coffee is the House Blend served at Bouchon Bakeries, which are owned and run by award-winning chef Thomas Keller. This coffee was featured in Cleo Coyle's 7th Coffeehouse Mystery: ESPRESSO SHOT. It is blended and roasted by Equator Estate Coffee and Teas, a women-owned company based in northern California. Click here to visit the company and try their coffees for yourself.
---
JANUARY 2009
Cleo's Coffee Pick
NOT KOPI LUWAK!
One of the rarest coffees on the planet, Kopi Luwak is also one of the most expensive. Kopi Luwak was also a featured coffee in Cleo's 7th and most recently released Coffeehouse Mystery: ESPRESSO SHOT. To read Cleo's brief archived article on Kopi Luwak and learn how it got its hilarious nickname: "cat poop coffee," click here and scroll down.
---
SPRING 2009
Cleo's Coffee Pick
ROOSTER BROTHER's
LA MINITA ESTATE
(Costa Rica)
This outstanding single-origin bean is treated with love by the coffee team at Rooster Brother, a store for cooks housed in a historic Victorian building in Ellsworth, Maine. Master Roaster Gene (pictured) does a masterful job of bringing out the very best in this smooth, bright, delightful coffee with the kind of hints of citrus and berry usually found in high-quality African beans. Click here to visit George and Pamela Elias's Rooster Brother store online and order some of this superb coffee for yourself! (Thanks to Coffeehouse Mystery reader Bud Knickerbocker of Bangor, Maine, for suggesting it!)
---
MAY - JUNE '09
Cleo's Coffee Pick
BISHOPS BLEND
Creating blends is a culinary art, and I'm happy to report that the roasters for Bishops Blend have done a masterful job at creating theirs. The beans are roasted medium dark and the package came to me (via UPS) freshly roasted, beautifully oily, and smelling of chocolate. The coffee is perfectly balanced; and as it cools, the notes include a slight vanilla flavor and a touch of cinnamon. Even better, when you purchase a bag, a percentage of the money goes toward ERD, a charity that provides disaster relief around the world as well as enabling people in the poorest communities on our planet to climb out of poverty.
---
SUMMER 2009
Cleo's Coffee Pick
DALLMAYR PRODOMO
Imported from Munich, Germany
To learn about this beloved German coffee brand, including tips on where to purchase it in America, read Cleo's feature article by clicking here. This is an archived article and make take a minute to load.
---

FALL 2009
Cleo's Coffee Pick
AMARO GAYO
(Ethiopia)
roasted by
Gimme! Coffee
An exotic Ethiopian coffee sold by the outstanding roaster Gimme! Coffee, which takes pride in getting it to you expertly and freshly roasted. Visit the roaster by clicking here.
---
SPRING 2010
Cleo's Coffee Pick
FRENCH LAUNDRY
ESTATE BLEND
roasted by
Equator Estates Coffee
"Roaster of the Year"
~ Roast Magazine

This "chef's blend" was created especially for award-winning Chef Thomas Keller's world-renowned French Laundry restauant. The roaster is Equator Estates. Visit the roaster by clicking here.
---
Summer-
Fall 2010
Cleo's Coffee Pick
Kafe Lespwa
"Coffee of Hope"
from Haiti
To purchase this coffee
or learn more about it,
CLICK HERE.

To Read Cleo's
feature post on
this coffee, CLICK HERE
and scroll down

---
Spring-
Summer 2011
Cleo's Coffee Pick
Cops Coffee

COPS
COFFEE
"Midnight
Shift"
dark roast

"Your safest cup
of brew..."
---
Mocha Java
Blend

To learn
more or buy,
click here.
and...

Dancing
Goats Blend


To learn
more or buy,
click here.
---
Winter
2011 - 2012

Cleo's
Coffee Picks
from
Rooster
Brother

A boutique
roaster in
Ellsworth,
Maine
Costa Rica's
La Minita Estate

"The Lafite of coffees."
An amazing cup
of joe from


To visit the
Costa Rican farm
where this coffee
is grown,
click here...
To read more
about this coffee
or purchase it
for yourself,
click here.
and...
100% Kona
Coffee

Grade:
Extra Fancy

Grown by
Kona Star Farms
of Kona, Hawaii
To learn
more, click here.
NOW
SOLD OUT
---
Cleo's
Spring 2012
Coffee Pick
Brazil's
Poco Fundo
"Almond joy
in a cup"
Roated by
Seattle
Coffee Works
---
Cleo's
Summer 2012
Coffee Pick...
From the
"Coffee Goddesses"
of Maine
Bistro Blend
&
Fireside Blend
Roasted by
Carpe Diem
Coffee Roasters

To learn more
or purchase,
click here.
---
---
WIN COFFEE
---
---
---
FREE
READING
GUIDES

---