CONTACT
CLEO COYLE AT

CoffeehouseMystery(at)
gmail(dot)com
CLEO IS ON
FACEBOOK!


Click here to visit Cleo's Facebook Page. If you read her books, she will be delighted to accept your friend request. See you there!
---
---
To learn
more or buy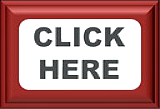 Or to find an
Independent
Bookstore
near you,

CLICK HERE.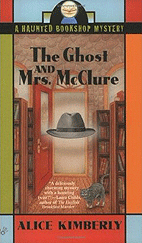 HAUNTED BOOKSHOP
MYSTERIES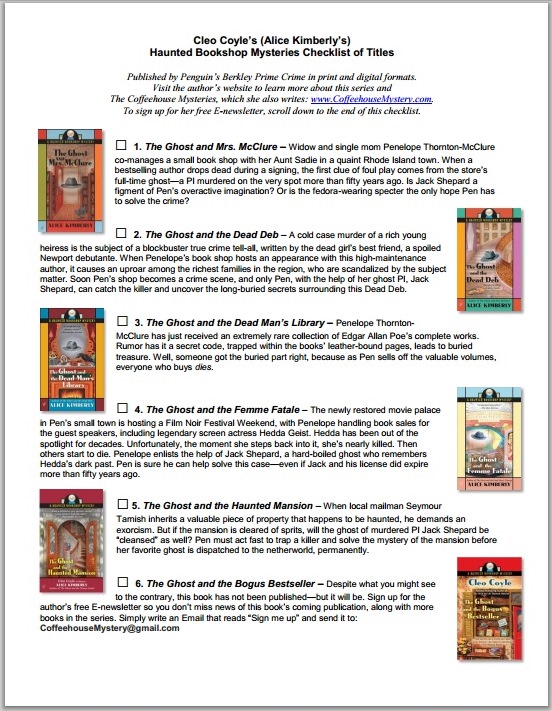 CLICK HERE
FOR TITLE
CHECKLIST



---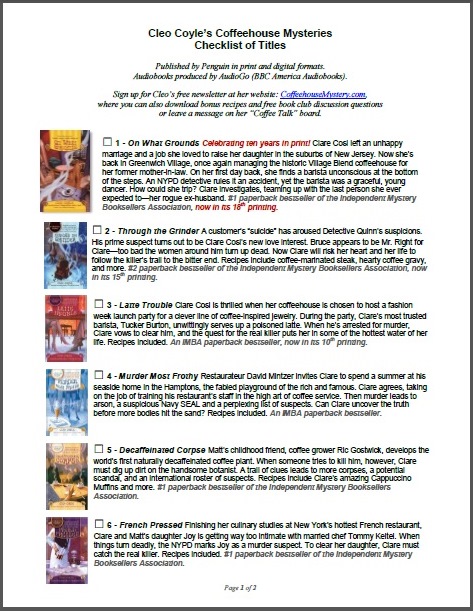 For a free checklist of the Coffeehouse Mystery books in order click here.
---
WHO IS
CLEO
COYLE?

To read Cleo's
essay "Brewing
up Murder"
The essay
appeared in
the Quarterly
Issue of Mystery
Readers Journal
---
To read
Cleo Coyle's
WIki Entry
Click Here
---
American
University
Magazine
interviewed
Cleo Coyle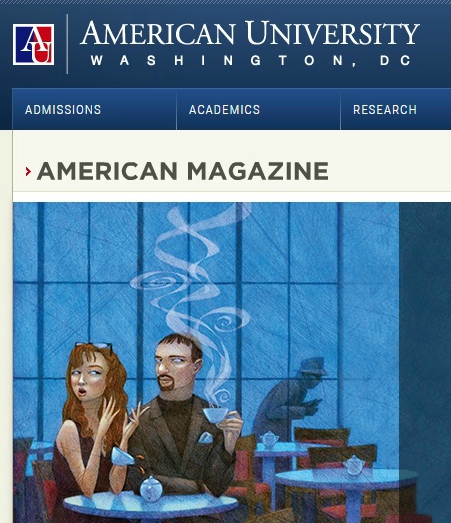 ---
**NEW**
INTERVIEW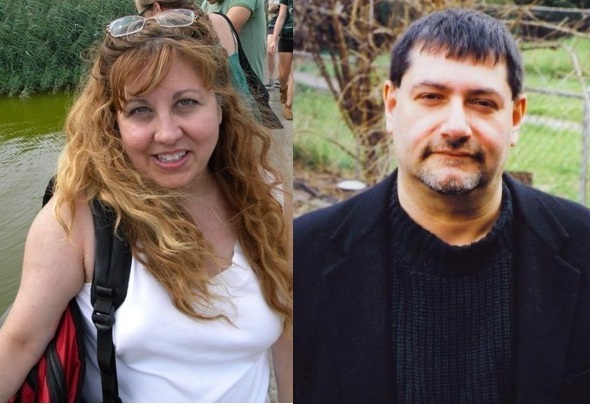 *NEW*
Cleo Coyle Interview, Click Here to read it at the award-winning blog: Lesa's
Book Critiques
*
---
What is a
cozy mystery?
The Cozy
Mystery
List tells you!

Click here
to learn more...
---

Gumshoe
Review
Interviews
Cleo Here
---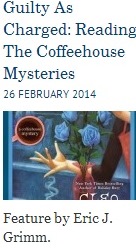 Sprudge.com
is the "most popular
coffee publication
on the planet."
Read Cleo's
interview with
Sprudge by
clicking here.
---
LIBRARY
THING
Hosted a chat
with Cleo.

Read it by...
---
A BLOG
POST FOR
WRITERS:
Read Cleo's
Guest Post at
Mystery Writing
Is Murder

"Genre Blending
and Your Character's
Love Life"
Click here
to read.
---
Cozy Murder
Mysteries Blog
Interviews
Cleo
---
Fun Foodie
Book Resort
Interview
with Cleo
Here.
---

Cleo's Q&A
with the
Hartford
Examiner


---
FREE
READING
GUIDES

COFFEEHOUSE
MYSTERIES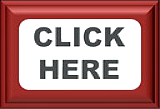 Book Club
Discussion
Questions
---
How to Clean
Your Drip
Coffee Maker...
Your best tasting
cup of java will
come from a clean
coffee maker!
*
*
For more coffee
tips, scroll down
this left column...
---
NYPD DET.
MIKE QUINN'S
BEAT
Click » NYPD: Official Website for New York's Finest
Click » NY Crime File (Daily News)
Click » Police Blotter (NY Post)
---
How to Make
Cuban Coffee
CLICK HERE
for video
* * *
For more
info on the
Moka Express
stovetop pot
used in the
above video,
---
*Starred Review*
~Library Journal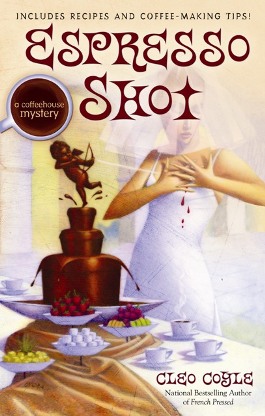 To learn more
or buy...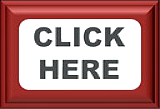 CLICK HERE
TO READ A
FREE EXCERPT
---
How to Make
Coffee in a
French Press
---
Cleo's Past
Coffee Pick was...
Kafe Lespwa
"Coffee of Hope"
from Haiti

Click here to
visit Just Haiti.org
and sample the
coffee for
yourself!
A
Good
Cause!
See more of
Cleo's past
coffee picks
by scrolling
down the
right column.
---
Publishers
Weekly
Bestseller
LEARN MORE
OR BUY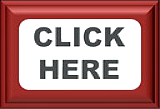 "Fun and gripping…"
~ Huffington Post


"Some of the most
vibrant characters
I've ever read."
~ Mystery Scene


"This one will keep
your cup
piping hot."
~ Kirkus




vif
---
Welcome to Cleo's
Coffee Talk
Message Board!
TYPE YOUR POST BELOW.
HIT THE SAVE BUTTON.

Readers are also welcome to
"Friend" or "Follow" Cleo on
Facebook by clicking here.


You can also e-mail Cleo at this address...
CoffeehouseMystery@gmail.com

jazzy egg * donut egg * haunted egg
August 10, 2009
Love, Love, Love the Books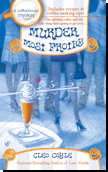 I stopped by the library hoping to find something good to read but was not too optimistic I would find anything. I accidentally came across your book entitled Espresso Shot. I was hooked from page one and have since also read, Murder Most Frothy, Through the Grinder, Latte Trouble and Decaffinated Corpse. And all these I have read in the span of two weeks!!
I look forward to my days off when I can just snuggle up on the couch with one of your books or when I can enjoy the weather outside by cozying up in my favorite patio chair!!
I have never truthfully read many mystery books but your books are such a delight to read. By the way, I myself am also a huge coffee lover. I look forward to reading more of your books and am pleased to see that you also have the Haunted Bookshop Mystery series.
~Melissa
Houston, TX
Cleo's reply:
HELLO,
HOUSTON!
Greetings to you, Melissa, and thanks for dropping by my little *virtual* coffeehouse. I loved your "happy accident" story in finding my books, and I'm so happy you are connecting with them.
As I often say here, my books aren't for everyone. My two series are very different. Plenty of readers are enjoying their trips to my "Village Blend" in Greenwich Village as much as their visits with "Buy the Book" in Rhode Island. But I do hear from some readers that they prefer one series over another. (So no worries if Haunted Bookshop isn't up your alley.) I'm just so happy that at least one of my series brought you here today.
Welcome! Come on back anytime to post or download recipes or just see what your fellow readers are saying on the board. And in thanks for dropping by my *virtual* coffeehouse, I'm serving you up a *virtual* slice of authentic New York cheesecake to enjoy with your next cuppa joe. Click on the pick to learn more about my very favorite New York cheesecake baker: Junior's. (They have an online store, too).
Warmest java wishes,
~Cleo Coyle
August 9, 2009
Double My Addiction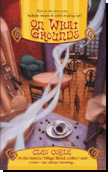 Without a doubt, reading is one of my addictions. Coffee being the other. I was completely unaware that my two favorite obsessions were combined into one, just waiting for me to find it.
Recently, I have either finished or caught up on all my book series—leaving me without a truly incredible read. Because of this, I joined a book recommendation website and was pleased to have been recommended "On What Grounds" by Cleo Coyle.
I was ecstatic to find this series as well as the series written under the pen name Alice Kimberly! The books are extremely well written and captured my attention form page one!
I am so pleased to add these new books to my library! Thank you so much for sharing your talent with us reading and coffee addicts! I am so looking forward to continuing to read my way through both series of books!
—Ashley
from Colorado
Cleo's reply:
Hi Ashley! Thank you for the kind words. And I have to send a shout-out of thanks to that website, too—the one that recommended my books to you! Why? Because I really did mean what I wrote on the Acknowledgments page of Espresso Shot --
I absolutely owe a debt of gratitude to the online network of enthusiastic readers and dedicated mystery reviewers. They were the ones who discovered my books and blogged and buzzed and reviewed them over the years.
People are always surprised when I reveal this fact: No major print review publication reviewed any of my mysteries, not one, until my seventh Coffeehouse Mystery was published in hardcover last fall. Upon hitting print, Espresso Shot (CM #7) received a wonderful review from Kirkus and a starred review from Library Journal—you can read an excerpt of the LJ review on my "About the Coffeehouse Mystery" page.
So what's my point? Simply this: Newbie writers should take heart. NOT getting any major, traditional print review coverage is not the end of the world. National bestsellers can emege without coverage from the traditional review establishment, and a growing number of hardcover success stories can be traced to "original paperback" roots.
Okay, sure, without a traditional print review, a writer will have to work a lot harder for a much longer period of time to get noticed, but it sure does feel great when it happens because a rise on the sly means only one thing: The books really are entertaining people enough that they want to recommend them. That in itself is a true validation.
That's what your post does for me today, Ashely, it lets me know that I'm on the right track.
Cheers, A, I hope you'll
come back soon to visit again.
~Cleo Coyle
August 8, 2009
Falling in Love with Reading Again!
I was scanning the library for something to read because the book I wanted wasn't in. I stumbled across your books! I checked out everyone that was there so I didn't miss out! :)
Plus I adore coffee!! I fell in love with it. I can't get enough of them. It is a change in pace in what I have been reading and I have shared with everyone that I come across.
I love to share all the tips you give in your books about coffee. Thank you for such a great collection!! My children have started reading more because they have seen me reading constantly!
Cleo's reply: Very happy you posted. Your last sentence literally choked me up. Having been a public school kid with working class parents, I know firsthand how important reading is for children and how many doors it can open. Kids who read do so much better in school. Writing and communicating is often naturally improved after routine exposure to language on a page, examples of English usage, expaned vocabulary, etc. There are so many more opportunities open to kids when that happens.
I'm so gratified to hear that my mysteries may have helped your kids along those lines (as you mentioned, by example of your reading). Of course, there are a lot of books in the literary sea and not every one of them is going to connect with every reader. I know my books aren't for everyone, but I sure am glad they worked for you! Thank you again for posting such a beautiful note. I hope you'll come back and post again.
In the meantime, I send my warmest wishes to you and your kids.
In thanks for stopping by my little *virtual* coffeehouse, enjoy this *virtual* little box of home baked biscotti and...
Eat with joy!
~Cleo
August 6, 2009
Super Summertime Surprise!
Because I teach school during the year, I don't get a chance to read as much as I would like. I try to make up for that during the summer vacation.
This summer, I found Espresso Shot at the library in large print. After checking it out, I read it non-stop! I enjoyed it thoroughly! What a fun book. I like to read the large print because I'm XXXX years old and can see it SO much easier.
Are your first books in large print? Our library is small and does not have the first ones in its collection. I would like to read every book in the Coffeehouse Mystery series. Thank you for sharing your talent with us. Your book was just what I needed this summer. And now it's off to school I go!
~Sandy
in Kansas
Cleo's reply: Wow, Sandy, you and I are the same age (lol). I am, as always, absolutely thrilled to hear from teachers. You are my heroes and always have been...
Large print editions do indeed exist for all of my titles (both Coffeehouse Mystery and Haunted Bookshop series). These large print editions are printed in limited numbers. They come out a few months after the original printing and are mostly purchased by libraries.
They can also be found for sale online. Barnes and Noble.com has some but not all. Click here to go to the B&N.com web site and PAGE THROUGH the Coffeehouse Mystery titles. You'll see the large print books mixed in with the other editions and e-books.
B&N has more Large Print editions on sale but Amazon.com has Espresso Shot still available...
Sandy, you should mention to your library that you'd like them to purchase the large prints of future Coffeehouse Mystery titles and they'll be able to order them as they come along. (You'll notice that on Barnes and Noble the price of a Murder Most Frothy large print edition is now astronomical--because no one can find any on the market.)
The next book in my series, by the way, is titled Holiday Grind (by Cleo Coyle) and it will be published November 3, 2009.
I hope that helps you, Sandy, and I wish you and your students the very best....
And because so many teachers wake up with a few cups o' joe, here's one on the *virtual* house!
Cheers!
~Cleo
August 6, 2009
Hey what about Mike!
Hey just wanted to know when we could see a Mike Quinn avatar. I can picture what he looks like based on your description, but to see his handsome form in living color would be a great gift to an emerging fan like me. Just wondering.
Thanks!
AM
Southfield, MI
Cleo's reply:
Shout-out to "Emerging Fan" AM.
I'm grinning at your post because NYPD Detective Mike Quinn (Clare's boyfriends) is next up on my avatar-creation list.
I love creating these avatars and writing their biographies, too. If anyone reading this doesn't know what I'm talking about, then just click here and scroll all the way down (past the recipes). You'll see that this site has a "Staff" page that spotlights the main characters in my Coffeehouse Mystery books.
Watch for Mike to appear on this page sometime this fall...
Thanks for dropping by AM! Here's a big *virtual* cookie to enjoy it with your next real cuppa joe. Come on back now, y'hear?!
Cheers,
~Cleo
August 3, 2009
Coffee and Reading.......two of my favorite past times combined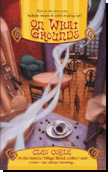 I was looking for something new to read for the summer after some heavy duty reads over the winter and spring. I happened to just browse the racks at our library and noticed "PrimeCrime Mysteries"
I saw the various themes and passed them all over until I saw the Coffehouse series. I picked up the first two books and read them in 2 days. I'm officially hooked. As the only one in my family designated as a coffee
affecianado I appreciated the integration with my beloved cup of Java with a great mystery story.
My kitties...Cappa and Chino certainly love hearing about an equally pampered Java as well :)
Keep up the great writing and know that the series will now be added into my permanent libary as read-overs.
~Rachel
in California
Cleo's reply:
I just read your post out loud to my husband. Your words are so incredibly gratifying. Thank you.
Also...LOVE the names of your kitties. Clearly you weren't kidding about loving java (the coffee - not Clare's cat. lol.)
Come on back anytime to visit my *virtual* coffeehouse, Rachel. And I sincerely hope you'll keep reading my books for years to come...
Warmest java wishes,
~Cleo Coyle
August 3, 2009
note to Cleo
How can I get that Village Blend Coffee House flavor out of my regular coffee machine? I live far away from any coffee shops, but I absolutely love the books and the recipes. Any hints?
~Chris
Cleo's reply:
Hi Chris! Thanks for stopping by my little virtual coffeehouse. My next book HOLIDAY GRIND will have plenty of info that will help answer that question!
As a gift to my readers, I put together the largest Recipes and Tips section that I've ever added to one of my Coffeehouse Mysteries (about 80 pages). One reader already told me she pre-ordered several copies to give as gifts (thanks M)!!
The back section of Holiday Grind will include instructions on making espressos and lattes at home without an expensive machine. I also include many coffeehouse syrup recipes (caramel, chocolate - dark and milk - as well as fun holiday flavors like gingersnap syrup, apple-cider syrup, and many others). So be sure to pre-order the book or pick it up from your favorite bookseller. I think it will have what you are looking for...
In the meantime, here are some
basic takeaway tips for today:
* Once coffee beans are ground, their flavor deteriorates at a rapid rate. So, after you open a vacuum bag (or God forbid tin) of coffee, you need to use it fast, within the week. Oxygen, heat and humidity speed the process of deterioration so store your coffee in an airtight container. Keep it away from direct sunlight and keep it cool!
* Use good filtered water. Why? Coffee is 99 per cent water!
* Invest in a coffee grinder and buy whole beans. These are probably the most important things you can do at home to make your coffee drinking experience a thousand times better. What grinder? How do I grind them? Google these questions and you'll find a lot of good information. It would take too long to explain here...
* After you get your grinder, look for WHOLE BEAN coffee at your grocery (Peet's Coffee is a great brand and it's in a lot of grocery stores now). If you can't find a good whole bean coffee at your store, then you can order it online to be delivered to you at home.
I recommend many online coffee vendors on this site (scroll down the right column). I've tried and enjoyed the Coffee Pick's in my list and I've had good experiences with the online sales and delivery. These folks deliver quality beans at a reasonable price. Order several pounds at one time and they will all be shipped in one package so you're shipping costs will be more reasonable.
Does all that seem like a lot of trouble?
Maybe. But as I wrote in ON WHAT GROUNDS...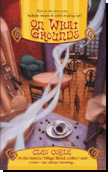 "Perhaps T.S. Eliot was right: Some of us do measure out our lives in coffee spoons. All the more reason to pay attention to the quality of the bean."
~Cleo Coyle
On What Grounds
Cheers to you, Chris. Thanks again for stopping by and thanks especially for reading my books.
August 1, 2009
A cat named Boo...
Re-posted from Cleo's e-mail (VillageBlend@aol.com) with permission...
Thanks for the newsletter. I do so love to go to your web site and check out all the info. I can't get over how much you know about coffee!! I am learning new things and love to share them with my husband.
I have pre-ordered your new book from Amazon [Holiday Grind] and I thank you so much for writing. Life can be so heavy and just plain hard at times. I hold the pleasure of reading my mysteries at night when everyone is asleep. It is my time and I look forward to it all day. Thank you soooo much!!
Could I send you a picture of my cat? Her name is Boo. She was in my husband's car engine when we found her crying! We can not figure out how she got up in there, but I believe with all my heart God sent her to us.
Thank you again
for your books!
~Adelia
Cleo's reply: Thank you, Adelia, not only for making me smile with your wondeful note but for introducing me to Boo! She is adorable and you are an angel for taking her in and making a home for her.
Hugs to a fellow stray cat owner.
Java joy to you always and I hope you'll remain a "customer" of my little coffeehouse series for years to come...
Cheers,
~Cleo Coyle
August 1, 2009
Thank you for giving me a wonderful place to grab some sanity and a good cup of joe.
Re-posted from e-mail with permission...
Ms. Coyle,
Thank you so much for getting me signed up for your newsletter but even more for your books.
So far I have only read the first 6 coffeehouse mysteries but "The Ghost and Mrs. McClure" is on my bookshelf just waiting to be read. I have also learned so much about coffee that I feel I am being cheated by my coffee maker everyday and am working to change that humdrum coffee life.
My new knowledge has also impressed my mother-in-law enough to convince her to read your series! This woman is a die hard reader of real life crime and serial killers so it was a feat.
I am a military wife and although I am married, I spend most of my life as a single parent as he is away so much. We have 2 children: a daughter 6 and a son 3. Books have helped me escape when I needed a respite from the world.
Great books like yours enable me to do that even when I don't have them in my hands. So thank you for giving me a wonderful place to grab some sanity and a good cup of joe.
Sincerely,
~Cresta
Cleo's reply:
Cresta, thank you for allowing me to re-post your beautiful e-mail here. I couldn't be more proud to have you as a reader.
I can't thank YOU enough for doing what you do every single day. As a military wife, you are
sacrificing to allow your husband to serve this country and keep us safe. As a New Yorker who all-too vividly remembers the events of 9/11 in this city, I mean that from the heart; from a very real understanding of just how horrific an unsafe world is.
With two young children at home, you undoubtedly have very difficult days at times. If my books can give you a little laugh or take you away to a little mental "vacation" for a short time, then I can feel that my own job is a fraction as worthy as yours.
Finally, I have to tell you: My husband and I were both incredibly touched by the end of your note... "...books like yours enable me to do that even when I don't have them in my hands."
What a beautiful idea, Cresta. No one's ever put it quite like that. Thank you.
Come on back anytime to my virtual coffeehouse. I really hope you'll keep in touch.
~Cleo Coyle
July 31, 2009
Village Blend in Chicago
Where can I go to pretend I am at the Village Blend. I sent you an email, too. I'm a retired high school librarian and I love your books.
~Lois
Cleo's reply:
SHOUT-OUT TO
LIBRARIAN LOIS!
Sorry, I'll calm down now. I just love librarians and I'm always so happy to see a post like yours on my board. I wish I could tell you the perfect place to go in Chicago that's like my fictional Village Blend, but I haven't been to that wonderful city in quite a few years.
Perhaps another reader will see this and suggest some coffeehouses. I have never been there myself, but if I were in Chicago I would check out Intelligentsia Coffee & Tea. Why? Because Mike Phillips, a barista at one of the Intelligentsia shops, recently won first place in the US Barista Championships and he even placed 3rd overall in the World Championships.
Scroll back UP the RIGHT column of my site and you'll see the little item that I have on Mike. Click here to see a short video of Mike competing in the World Barista Championships in Atlanta earlier this year.
Last year, another barista from Intelligentsia also won the US barista title. So I'd say they know how to make a cup of joe there!
Can't promise anything else - atmosphere, friendliness, etc. - a GOOD coffee bar should make you feel welcome. I can only hope they do. If they don't, then do not go back!
No matter what, though, I really do think you'll get a cup of coffee that's one of the best in this country.
Click here to go to the page where their flagship location is (3123 North Broadway address - this is where champion Mike Phillips works). You'll notice other locations listed, too. Just click the links listed on the page to find the addresses (there's an Intelligentsia in the "Loop" area and another of their shops in the Millennium Park area.) As I said, I'm not familiar with Chicago, so you have to be the judge.
If you drop by, come on back and tell us what you think of the place. And if you find any other favorites in Chicago, let all of us know here that read the message board.
Warmest java wishes to you, Lois,
and thank you (no kidding) for reading and supporting my work. It means the world to me.
~Cleo Coyle
July 31, 2009
All's quiet....
Hi everyone! Just wanted to thank you all again for your wonderful support for me and my daughter. She has been steady as she goes and in fact has shown signs of improvement; her trunk control is better which is a key step toward walking (she is not 100% to walk but we live in hope).
Thank you so much to all of you for your continued good wishes and prayers. No news tends to be good news from my house so we've had over a week of good news. That gives me a little "me" time to catch up on my reading (I really SHOULD catch up on my housework but somehow pushing a vaccuum cleaner doesn't mesh well with coffee drinking, the vice that got me into Cleo's series in the first place).
Thanks again to all of you
and to Cleo for her amazing support.
~Karen in Pennsylvania
Cleo's reply:
Karen, I'm so happy to hear from you. Please continue to check in with us...there are a lot of people who read this board and are thinking of you and your daughter, pulling for you both, praying for you...Come on by anytime to let us know - good news, bad news, blow off steam...When you believe the world needs a wake up call, this can be your megaphone.
Hugs,
Cleo
July 29, 2009
Greetings from Germany
It's great to see my favourite daily coffee is the pick of the month. Right now I'm sitting in my living room, enjoying my day-off with a big cup of Dallmayr Prodomo. For me it's best coffee and after reading your Pick of the month I feel privileged that I can buy it everywhere here in Germany.
I'm a big fan of your books and I can't wait for the next coffeeshop mystery. And I still hope that it will be published in German translation some day and you'll get more fans over here. Thanks for the great pick of the month and for your books.
Best wishes from Germany
~Andrea
Cleo's reply:
Thanks again, Andrea (just echoing my good wishes from our e-mail conversation). I'm so happy you found my message board - and my books - across the sea, in that beautiful coffee-loving country of Germany!
Warmest java wishes,
~Cleo Coyle
July 28, 2009
"Hey, I haven't had my coffee yet!"
Re-posted from e-mail with permission...
I love the coffee house mysteries! Always wanted to be a coffee drinker ('cause it smells so darned good), but never really knew anything about it. I was intimidated by the big coffee shops, and couldn't brew my own to save myself. Then I started reading your books, and learned a thing or two, and ventured out into the big, wide world of coffee. Now I'm hooked. As an "older" mom of two teenagers, the common phrase coming out of my mouth whenever I have a "senior moment" is "Hey, I haven't had my coffee yet!" No other explanation is necessary. Thanks for the fun and education!
~Sue from
Magnolia, TX
Cleo's reply:
HELLO TEXAS!!!
You had me laughing outloud, Sue! Thanks for the wonderful note!
Java joy to you always,
~Cleo Coyle
July 28, 2009
Murder Most Frothy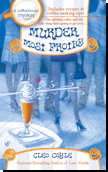 Hi Cleo,
I picked up your book at the library, and am enjoying it tremendously. It makes my commute go so much faster, and despite the fact that I am a non-coffee drinker, your excellent descriptions make me want to indulge in an iced coffee very soon!!!
Cheers,
Pam
from Vancouver, BC
Cleo's reply: Great to hear from you, Pam! Murder Most Frothy is the best book of the series to read in the summer because Clare goes on vacation in a beautiful seaside area. Very atmospheric (especially when one is having a Stay-cation like me!)...
I hope you enjoy MMF enough to read the rest of the series, too.
Java cheers to you,
~Cleo
July 28, 2009
I'LL HAVE ANOTHER CUPPA
On Friday, while browsing the Mystery section of my local library, I found LATTE TROUBLE and MURDER MOST FROTHY. After quickly skimming one, I grabbed both and read them this weekend.
I hope there are more on the shelf when I return these, because although they are quick reads, they have some depth to them. I love the historical background about the Hamptons, and of course all the coffee lore. And the characters are great! I LOVE Madame! So...I'll have another cuppa, please. And Thank you.
~Merle
Redding, CA
Cleo's reply: Thank you, Merle! Sorry it took a few days to reply. I'm thrilled that you found "me" - via my books. And I hope you'll continue to read the series. (I love Madame, too. I want to be her when I grow up. LOL.)
Java joy to you always,
~Cleo Coyle
July 28, 2009
Haunted bookshop series
I love the characters in your Haunted Bookshop mysteries.
I am anxiously awaiting #6. I've also read all the coffee shop mysteries and enjoy those.
~Debbie Dingledy
Cleo's reply:
Hello, Debbie! Thank you for dropping by to let me know you're enjoying my books. Haunted Bookshop #6 has a title (still top secret for now) but it will be published next year and I'll tell you more about it as we get closer to publication. The Coffeehouse Mysteries has a new title this year - HOLIDAY GRIND - coming in November, but you probably know that already because it's announced all over this website - lol!
I hope you'll come back again and post on my board...this little coffeehouse depends on its "customers" to stay in business. And you're now an official member of the Village Blend family.
Warmest java wishes,
~Cleo Coyle
July 28, 2009
Excited in East Harlem
Honestly, I am a murder mystery fanatic and I am so glad I found this site and these books. I am so busy running a cafe I decided to take 45 minutes out of each morning after writing my to do list and read the first book of the series.
I grew up reading Agatha Christie books and watching the original Perry Mason episodes, Murder She Wrote, etc. Besides my mom I don't know any of my family or friends who are into murder mysteries (their lost) speak to you after book #1
:-) Michelle
Cleo's reply:
Michelle! I'm so glad you let me know how "into" mysteries you are. I laughed out loud when I read your post, turned to my husband and said - I think Michelle IS Clare Cosi. I knew I'd find someone just like Clare in New York and I do believe that if you found a dead body in your cafe, you'd know JUST what to do. LOL!
Warmest java wishes to a hard-working New York cafe owner.
Yo! Site visitors and CM readers! If you happen to be in Manhattan, NYC, drop in to visit Michelle at the East Harlem Cafe - tell her Cleo Coyle sent you (and she'll actually know who you mean!)
EAST
HARLEM CAFE
Lexington Avenue
corner of 104th Street
New York, NY 10029
Looking forward to meeting you, Michelle - in the not-too-distant future (translation - when my writing deadlines finally give me a break),
~Cleo Coyle
July 28, 2009
I share a coffee landmark
Hi again Cleo
I was just on Facebook and did a search that tells you what historical events you share your Bday with. I share the first planing of Coffee in Hawaii, happened in the 1800's on my bday. Must be warm there at Christmas time. Did you check out those song lyrics yet? they're pretty funny. We had a thunder and lightning show here on Saturday night and a huge downpour. unfortunatly it was a warm one so if anything it's hotter now than before!
lol Chelle
PS I wonder if the Elvis coverage got as annoying as this Micheal Jackson coverage. ENOUGH ALREADY!
Cleo's reply:
Hi again to my GF up North. I'd say the first planting of coffee in Hawaii is INDEED an important date in Java history. That and your birthday, of course, since you're a reader of my CM books. Lol! Haven't found the song lyrics. Tried a google search but couldn't find them. If you want to send a link, I'll click it...until then, stay cool...(literally - it's hot, isn't it?!)
~Cleo
July 28, 2009
I LOVE your books!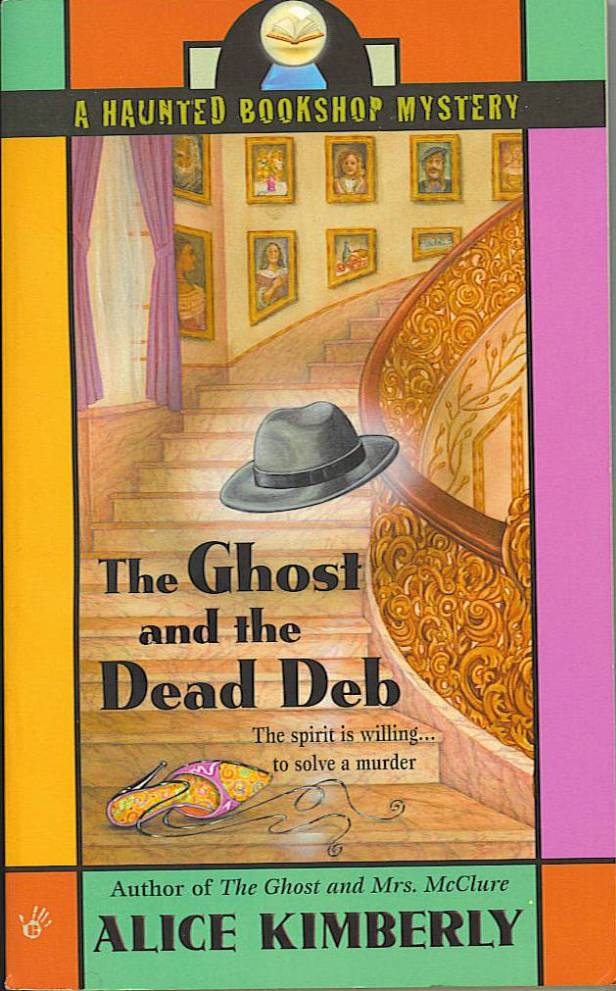 Everytime I "step" into one of your books I smell the coffee brewing and feel the cozy setting and immediately want to be there.
Books are a passion of mine and cozy mysteries are wonderful. I've read one of the coffeehouse mysteries and one of the haunted bookshop mysteries and am clamoring for more books and more time!
Cleo's reply:
Thank you so much for taking the time and trouble to drop by and let me know that. It means a lot to me. I hope you'll continue with both series and drop back again to let me know what you think...
"Spirited" cheers to you from Jack, too,
~Cleo
July 28, 2009
Just found your site
Just discovered you and your books. Look forward to reading them and checking out all the good stuff on your site.
Cleo's reply: Merci! - which, I'm fairly sure, is French for: Much obliged, amigo!
July 26, 2009
Happy to Read
With life and the real world some times being a challenge, I so enjoy reading The Coffeehouse Mystery books. I always come away with a smile ane excited for the next read.
~Sandy,
Chico, California
Cleo's reply:
Hi Sandy! Thank you so much for that wonderful note. Of course it helps that I put an invisible, odorless, addictive substance on each page of my books - tiny little molecules of a top secret formula to make you come back again and again...(psych!).
Okay, I was going to say "tasteless" along with odorless but then I realized tasteless has another meaning! LOL! No kidding, thank you for reading AND for taking the time and trouble to drop on by my virtual joint.
Enjoy this *virtual* chocolate croissant with your next cuppa joe. (And do you know what the greatest thing is about my virtual coffeehouse treats? They're zero calories!)
Java cheers to you and may my books
always, always cheer you,
~Cleo
July 25, 2009
Now I REALLY Can't wait for Holiday Grind!
Hi Cleo,
Went to the library the other day and picked up the latest in two series I read and one was TERRIBLE, it was that book in the series that if it was the first I picked up I never would have read it. The descriptions were in list for most of the time, eg: She went to the store, picked up some milk, went home. and the dialogue was script form at times there were pages of all "script" got confusing trying to keep straight who was talking now and who wasn't.
Now I'm looking forward to your next book to get the bitter taste of disappointment out of my mouth lol Hope that was just a one time lemon cause that's an otherwise good author. The other one I figured out who done it while the scene of the crime was being discribed by the way they discribed a boot print. I like to be kept guessing, your books always do that!.
BTW there's an author site I bet you'd find Funny, he wrote a song about what it's like for an author to try coming up with new ideas for their books while the publisher keeps calling asking for another lol. His name is Parnell Hall. Check it out for a laugh, the lyrics are listed under the song heading.
Melting here in BC
Chelle
:-)
Cleo's reply: Short and sweet reply. You had me laughing because (as you'll see when you finally get your paws on Holiday Grind) - boot prints are involved! And that's all I'll say! You may be melting in BC but we're drowning down here in NYC - too much rain! (And I'll check out Parnell Hall, too - glad to know someone else has discovered the humor in publishing lol)
Java joy to my girlfriend
up North,
~Cleo
P.S. Think Cool...winter will be
here before U know it!
July 23, 2009
Thanks to all
I wrote about my daughter's medical issues on Saturday and since Cleo's response was posted, my daughter has made a remarkably quick recovery from her latest seizure. I am sure all the thoughts and prayers from all of the good people here made a difference; she has never rebounded so quickly and with so little loss of function.
Thanks to you all and thanks especially to Cleo for her amazing response. Your prayers were heard. Looking forward to Espresso Shot!
~Karen
Cleo's reply: Oh, Karen, I'm so happy that you got in touch with me! (Am answering you privately over e-mail, too.) Also overjoyed to hear that your daughter is doing better! Please keep in touch. Post anytime you like, e-mail me anytime, and I really hope you enjoy Espresso Shot and Holiday Grind (you're getting both! LOL!)
Sending smiles, hugs,
and all-around good
coffee karma,
~Cleo
Please, everyone, continue to keep
Karen and her daughter in your good
thoughts, too...
July 22, 2009
Mocha Cannoli
Cannoli are yum yum in their original form with bits of chocolate, pistachios, and candied cherries, oh my! But do what I do for a special -->me<-- treat:
Stir espresso powder into the ricotta filling add a few gratings of a mocha chocolate bar or chopped chocolate covered coffee beans then drizzle the top with chocolate syrup and I guarantee you will be in mocha cream coffee heaven.
Not suitable for eating while reading unless you are willing to lick the pages. I could eat up your books, but not literally.
—geekette
in sunny Florida
Cleo's reply:
SHOUT-OUT TO GEEKETTE!!
Where U been, girl?! And . . . are you INSANE????? I gained ten pounds just reading that recipe!
How am I supposed to seduce Wesley Snipes in my dreams with a chocolate drizzled cannoli on my hips? (The espresso powder IS inspired, I grant you that.)
Luv ya,
—Cleo
P.S. Post again soon or I'll send Jack down to FLA to bother you. Not that he knows where the heck you are in that state! But, hey, he's a dead PI, and I hear the snowbird spirit world has loose beaks...
July 21, 2009
East Harlem Cafe
Hello Cleo, I just purchased your series #1 and #2. I own a cafe in East Harlem, NY and was wondering if you would consider a book signing here for your next book. Let me know what you think. www.eastharlem-cafe.com Look forward to hearing from you.
—Michelle Cruz
(Pic below)
East Harlem Cafe
Click on pic to virtually visit
Cleo's reply:
Hello Michelle! I am thrilled and honored to have you invite me for a book singing at your lovely cafe!
I think this is somthing we can plan for the future. I spoke with my husband (with whom I collaborate on our mysteries) and he's excited, too.
At the moment, we aren't planning any signings or appearances because of our fall deadlines—they're really killer—but we do think a signing next year in your cafe would be awesome!
I also think it would be a lot of fun to step out of our dark, lonely writing cave and meet you well before then. I can bring my digital camera up to East Harlem (along with my husband - lol!) and do a little feature on you and your cafe for my Web site.
In the meantime, if any of my readers want to visit Michelle at her cafe uptown, click the link below to learn more about it...
EAST
HARLEM CAFE
Lexington Avenue
corner of 104th Street
New York, NY 10029
Warmest java wishes to you,
—Cleo
Click here
to learn more about the Coffeehouse Mystery novels.
To purchase the books,
click here
or
here
or
here
.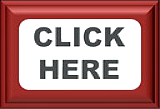 ---
Clare Goes to
Washington!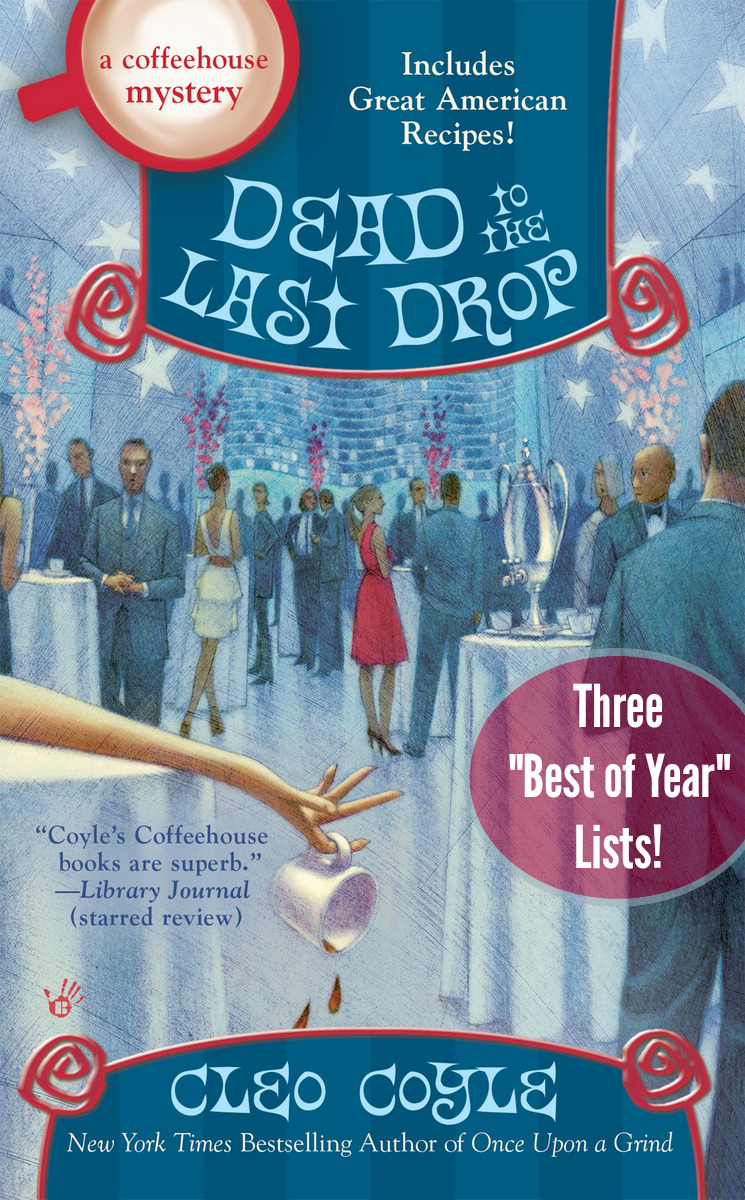 Dead to the
Last Drop
National Bestseller
3 Best of Year Lists!
TO LEARN
MORE or BUY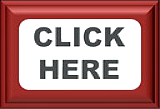 With an appendix of
amazing recipes...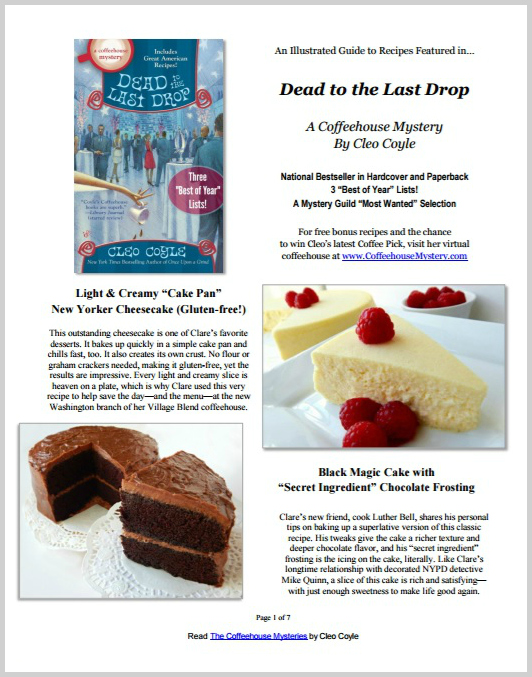 ---
FREE
READING
GUIDES

---
---
It's Official!

Now a
BESTSELLER
in paperback!
#3 bestselling
paperback mystery
at B&N Stores
Nationwide!

Cleo's 10th
Coffeehouse
Mystery
Murder
by Mocha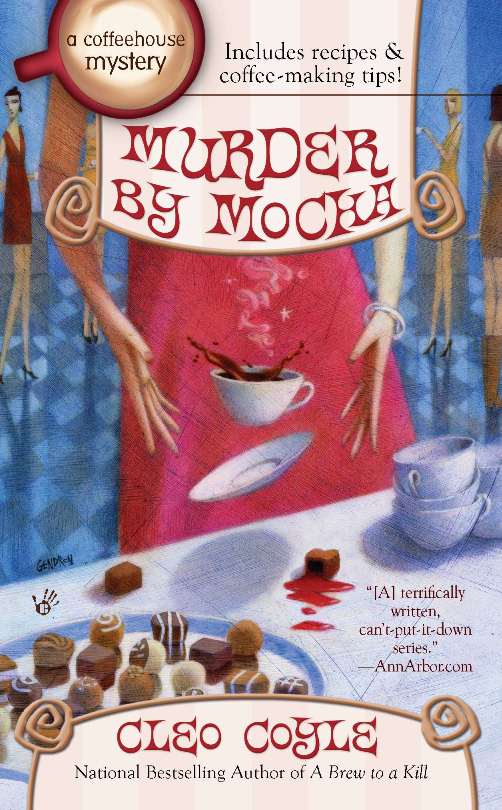 4 Year-End
Best Mystery
Lists!
This bestselling
hardcover is
now reprinted
in paperback,
and a...

TOP-10*
Mystery
Bestseller,
Nationwide!

*Barnes & Noble
*
Includes
Chocolate
Recipes!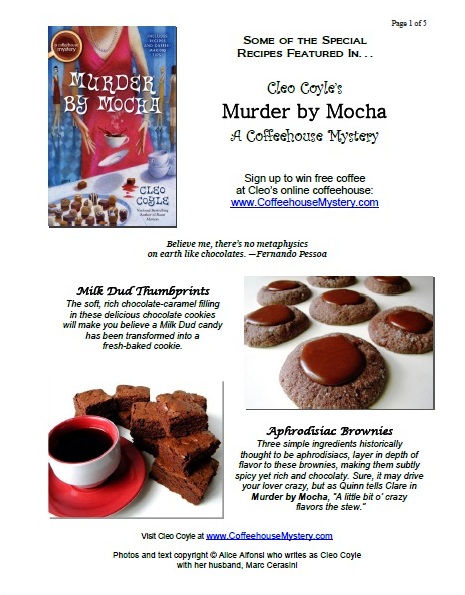 This is a
PDF document
and will take a
minute to load.
"...a tasty tale
of crime and
punishment
lightened by
the Blend's
frothy cast of
lovable
eccentrics."
~ Publishers
Weekly


---
Read
with joy!

~ Cleo
---
Arson leads
to murder
in...
ROAST
MORTEM

Named as a
"Favorite Book
of the Year!"
Reviewer's Pick
~ Bookreporter.com
Now a
National
Mystery
Bestseller!*
A deliciously
thrilling
culinary mystery
that's also a
tribute to
firefighters...

See some of
Roast Mortem's
featured recipes by
CLICKING HERE.


---
---
#1
Bestselling
Paperback
French
Pressed

#1 Bestseller
Independent
Mystery
Booksellers
Association
April 2008
---
Caffeinated
Cheers

to
COUNTER
CULTURE
COFFEE
"Top Innovator"
DETAILS magazine named Counter Culture Coffee as #1 (of North Carolina) among five industry "innovators creating coffees that have the complexity of fine wines."
I'm a big fan of Counter Culture and have written about them on this site and in my books. Read my Coffeehouse Mystery: French Pressed or scroll down this column to my "Coffee Pick" list.
Says Counter Culture: "We hope that such media coverage helps spread awareness that coffee can not only be an authentic, delicious food experience, but also a conduit for community, sustainable agriculture, and cultural exchange."
~ Cleo
---
A
#1 Bestselling
Paperback
Decaffeinated
Corpse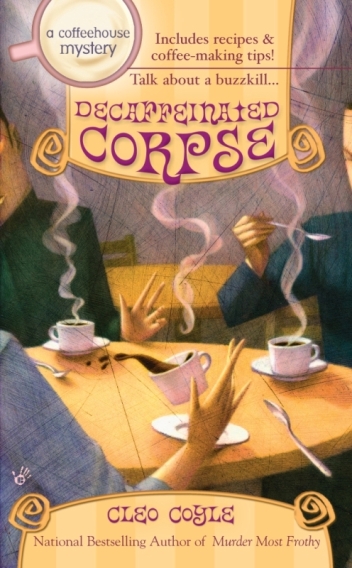 #1 Bestseller
Independent
Mystery
Booksellers
Association
July 2007
---
BULLETS
ON THE
BEACH
Murder
Most Frothy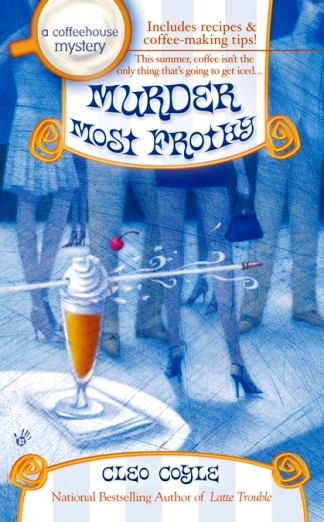 Murder Most Frothy
Cleo's 4th Coffeehouse Mystery gave her amateur sleuth, Clare Cosi, a summer job as a "coffee steward" at a posh new eatery in the Hamptons, the fabled seaside escape for New York's rich and famous.
When a co-worker is gunned down, she's on a case that leads her to strange clues on the beach, a rogue Navy SEAL, and a suspicious manager at the restaurant where she's pouring gourmet cups of joe...
NEW YORK
HAMPTON'S
COFFEE CO.
CLICK HERE to visit some real coffee peeps who work hard to give the Hamptons folks a great cuppa joe.
* * * * * *

And
just for fun...
Peter Pans

"Overstaying the
Hamptons Party"

New York
Times
Click below to read a past Times feature about "house shares" in the Hamptons and men who try to keep the postcollege "boys of summer" party going decades after their undergrad days. Shades of my character Matt Allegro? Hmm...
---
2010 WORLD
BARISTA
CHAMP
Mike Phillips, our U.S. Barista Champ, finished among the top 3 baristas in his first World competition, held in Atlanta, Georgia. The following year, in Olympia, London, he won FIRST PLACE and is now THE WORLD CHAMPION FOR 2010! Way to go, Mike!

How did he get there? "I really care about coffee and the entire chain of things, from where the coffee is grown and processed, all the way to the shop where it's prepared and the customers who enjoy it."
Mike worked at Intelligentsia Coffee & Tea when he won the barista competitions. To virtually visit the store, click here.
*
---
Java Master Gives
Tips on Making
the Perfect Cup
Italian-born Gennaro Pelliccia is responsible for the taste of the 108 million cups of Costa coffee sold in Britain each year. His policy with Lloyd's of London insures his tongue for 10 million pounds!

Click here to read Mr. P's tips on making a great cuppa joe...
FREE
EXCERPT!
for Cleo Coyle's
2nd series...
Haunted
Bookshop
Mysteries
THE GHOST
AND THE
HAUNTED
MANSION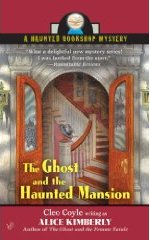 * National Mystery
Bestseller!
Independent Mystery
Booksellers Association
Meet the ghost at...
* A Fresh Fiction
Fresh Pick!
Click here
to read a
Free Excerpt

---
Want to Grow
Your Own
Coffee Plant?
Thanks to CM reader Linda for posting info about where to buy coffee plants and seeds. Click here to go to the coffee seed catalog page and scroll down. Look for the "coffea" plants listed in ITALIC alphabetically.
Coffea arabica
Coffea catura
Coffea kona
Linda also says: "Gurney's Plant and Seed catalog has small coffee plants for $8.95 each. Click here and look for item # 11295 for coffee plants."
---
WAKE UP AND SMELL...
THE CANVAS!
"I started painting with coffee because I wanted a cheaper medium that was accessible to me," says Filipino artist Sunshine Plata. A tube of oil paint costs at least 500 pesos ($11), while a jar of instant coffee is only around 150 pesos ($3). Click here to read more about Sunshine and her coffee art.
---
Caffeine
Myths
A New York Times story by the amazing Jane Brody examines coffee and health, click here to read more. (I learned a lot about the myths of caffeine!)
*
Click here to read about a Harvard study that shows coffee's link to preventing heart disease.
*
Click here to read how a cup of coffee a day may offset Alzheimer's disease.
---
In Memoriam
Sheena
2.21.2009
---
Ethiopian Coffee Ceremony!
Yes, like the Japanese with their tea traditions, the Ethiopians have a very special way of enjoying coffee. Click here to learn more!
---
Coffee Health News!
Coffee May Boost Memory
in Older Women
Women older than 65 who drank more than three cups of coffee a day — or the caffeine equivalent in tea — showed better memory retention than men, a French researcher reports. To read more in a Scientific American article, click here.
---
COFFEE NEWS!
Ethiopia announces commercial culitvation of low-caffeine coffee plants! Ric Gostwick's "dream" coffee from Decaffeinated Corpse is no longer fiction! To read about this amazing breakthrough, click here.
---
AND NOW
FOR SOME
OF CLEO'S
PAST
COFFEE PICKS...
---------------------------
SEPTEMBER '07
Cleo's Coffee Pick:
MAGNOLIA GRILL BLEND
With the tip of a chef's hat to the married couple who run Magnolia Grill, Cleo's coffee pick for SEPTEMBER 2007 was Magnolia Grill Blend sold by Counter Culture Coffee roasters.
---
OCTOBER '07
Cleo's Coffee Pick:
GOMBE RESERVE
Cleo's pick for OCTOBER 2007 was Gombe Reserve sold by Green Mountain Coffee Co. and endorsed by Dr. Jane Goodall.
---
NOVEMBER '07
Cleo's Coffee Pick:
MAJOR DICKASON'S BLEND
In tribute to the late, great Alfred Peet, Cleo's pick for NOVEMBER 2007 was Major Dickason's Blend sold by Peet's Coffee and Tea. To read Cleo's past featured article "Alfred Peet and the Birth of Coffeehouse Culture" as well as the article after it about the Major Dickason coffee blend itself, go to Cleo's article archives by clicking here and scrolling down.
---
JANUARY '08
Cleo's Coffee Pick:
"YIRG" - ETHIOPIAN YIRGACHEFFE
Cleo's pick for JANUARY 08 was Ethiopian Yirgacheffe sold by Counter Culture Coffee Company. This coffee was also featured in Cleo Coyle's Coffeehouse Mystery: FRENCH PRESSED.
---
FEBRUARY '08
Cleo's Coffee Pick:
RWANDAN VILLAGE BLEND
Cleo's FEBRUARY '08 pick was Rwandan Village Blend sold by Land of a Thousand Hills Coffee Co. To read Cleo's archived article on this coffee, click here and scroll down.
---
MARCH '08
Cleo's Coffee Pick:
KENYA
Cleo's MARCH '08 pick was Kenya, sold by Counter Culture Coffee, Co. and Peet's Coffee. This coffee was also featured in Cleo Coyle's Coffeehouse Mystery: FRENCH PRESSED.
---
APRIL '08
Cleo's Coffee Pick:
PURPLE PRINCESS
Cleo's April '08 pick was the amazing "Finca El Puente" from a coffee in Honduras nicknamed "Purple Princess" by the coffee director of Counter Culture Coffee of Durham, NC. This coffee was also featured in Cleo Coyle's Coffeehouse Mystery: FRENCH PRESSED.
---
MAY - JUNE '08
Cleo's Coffee Pick:
PAPUA NEW GUINEA
Cleo's June '08 pick was the "Jamaica Blue Mountain" of the South Pacific. An award-winning coffee grown on the exotic island of Papua New Guinea (north of Australia).
---
JULY - AUGUST '08
Cleo's Coffee Pick:
SOLAR ROAST COFFEE
Cleo's July - August '08 pick was Solar Roast Coffee of Pueblo, Colorado, the only company in the world that roasts its coffee using solar energy! Meet Dave and Mike, the two brothers who invented this one-of-a-kind solar roaster, and learn how you can purchase their delicious coffees for yourself by clicking here or typing SolarRoast.com into your browser.
---
SEPT. - OCTOBER '08
Cleo's Coffee Pick:
JOE'S VIENNA ROAST
from the NYC coffeehouse:
Joe, The Art of Coffee
The September-October '08 pick was Joe's Vienna Roast, sold by Joe, The Art of Coffee café in Greenwich Village, New York, recently named one of the best coffee bars in the country by Food and Wine magazine (and one of Cleo Coyle's inspirations for her fictional Village Blend!). CLICK HERE to visit Joe online. (To read Cleo's archived article about the Joe cafe, click here.)
---
NOV. - DECEMBER '08
Cleo's Coffee Pick
BOUCHON BLEND
This smooth, delicious coffee is the House Blend served at Bouchon Bakeries, which are owned and run by award-winning chef Thomas Keller. This coffee was featured in Cleo Coyle's 7th Coffeehouse Mystery: ESPRESSO SHOT. It is blended and roasted by Equator Estate Coffee and Teas, a women-owned company based in northern California. Click here to visit the company and try their coffees for yourself.
---
JANUARY 2009
Cleo's Coffee Pick
NOT KOPI LUWAK!
One of the rarest coffees on the planet, Kopi Luwak is also one of the most expensive. Kopi Luwak was also a featured coffee in Cleo's 7th and most recently released Coffeehouse Mystery: ESPRESSO SHOT. To read Cleo's brief archived article on Kopi Luwak and learn how it got its hilarious nickname: "cat poop coffee," click here and scroll down.
---
SPRING 2009
Cleo's Coffee Pick
ROOSTER BROTHER's
LA MINITA ESTATE
(Costa Rica)
This outstanding single-origin bean is treated with love by the coffee team at Rooster Brother, a store for cooks housed in a historic Victorian building in Ellsworth, Maine. Master Roaster Gene (pictured) does a masterful job of bringing out the very best in this smooth, bright, delightful coffee with the kind of hints of citrus and berry usually found in high-quality African beans. Click here to visit George and Pamela Elias's Rooster Brother store online and order some of this superb coffee for yourself! (Thanks to Coffeehouse Mystery reader Bud Knickerbocker of Bangor, Maine, for suggesting it!)
---
MAY - JUNE '09
Cleo's Coffee Pick
BISHOPS BLEND
Creating blends is a culinary art, and I'm happy to report that the roasters for Bishops Blend have done a masterful job at creating theirs. The beans are roasted medium dark and the package came to me (via UPS) freshly roasted, beautifully oily, and smelling of chocolate. The coffee is perfectly balanced; and as it cools, the notes include a slight vanilla flavor and a touch of cinnamon. Even better, when you purchase a bag, a percentage of the money goes toward ERD, a charity that provides disaster relief around the world as well as enabling people in the poorest communities on our planet to climb out of poverty.
---
SUMMER 2009
Cleo's Coffee Pick
DALLMAYR PRODOMO
Imported from Munich, Germany
To learn about this beloved German coffee brand, including tips on where to purchase it in America, read Cleo's feature article by clicking here. This is an archived article and make take a minute to load.
---

FALL 2009
Cleo's Coffee Pick
AMARO GAYO
(Ethiopia)
roasted by
Gimme! Coffee
An exotic Ethiopian coffee sold by the outstanding roaster Gimme! Coffee, which takes pride in getting it to you expertly and freshly roasted. Visit the roaster by clicking here.
---
SPRING 2010
Cleo's Coffee Pick
FRENCH LAUNDRY
ESTATE BLEND
roasted by
Equator Estates Coffee
"Roaster of the Year"
~ Roast Magazine

This "chef's blend" was created especially for award-winning Chef Thomas Keller's world-renowned French Laundry restauant. The roaster is Equator Estates. Visit the roaster by clicking here.
---
Summer-
Fall 2010
Cleo's Coffee Pick
Kafe Lespwa
"Coffee of Hope"
from Haiti
To purchase this coffee
or learn more about it,
CLICK HERE.

To Read Cleo's
feature post on
this coffee, CLICK HERE
and scroll down

---
Spring-
Summer 2011
Cleo's Coffee Pick
Cops Coffee

COPS
COFFEE
"Midnight
Shift"
dark roast

"Your safest cup
of brew..."
---
Mocha Java
Blend

To learn
more or buy,
click here.
and...

Dancing
Goats Blend


To learn
more or buy,
click here.
---
Winter
2011 - 2012

Cleo's
Coffee Picks
from
Rooster
Brother

A boutique
roaster in
Ellsworth,
Maine
Costa Rica's
La Minita Estate

"The Lafite of coffees."
An amazing cup
of joe from


To visit the
Costa Rican farm
where this coffee
is grown,
click here...
To read more
about this coffee
or purchase it
for yourself,
click here.
and...
100% Kona
Coffee

Grade:
Extra Fancy

Grown by
Kona Star Farms
of Kona, Hawaii
To learn
more, click here.
NOW
SOLD OUT
---
Cleo's
Spring 2012
Coffee Pick
Brazil's
Poco Fundo
"Almond joy
in a cup"
Roated by
Seattle
Coffee Works
---
Cleo's
Summer 2012
Coffee Pick...
From the
"Coffee Goddesses"
of Maine
Bistro Blend
&
Fireside Blend
Roasted by
Carpe Diem
Coffee Roasters

To learn more
or purchase,
click here.
---
---
WIN COFFEE
---
---
---
FREE
READING
GUIDES

---