CONTACT
CLEO COYLE AT

CoffeehouseMystery(at)
gmail(dot)com
CLEO IS ON
FACEBOOK!


Click here to visit Cleo's Facebook Page. If you read her books, she will be delighted to accept your friend request. See you there!
---
---
To learn
more or buy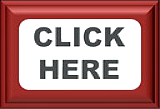 Or to find an
Independent
Bookstore
near you,

CLICK HERE.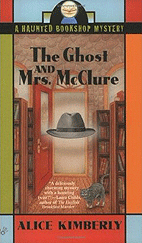 HAUNTED BOOKSHOP
MYSTERIES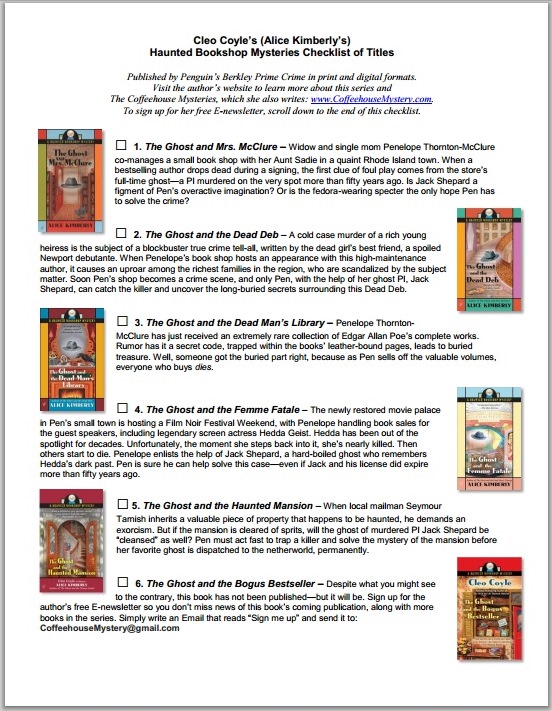 CLICK HERE
FOR TITLE
CHECKLIST



---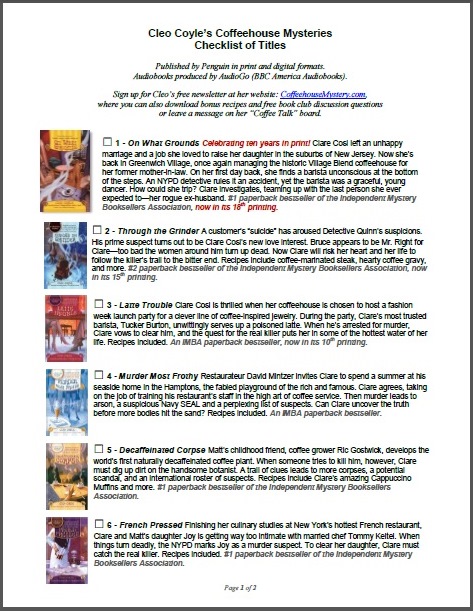 For a free checklist of the Coffeehouse Mystery books in order click here.
---
WHO IS
CLEO
COYLE?

To read Cleo's
essay "Brewing
up Murder"
The essay
appeared in
the Quarterly
Issue of Mystery
Readers Journal
---
To read
Cleo Coyle's
WIki Entry
Click Here
---
American
University
Magazine
interviewed
Cleo Coyle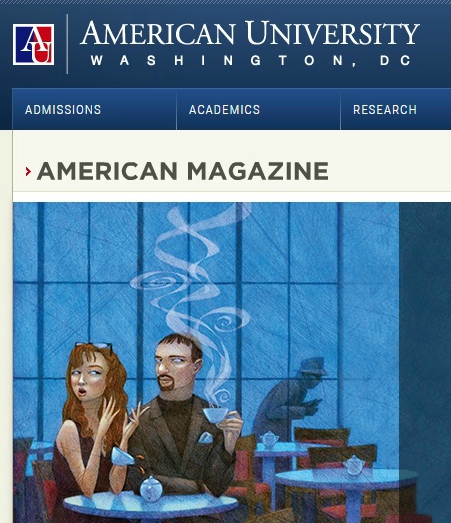 ---
**NEW**
INTERVIEW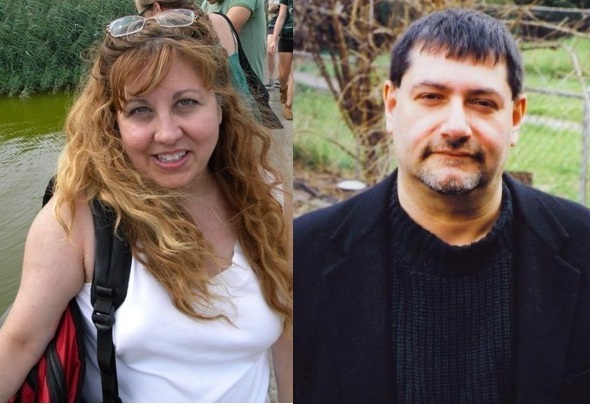 *NEW*
Cleo Coyle Interview, Click Here to read it at the award-winning blog: Lesa's
Book Critiques
*
---
What is a
cozy mystery?
The Cozy
Mystery
List tells you!

Click here
to learn more...
---

Gumshoe
Review
Interviews
Cleo Here
---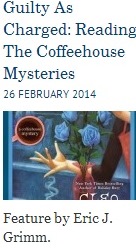 Sprudge.com
is the "most popular
coffee publication
on the planet."
Read Cleo's
interview with
Sprudge by
clicking here.
---
LIBRARY
THING
Hosted a chat
with Cleo.

Read it by...
---
A BLOG
POST FOR
WRITERS:
Read Cleo's
Guest Post at
Mystery Writing
Is Murder

"Genre Blending
and Your Character's
Love Life"
Click here
to read.
---
Cozy Murder
Mysteries Blog
Interviews
Cleo
---
Fun Foodie
Book Resort
Interview
with Cleo
Here.
---

Cleo's Q&A
with the
Hartford
Examiner


---
FREE
READING
GUIDES

COFFEEHOUSE
MYSTERIES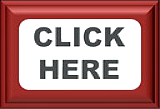 Book Club
Discussion
Questions
---
How to Clean
Your Drip
Coffee Maker...
Your best tasting
cup of java will
come from a clean
coffee maker!
*
*
For more coffee
tips, scroll down
this left column...
---
NYPD DET.
MIKE QUINN'S
BEAT
Click » NYPD: Official Website for New York's Finest
Click » NY Crime File (Daily News)
Click » Police Blotter (NY Post)
---
How to Make
Cuban Coffee
CLICK HERE
for video
* * *
For more
info on the
Moka Express
stovetop pot
used in the
above video,
---
*Starred Review*
~Library Journal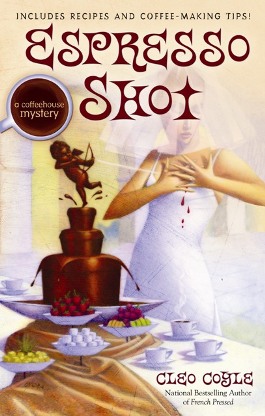 To learn more
or buy...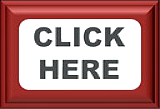 CLICK HERE
TO READ A
FREE EXCERPT
---
How to Make
Coffee in a
French Press
---
Cleo's Past
Coffee Pick was...
Kafe Lespwa
"Coffee of Hope"
from Haiti

Click here to
visit Just Haiti.org
and sample the
coffee for
yourself!
A
Good
Cause!
See more of
Cleo's past
coffee picks
by scrolling
down the
right column.
---
Publishers
Weekly
Bestseller
LEARN MORE
OR BUY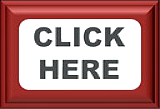 "Fun and gripping…"
~ Huffington Post


"Some of the most
vibrant characters
I've ever read."
~ Mystery Scene


"This one will keep
your cup
piping hot."
~ Kirkus




vif
---
Welcome to Cleo's
Coffee Talk
Message Board!
TYPE YOUR POST BELOW.
HIT THE SAVE BUTTON.

Readers are also welcome to
"Friend" or "Follow" Cleo on
Facebook by clicking here.


You can also e-mail Cleo at this address...
CoffeehouseMystery@gmail.com

jazzy egg * donut egg * haunted egg
February 21, 2009
No to tv. (CLEO SAYS - YES!)
I teach English and Literature. I have enough problems trying to get the kids to read Now! Don't stoop to any media but print. PLEASE, I beg, the media ALWAYS messes up what the author wrote.
Thanks, LG
Cleo's reply:
Hi, LG. I always appreciate your posts! So please don't be frightened away by my frank debate of your position. (Language is very telling, and the word "stoop" in your post tells me what I must refute here!)
I have one word (and link for you): FAUST.
FAUST is a German story (first printed in chapbook form) that has been the inspiration for writers who have explored its ideas in many forms for hundreds of years.
Based on the original Faust story, Goethe wrote a hybrid between a play and extended poem. Christopher Marlowe wrote a play (The Tragical History of Doctor Faustus). Franz Lizst wrote a symphony. Thomas Mann wrote a novel (Doctor Faustus). Even Philip K. Dick explored the Faust story in science fiction - The Galactic Pot Healer. Is one of these forms of the story less worthy than another?
(Obviously, I don't think so...)
If Shakespear hadn't explored Ovid's story of Pyramis and Thisbe, the play Romeo and Juliet would never have been written.
I respect your position, but I'm a writer and creative artist. I'd like my work to be explored, celebrated, enjoyed by as many people and in as many mediums as possible! (More on this in my answer to the post below...)
You see, I don't hold the novel as some sort of sacrosanct form. It's just a story - about human experience, about emotion, about ideas. Like Faust, any tale can be told many ways. That's what the art of storytelling is about to me!
Face facts, books are NOT primary entertainment in the world any longer. If I were teaching a classic novel to school kids, the first thing I'd probably do is ask them to read it and come back to class with a cast list! I'd want them to identify the traits of the major and minor characters, to process the role of character as it relates to story, to compare the characters in (say) Moby Dick or A Tale of Two Cities or Pride and Prejudice with modern characters the kids may have enjoyed watching in film or on television (you get the idea).
I know that's unorthodox, but it's also a 21st century jumping off point for getting kids excited about discussing a novel, seeing it come to life for them, showing them how they can interact with it. (What if you were going to film it? What traits in the main character would you want the actor to explore and portray?)
If a reluctant reader sees a Harry Potter movie and then picks up the book, so what? At least he picked up a book! Yes, he's letting a director and set designer create the world for him, but that fact makes it easier for a reluctant reader to process the experience of reading a novel so that he can begin to appreciate the aspects of a novel that are distinct from that of film (allowing him to experience a character's interior life, for instance). From that experience, he may want to read another story featuring "Harry" -- a character with whom he is now connecting!
And isn't that connection the point? As a writer, I have to tell you, that's what's most important to me.
I get so emotional about this subject! The need for story in our culture is acute. We're feeling more alienated from each other than ever. Story is a way to connect around the tribal fire again. A tale with universal appeal (no matter its form of expression) can provide a point of connection between a fan in Japan and one in America; a fan in Brazil and one in Germany!
Getting young people (or people of any age) to appreciate books is admirable, but it does NOT have to be done by making them feel badly about their enjoyment of other forms of storytelling.
Ranking the expression of story as higher or lower based on some artificial (institutionally created) scale is ridiculous to me, especially given the history of the novel itself!!! At one time, an author had to "stoop" to write such a thing as a novel!
(Take the pill. Wake up. See the Matrix!)
Okay. Rant over. Once again, I hope you are not put off by my reply! I've appreciated your contributions to my site! (My site, by the way, is actually a multimedia extension of my book - it's quite simply another form of story, too!)
Warmest java wishes,
—Cleo Coyle
February 21, 2009
This needs to be a television series
Hi Cleo,
I have been trying to talk up the possiblity of your books being a television series to anyone who will listen. Not since "Murder She Wrote" has there been such a fun and entertaining mystery fun ride. Have you at your end ever thought of this? Just think - there could be wonderful coffee sponsors, designers, etc. Cameo appearances by chefs, designers, etc. What fun. I just love these books so much and would love to see it on the screen! I think someone either like Sarah Jessica Parker or Demi Moore for Clare, Eric Dane or Patrick Demsey for Matt, Emma Roberts for Joy to begin with and Joan Plowright for Madame. I think there would definitely be an audience for it.
Thank you for your time,
—Marian
High Falls, NY
Cleo's reply:
Hi, Marian! Great post! Thank you for your enthusiasm. It made my day!
Your ideas bring up a lot of thoughts so I'll type away. The short answer is YES. Absolutely, I would LOVE to see the Coffeehouse Mysteries adapted for TV. For one thing, it would introduce so many more people to the characters that I love.
Sadly, books are not primary entertainment in America so until a book or book series reaches TV or film, it's rare (not imposible but rare) that it will become widely known. I hate to say it, but even a bad TV or film adaptation can put a book or series on the radar of the general public and encourage more readership of the book and/or series.
Quite frankly, writers write to be read. I would like to be read by as many people as possible and if that means a TV or film adaptation, so be it! You should know, however, that there are other reasons I think this would be fabulous...
I've written poetry and plays and song lyrics and newspaper articles. STORY can take many forms. The novel is not a sacrosanct script. It's just ONE form that a story takes.
In the theater, collaboration between actors, director, and the playwright, during the rehearsal period, is an essential part of shaping the play into a finished, polished experience for the audience.
Likewise, I would love to see what another writer (trained in the art of writing for the screen) would bring to my story and characters. Actors can bring a lot of ideas to a script and I'd be curious to see them explore the characters that I've created, making Clare and Madame and Matt come alive with their own ideas of creative expression.
For those who look down on adaptation of books into film, I can only say that it makes no difference to me whether a poet creates imagery on the page or a screenwriter does the same thing in a script. The content of the expression is what's important to me!
Sure, I appreciate the "novel" form of storytelling, which allows readers to experience the close, internal thoughts of the characters. Yes, I appreciate a form that allows for the showcasing of brilliant writing and description. But novels should not be treated as some kind of holy papyrus!
The LIVING parts of any book are the characters and story. The language is only an end to communicating what should be universal - and universally translatable, including other modes of artistic expression. (See my discussion of "FAUST" in my reply above.)
Do NOT get me wrong here. Anyone who's read my Haunted Bookshop Mysteries knows how much I respect the novel form - especially novelists like Chandler and Hammett and Fitzgerald and Christie - and how much I appreciate the history of book publishing. But the world is turning and authors and book publishers must progress with it or they'll perish. I'm just trying to say that story can take many forms.
That's one reason I really enjoyed seeing your post Marian, especially your casting ideas for my little Coffeehouse Mysteries! It's always a lot of fun to "fantasy cast" a book - any book, even books written 70 years ago. (A little like fantasy baseball! LOL!)
I've thought about this myself, and I also wonder what different (fantasy) directors would do with the material. I don't know how well people remember the Twin Peaks television series these days, but I can just imagine the brilliant director David Lynch (who has the same obsession with coffee that I do!!) getting hold of my books and filming them as surreal soap dramas with murder mystery structures.
I'm such an admirer of Lynch's movies and (ironically) Blue Velvet is often described as "the Hardy Boys go to hell." Likewise, Mulholland Drive is his version of "Nancy Drew goes to hell." I can just see Lynch seeing the potential in the Coffeehouse Mysteries, maybe using the distinctive details of the coffeehouse setting to great surreal effect (the steam wand's gurgle, the furtive looks of patrons from table to table, the background ambient noise of clinking cups...)
So anyway, Marian, thanks for writing! I do hope you're right and the series will make it to the big or small screen someday. Whether it does or not won't change my writing of the series (it will only change how many people are aware of it).
It's a little like a farmer growing a crop of something people enjoy. A chef might turn it into an appetizer or a side dish - the crop might be served to a big or small crowd - but it won't change how the farmer grows the crop. He still goes out there every day, digging his land, planting his acres, watering his work until it's ready for harvest. (Hope I'm not getting too Being There for you!)
And . . . in thanks for posting in my *virtual* coffeehouse, here's a *virtual* slice of authentic New York cheesecake from Junior's of Brooklyn, New York (my fave!). Come on back now, y'hear?!
Java joy to you,
—Cleo Coyle
February 20, 2009
Holy Crap!!!
I have been a fan of the Coffeehouse Mysteries forever, and I stumbled upon the Haunted Bookshop mysteries in my search for a new mystery series to sink my teeth into. I CAN'T BELIEVE you write both of them!! They make me so happy...I read your books by my mini-flashlight at 3:00 in the morning when I can't sleep.
Thank you for being so entertaining!!
February 20, 2009

Breville Cafe Roma Espresso Maker
Has anyone purchased this espresso maker? Just looking for a little feedback. Thanks!!


February 19, 2009
Hi Cleo, I have a great coffee icecream recipe for your readers!
Hi Cleo,
I have a great coffee ice cream recipe for your readers if you would like to post in your recipe section. Yumm and uses instant coffee Wanted to share when I read your article below.
Have a blessed day,
—Donna C
Check out this great coffee ice cream
recipe, posted by Donna C.!
COFFEE ICE CREAM
Ingredients:
1/4 cup sugar
1 tablespoon cornstarch
1 tablespoon instant coffee granules
2 tablespoons butter or margarine, melted
1 cup milk
1 teaspoon vanilla extract
1 can (14 ounces) sweetened condensed milk
2 cups whipping cream
Directions: In a saucepan, stir sugar, cornstarch, coffee and butter until blended. Stir in milk. Bring to a boil over medium heat; cook and stir for 2 minutes or until thickened. Remove from the heat; stir in vanilla. Cool completely. Stir in condensed milk. In a mixing bowl, beat cream until stiff peaks form; fold into milk mixture. Pour into a 9-inch square pan. Cover and freeze for 6 hours or until firm.
YIELD; 1-1/2 quarts.
Cleo's reply. YUM!!! Thank you, Donna! Java joy to you for posting. I'll have to try this one for sure. - Cleo
February 19, 2009
Another avid reader and fan...
Hello! Still loving your books! Recently my Siberian Husky, Harley, had puppies. I kept one of the girls and had the hardest time coming up with a name for her. Then, while I was reading "Latte Trouble" on my break a name came to me. So I named her Cleo. I think this will start a tradition of me naming my pets after my favorite authors! keep writing....we need something to read.
Cleo's reply:
LOVE YOUR POST! Thank you for telling me about "Cleo" the Siberian husky!!!
And may I introduce you to three of my kittens - a littler from a stray mom my husband and I saved from the NY streets. The gray kitty on the far left (standing tall) is Rebel. (And indeed she does have a rebel yell.) The pretty little longhaired kitten in the middle is Bobo - and we have since learned that "bobo" means fool in Jamaican slang. This is apropos as she is the equivalent of a bubble-headed cover girl. Very pretty. Not too bright. Finally, the kitty on the far right is Cleocatra. So we have a "Cleo," too!
I am so happy you posted. My husband and I are real animal lovers, too. Send me a digial pic of your Siberian husky named "Cleo" - and I'll be happy to post her on the main page.
Just attach the photo to a e-mail and send to VillageBlend@aol.com (you can label the e-mail PICTURE OF CLEO PUP so I see it right away).
Java joy to you and your adorable pups!
(Oh, and thanks for reading, too! LOL!)
—Cleo
Cleo's kittens...
(left to right) Rebel, Bobo & Cleocatra
February 16, 2009
Murder Most Frothy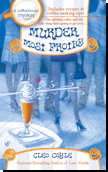 I loved my first introduction to your writing, Murder Most Frothy. I am leading the discussion for my mystery book club and would so appreciate suggestions on questions thatI could pose that would elicit interesting conversation from the members.
Thanks
Cleo's Reply: Hi! Thank you for asking...
CLICK HERE to download your free Coffeehouse Mystery reading guide. This single document includes questions for a reading group discussion of both Coffeehouse Mysteries #3 Latte Trouble and #4 Murder Most Frothy.
The reading guide document will appear in PDF format (Adobe). If you need an updated version of Adobe to read this PDF document, then CLICK HERE to get your free Adobe (pdf) reader software.
You'll find all the other available Coffeehouse Mystery reading guides in the right column of my web site's Home Page (look under the green Coffee Talk chalkboard. You'll see "Coffeehouse Mystery Reading Guides - Download for free"...)
I'll be posting more reading guides in April - for Coffehouse Mystery #5 Decaffeinated Corpse and Coffeehouse Mystery #6 French Pressed. The guide for Espresso Shot (Coffeehouse Mystery #7) will be posted later this year, too. If you have any trouble downloading, then send me an e-mail that says NOTE TO CLEO - READING GUIDE @ VillageBlend@aol.com
Warmest java wishes to you and I hope you and your group enjoy discussing Murder Most Frothy. Thank you sincerely for choosing the book!
—Cleo Coyle
February 14, 2009
THANKS CLEO!!
OMG CLEO I CANT BELIVE I FINNALY FOUND YOUR WEBSITE!! I WAS SO EXCITED TO SEE IT... I WAS JUMPING FOR JOY WHEN I STUMBLED UPON THE SITE!! I AM A COFFEE LOVER FANATIC AND I HAVE BEEN READING YOUR COFFEE HOUSE MYSTERES FOR SOMETIME NOW AND I CANT SEEM TO PUT THEM DOWN!!
IM ON NUMBER 3 RIGHT NOW!! ITS NICE TO FINNALY PUT A FACE ON THE CHARACTERS!! I CANT SEEM TO TELL YOU HOW HAPPY AND THANKFULL I AM TO READ YOUR BOOKS!!
YOU HAVE CREATED A MYSTERY NOVEL FOR COFFEE LOVERS, AND FRANKLY WE ALL NEEDED THAT! I WANTED TO READ A GOOD COFFEE BOOK THAT WASNT A COMPLETE COOK BOOK...
THANK YOU VERY MUCH FOR GIVING US COFFEE LOVERS A VOICE AND I HOPE YOU KEEP THE BOOKS COMING!!
THANKS ONCE AGAIN!!
—SANDRA SANDOVAL
February 13, 2009
Happy St.Valentine's Day !
Happy St.V Day to the coffee house gang! Hope your day is spent reading mysteries and drinking LOTS of chocolate flavored coffee,or chocolate and coffee.
—Laundrygoddess
February 12, 2009
The "Tarheel" Connection
I picked up my first Coffeehouse Mystery because of your name on the cover. You see, my mother's name was also Cleo; she was my dearest friend and the guiding force in my life. I was delighted to find that the book attached to the name was an engaging, well-written mystery with wonderful characters. I was quickly hooked on Clare, Matt, Madame, and Mike.
I am currently reading "French Pressed" and have "Espresso Shot" standing by! I live in the "Research Triangle" area of North Carolina, so I had a lovely surprise when I read the acknowledgments page of "French Pressed" and found a nod to two of my hometown favorites - Bin Fifty-Four and Counter Culture Coffees! Then I ventured onto this web site and found your wonderful tribute to Magnolia Grill's house blend. I am on Cloud Nine! Any chance you might be visiting our fair state again soon?
A faithful Tarheel reader,
—Colleen
February 10, 2009
I am not going to make 3 months without coffee!
I have been a good girl for the past 6 weeks. I have only had several small cups of decaf coffee and have been drinking only decaf tea. I go back to work tomorrow night and I will NOT survive without my coffee! I'm serious! I think I'll go to my surgeon's office and lay on his floor and refuse to move until he relents and lets me have my caffeine back.
I love the picture of the Rooster Brother coffee shop! I adore old houses and old buildings and it physically pains me to see a beautiful old building falling apart. I start making lists in my head on what would need to be done to save it. I'm heading to New Orleans in May for a nursing conference (the last one there was the May before Katrina hit. I hope it's not an omen) and I'm seriously thinking about renting a car and driving to Covington for a cup of coffee.
I'll let you know if I get there!
~~Judy Mac
February 9, 2009
WOW! Just like a chocolate addiction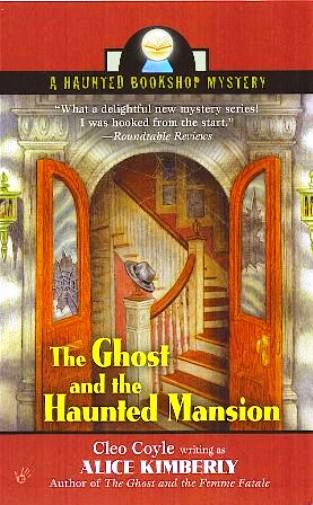 Just finished "Haunted Mansion" and I'm seriously "jonesing" for the next installment of Penelope and Jack. Thank you for creating such endearing, lively (ha!) characters. Without revealing your inner thoughts too much, will Pen ever go back over Jack's files and find out what happened? Can't wait for your next Bookstore Mystery. Keep up the excellent work!
—Susy
Cleo's reply: Thanks, Susy. Loved your "lively" post! It's readers like you who make me want to keep writing. Thanks sincerely for letting me know that you're enjoying the adventures of Pen and Jack!
Warmest wishes and keep reading!
Cleo
February 9, 2009
Moon Doggie Coffee Review, too
Hello Cleo,
First, thank you so much for writing the Coffeehouse Mysteries and the Haunted Bookshop novels. I've been a fan of both for quite a while, but am embarrassed to say I didn't realize you were the author of both until a few months ago when I checked out your website.
I love getting lost in your mysteries - can't put them down until the end, and then I anxiously await the next. I'm also writing, though, because I was so excited to see the Moon Doggie Coffee Shop mentioned on your website. I am originally from Maywood, NJ and still visit there monthly to see my Mom.
Since she is more of a tea drinker, my husband enjoys making his trip to the Moon Doggie for a great cup of coffee. The people are so friendly and they offer a nice variety of coffee, including frosty/iced drinks (which are my favorite). Thanks again for the great mysteries and for mentioning the nice people (and great coffee) at Moon Doggie!
—Susan
Purcellville, VA
Cleo's reply: Thank you, Susan! You rock for posting here about Moon Doggie and letting people know it's a great place for quality beans - a good cuppa joe - and they rescue basset hounds, too.
If anyone reading this would like to learn more about Moon Doggie Coffee (in Maywood, New Jersey) or if you'd like to order their coffee online to help save their shop, click here!
Hugs to you and yours,
Cleo
February 8, 2009
Thanks Cleo for the post.
Lisa and I would like to say thank you for posting St. John's Coffeehouse on your front page. Yes we were open five days after the great storm and we had something even better then coffee we had air- conditioning. hehe Your site is great, very detail, and a lot of good stories to surf upon. I added a link to your place on my site. I'm sure if people follow the link they will enjoy.
Good luck and peace to all,
—Dickie and Lisa
St. John's Coffeehouse,
Covington, Louisiana
Cleo's Reply:
Thank YOU for being such an inspiration to the coffeehouse tradition! I'm constantly buried under deadlines these days, but you can be sure if I make it down to Covington, LA, I'll be stopping in to say hi to you both and enjoy a superior cuppa joe!
Warmest wishes & Happy Mardi Gras!!
—Cleo
February 7, 2009
A Moon Doggie Coffee Review
Hello Cleo, Laundry Goddess and other readers:
Just a heads up that I placed an order from Moon Doggie and received it yesterday. I have been in caffeinated 7th heaven ever since!
The FRESHNESS of this coffee is unbelievable. I've been drinking stale coffee all this time and never knew it. The house blend, Half a World Away, is mellow but flavorful. I've been a flavored coffee drinker and their flavors of Strawberry Shortcake and Almond Joy taste like they should and the coffee used is potent enough to complement the flavor without being overpowered by it, unlike the stuff I was drinking before.
I am really impressed with this coffee and will be ordering from them again.
Thanks for recommending them!
—The Lab Lady
Reading, PA
Cleo's reply:
AWESOME, Lab Lady! You are the BEST for trying the Moon Doggie coffee and posting about it. What a wonderful shop and roaster they are - in Maywood, New Jersey - and they rescue basset hounds, too.
If anyone would like to help keep Moon Doggie Coffee in business, click here to try their coffee for yourself.
Or stop by their shop in New Jersey. Their web site will give you directions. Thanks again for stopping by my *virtual* coffeehouse, Lab Lady! Come on back now, y'hear?!
—Cleo
February 6, 2009
Next books
I am "dying" when will the next coffeeshop and the next bookshop books be out? I haven't been on in a while, and I just saw the Moon Doggie site. It is so cool. I too want to help out anybody that is a coffee and animal lover. I think they are the best people around. (we drink lots of coffee and have 5 dogs)
Thank you for posting!
Cleo's reply to come soon!
February 6, 2009
Review
Hi, I did a review of the The Ghost and the Haunted Mansion and just wanted to send you to a link to it. Thanks -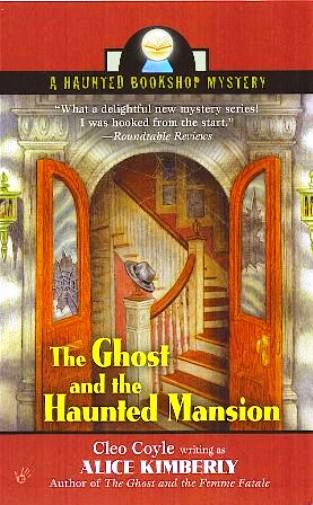 Cleo's reply: This is wonderful! Thanks!
I'll put the link on my home page right column in the next few days! For now, anyone who wants to read your review of my latest Haunted Bookshop Mystery, can click the link below!
NEW REVIEW!
February 6, 2009
Curiosity
Just checking - on January 6th I posted a question and it was never answered, but all the questions after it were. Is there a reason for the silence?
—Marian
High Falls, NY
Cleo's Reply:
Hi Marian!
Thanks for stopping by again. I'm happy to answer your question now. This answer takes a bit of time to post, and I don't always have it (the time that is)! But I feel badly about your asking again so here goes...
Last month, you posted the following:
"Is there a real coffeehouse that the books are based on? I love your stories. I was introduced to On What Grounds by a friend/librarian and ended up buying all the other books and turned my mom and sister on to them as well."
Caffe Reggio is a great example of an historic coffeehouse in Greenwich Village, New York (where my Coffeehouse Mystery series is set). At over 80 years old, this cafe is just one example of the landmark businesses that still exist here - The White Horse Tavern and McSorley's pub (in the East Village) are two other century-old establishments that I'd hate to see go the way of so many of the other beloved old businesses.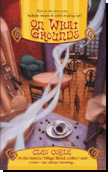 From my first book on, that's the main mission of my characters (Clare Cosi, her ex-husband Matt Allegro, and his mother Madame): To keep the ficitonal Village Blend alive and kicking!
ON WHAT GROUNDS, book #1
of the Coffeehouse Mysteries
>>>
While Reggio was an inspiration for longevity, Clare actually runs the Village Blend like a more modern coffeehouse. If you click over to my Home Page and scroll down, you'll see that I posted a short feature article on Joe, The Art of Coffee, a much newer coffeehouse in Greenwich Village that started with a cozy little flagship store on Waverly Place (the store is MUCH smaller than my fictional Village Blend, but it's a beautiful shop and a great location in the heart of the West Village).
This coffeehouse's dedicaiton to the community as well as the art of coffee-making made Joe, The Art of Coffee an important inspiration to my creation of the Blend. Early on, while I was doing research for the books, I took coffee classes from the owner (Jonathan Rubinstein) and his head barista and coffee director (Amanda Byron). Amanda is one of the top barista's in the city - she even appeared on Martha Stewart's televison show to give a demo on latte art. (Joe was also recently named one of the top 10 espresso bars in the country by Food and Wine mag.)
Cafe Grumpy has been an inspiration, as well. This cafe is where I met the man who re-discovered the Geisha coffee tree in Panama - the rare heirloom tree that grows the "champagne of the coffee world," Esmeralda Especial, which I wrote about in my latest Coffeehouse Mystery ESPRSSO SHOT (cover pictured right >>>>).
Counter Culture Coffee, a highly respected boutique roaster in Durham, North Carolina, is one of the suppliers of Cafe Grumpy's beans and they (along with Joe, the Art of Coffee and so many other wonderful coffeehouses around the country) have inspired me as well. They all represent the recent emergence in the USA of coffee as a culinary/artisanal experience (it's been that way in Italy for decades - here in the US it's a more recent trend).
I hope that answers your questions, Marian! There are A LOT of amazing coffeehouses in New York that continue to inspire me. I try to visit as many as I can (not just for research but for fun)! If you read my short article on the Home Page, you'll see I recommend a book called Cafe Life New York: An insider's guide to the city's neighborhood cafes
CLICK HERE
to learn more
about this book, written by Sandy Miller w/photography by Juliana Spear
The book is great for scouting out coffeehouses in New York. (At least for now - as anyone who's lived here for years will tell you, the face of NYC is constantly changing.)
Thanks for stopping by my virtual coffeehouse! Here's a *virtual* cappuccino and biscotti for you! (I wish it could be the real thing - but this is still a *virtual* coffeehouse!)
Warmest java wishes to you and yours,
—Cleo Coyle
February 2, 2009
Ebook versions of books 3 & 4
Dear Cleo (I so nearly wrote Clare!) -
I have just discovered the books just as I have suddenly discovered good coffee after picking up an old but good quality home espresso machine in a charity shop. (I'm British and was always a tea person before this.) I was searching the Ereader.com site for coffee related books and found yours - and have read all the available ones in just over a week! I was wondering why books 3 & 4 are not available in the ereader format - I've ordered them from Amazon but I'd have liked them all on my PDA for holiday re-reading.
Thanks!
Hi BP -
Since I don't see a first name or a nickname at the bottom of your post, I hope you don't mind my calling you BP for "British Person" - LOL! A short time ago, I asked my editor about e-book publishing.
Here is what she said: "We automatically convert all titles into formats for sale through e-book retailers. The formats are: Amazon Kindle, Sony, Adobe, MS Reader and Palm."
I'm afraid that's all I know. I don't know whether that's any help at all, but I'm in the middle of writing my next mystery and that's about the best answer I can give you! My publisher is in charge of handling how and where and what format my books appear -- all I can do is write them.
My publisher, by the way, is Berkley Prime Crime an imprint of the Berkley Publishing Group whish is a division of Penguin USA. If you want to query them directly, you have my blessing!
In the meantime, I want you to know that I'm delighted to hear the story of how you found me and even more thrilled to know you liked my books enough to want to re-read them on a holiday. Awesome. You made my day.
I hope you enjoy the espressos, too. Here's a *virtual* one made especially for you in thanks for dropping by my *virtual* coffeehouse.
Warmest java wishes,
Cleo Coyle
February 2, 2009
Bathing in coffee?
Cleo, Check out this Japanese Spa...scroll down about 2/3 of the page for the coffee spa. I like coffee but not that much *L*.
—Dotty K,
Boston,MA
February 1, 2009
Just finished French Pressed
First of all I loved the book, but I was confused for awhile because I read Espresso Shot first and then French Pressed and...
**"!!backwards is line story The" **
I didn't realize that I should have read #1 through Espresso Shot and not the other way around. (What do you expect from a guy??)
Second, being a fellow Pittsburger I must tell you that I am really bummed!! I'm not going to have any Chipped Ham BBQ's or Iron City Beer when watching my Steelers win their 6th Super Bowl!! What a shame!! Keep up the good work Cleo!!
—Steve
January 31, 2009
Dear Cleo Coyle, I just had to let you know...
Dear Cleo Coyle, I just had to let you know how much I enjoy your Haunted Bookshop Mysteries. I have read every one you have written (including your latest) and sincerely hope you will continue to write these wonderful books.
I love the characters, especially Jack with his 1940's slang and attitude. Such a nice way to relax after a long day at work…wish it took me longer to read them! I have not read the Coffeehouse Mysteries but intend to give them a try as well. Thanks so much for the pleasure of reading books that take you away!
Sincerely,
—Rosemary
Myrtle Beach, South Carolina
Cleo's reply: Thank you, Rosemary! (And Jack the ghost sends this note from beyond...)
Thanks, doll.
You're aces in my book...
—Jack
January 31, 2009
Hello from very cold Chicago, IL!
Hello from very cold Chicago, IL!
I just finished reading "The Ghost and the Haunted Mansion" and I loved it. I can't wait until the next book comes out. I have read most of the Coffee House Mystery books and all of the Haunted books.
I think you are going to have to write a little faster as we just love your books. I live in a Senior Suites building with 90 apartments. We recently formed our own reading group/club and we share our books. I have pulled some short stories for us to read, but your books are a real treat! Everyone loves them.
Keep writing and thank you for sharing your talent and imagination with your readers. As we say in Spanish, FELICIDADES! (congratulations)
A happy and productive New Year to you.
—Ann Marie
Cleo's reply:
Hi Ann Marie! Gracias! What a wonderful note! Please say "hola!" to the girls in the Senior Suites (and the guys, too, of course!) I couldn't be happier that you and your Chicago crew are enjoying my books.
Thank you for letting me know and for the "Felicidades!" Awesome! You have a Happy New Year, too!...
And to help you stay warm in chilly Chicago, here's a nice fresh *virtual* cuppa joe. Come on back anytime to my *virtual* coffeehouse!
—Cleo
January 30, 2009

just started the series!
i just started your coffeehouse series and i must say i loveee "on what grounds" so far.. love it! i already ordered "through the grinder" from the bookstore and it just came in today :) thanks for the amusement!!


January 29, 2009
fanera cookies are good!!!
yum
Click here
to learn more about the Coffeehouse Mystery novels.
To purchase the books,
click here
or
here
or
here
.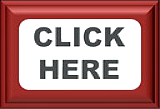 ---
Clare Goes to
Washington!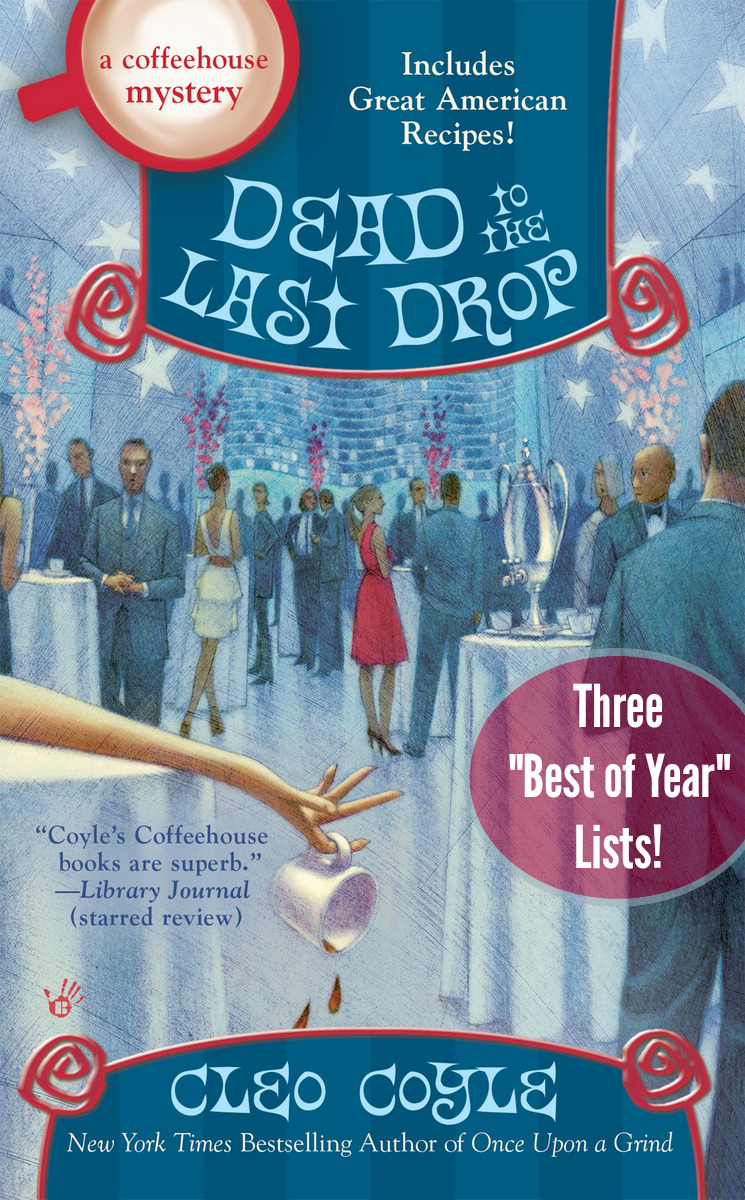 Dead to the
Last Drop
National Bestseller
3 Best of Year Lists!
TO LEARN
MORE or BUY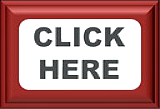 With an appendix of
amazing recipes...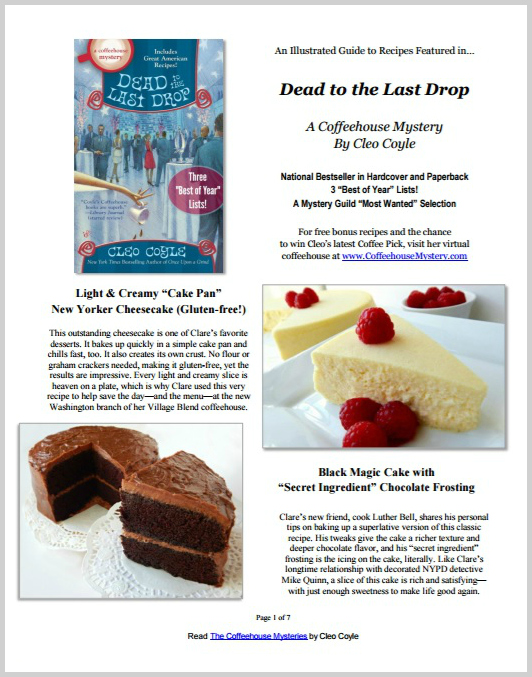 ---
FREE
READING
GUIDES

---
---
It's Official!

Now a
BESTSELLER
in paperback!
#3 bestselling
paperback mystery
at B&N Stores
Nationwide!

Cleo's 10th
Coffeehouse
Mystery
Murder
by Mocha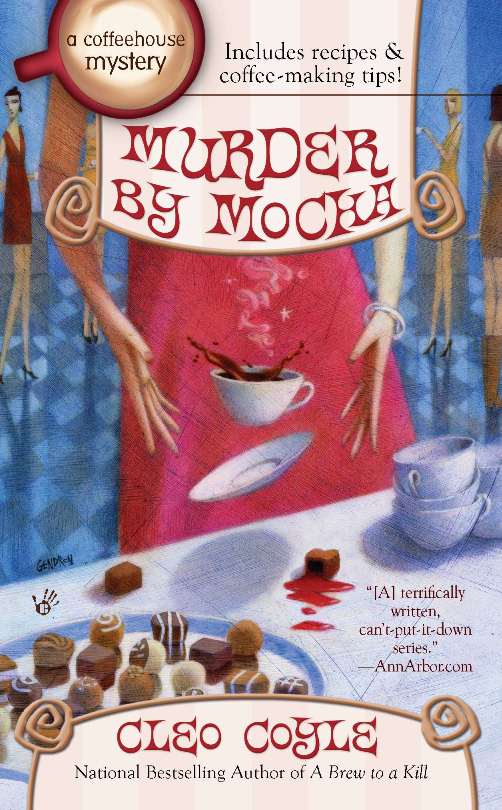 4 Year-End
Best Mystery
Lists!
This bestselling
hardcover is
now reprinted
in paperback,
and a...

TOP-10*
Mystery
Bestseller,
Nationwide!

*Barnes & Noble
*
Includes
Chocolate
Recipes!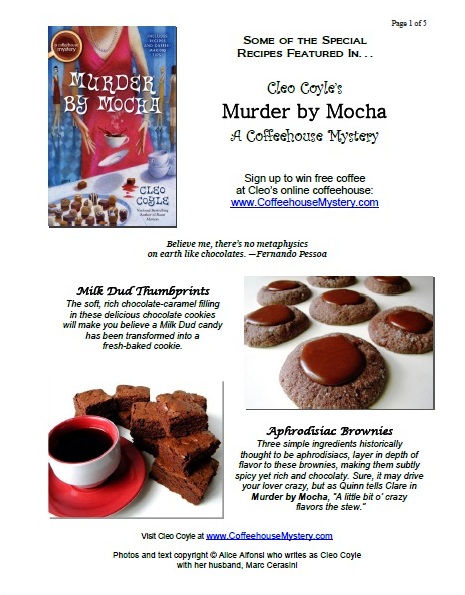 This is a
PDF document
and will take a
minute to load.
"...a tasty tale
of crime and
punishment
lightened by
the Blend's
frothy cast of
lovable
eccentrics."
~ Publishers
Weekly


---
Read
with joy!

~ Cleo
---
Arson leads
to murder
in...
ROAST
MORTEM

Named as a
"Favorite Book
of the Year!"
Reviewer's Pick
~ Bookreporter.com
Now a
National
Mystery
Bestseller!*
A deliciously
thrilling
culinary mystery
that's also a
tribute to
firefighters...

See some of
Roast Mortem's
featured recipes by
CLICKING HERE.


---
---
#1
Bestselling
Paperback
French
Pressed

#1 Bestseller
Independent
Mystery
Booksellers
Association
April 2008
---
Caffeinated
Cheers

to
COUNTER
CULTURE
COFFEE
"Top Innovator"
DETAILS magazine named Counter Culture Coffee as #1 (of North Carolina) among five industry "innovators creating coffees that have the complexity of fine wines."
I'm a big fan of Counter Culture and have written about them on this site and in my books. Read my Coffeehouse Mystery: French Pressed or scroll down this column to my "Coffee Pick" list.
Says Counter Culture: "We hope that such media coverage helps spread awareness that coffee can not only be an authentic, delicious food experience, but also a conduit for community, sustainable agriculture, and cultural exchange."
~ Cleo
---
A
#1 Bestselling
Paperback
Decaffeinated
Corpse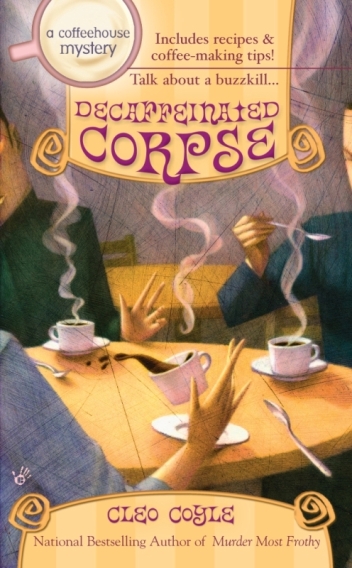 #1 Bestseller
Independent
Mystery
Booksellers
Association
July 2007
---
BULLETS
ON THE
BEACH
Murder
Most Frothy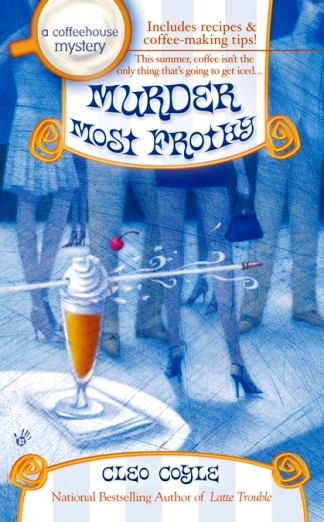 Murder Most Frothy
Cleo's 4th Coffeehouse Mystery gave her amateur sleuth, Clare Cosi, a summer job as a "coffee steward" at a posh new eatery in the Hamptons, the fabled seaside escape for New York's rich and famous.
When a co-worker is gunned down, she's on a case that leads her to strange clues on the beach, a rogue Navy SEAL, and a suspicious manager at the restaurant where she's pouring gourmet cups of joe...
NEW YORK
HAMPTON'S
COFFEE CO.
CLICK HERE to visit some real coffee peeps who work hard to give the Hamptons folks a great cuppa joe.
* * * * * *

And
just for fun...
Peter Pans

"Overstaying the
Hamptons Party"

New York
Times
Click below to read a past Times feature about "house shares" in the Hamptons and men who try to keep the postcollege "boys of summer" party going decades after their undergrad days. Shades of my character Matt Allegro? Hmm...
---
2010 WORLD
BARISTA
CHAMP
Mike Phillips, our U.S. Barista Champ, finished among the top 3 baristas in his first World competition, held in Atlanta, Georgia. The following year, in Olympia, London, he won FIRST PLACE and is now THE WORLD CHAMPION FOR 2010! Way to go, Mike!

How did he get there? "I really care about coffee and the entire chain of things, from where the coffee is grown and processed, all the way to the shop where it's prepared and the customers who enjoy it."
Mike worked at Intelligentsia Coffee & Tea when he won the barista competitions. To virtually visit the store, click here.
*
---
Java Master Gives
Tips on Making
the Perfect Cup
Italian-born Gennaro Pelliccia is responsible for the taste of the 108 million cups of Costa coffee sold in Britain each year. His policy with Lloyd's of London insures his tongue for 10 million pounds!

Click here to read Mr. P's tips on making a great cuppa joe...
FREE
EXCERPT!
for Cleo Coyle's
2nd series...
Haunted
Bookshop
Mysteries
THE GHOST
AND THE
HAUNTED
MANSION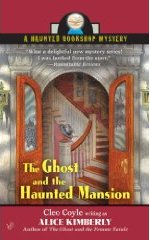 * National Mystery
Bestseller!
Independent Mystery
Booksellers Association
Meet the ghost at...
* A Fresh Fiction
Fresh Pick!
Click here
to read a
Free Excerpt

---
Want to Grow
Your Own
Coffee Plant?
Thanks to CM reader Linda for posting info about where to buy coffee plants and seeds. Click here to go to the coffee seed catalog page and scroll down. Look for the "coffea" plants listed in ITALIC alphabetically.
Coffea arabica
Coffea catura
Coffea kona
Linda also says: "Gurney's Plant and Seed catalog has small coffee plants for $8.95 each. Click here and look for item # 11295 for coffee plants."
---
WAKE UP AND SMELL...
THE CANVAS!
"I started painting with coffee because I wanted a cheaper medium that was accessible to me," says Filipino artist Sunshine Plata. A tube of oil paint costs at least 500 pesos ($11), while a jar of instant coffee is only around 150 pesos ($3). Click here to read more about Sunshine and her coffee art.
---
Caffeine
Myths
A New York Times story by the amazing Jane Brody examines coffee and health, click here to read more. (I learned a lot about the myths of caffeine!)
*
Click here to read about a Harvard study that shows coffee's link to preventing heart disease.
*
Click here to read how a cup of coffee a day may offset Alzheimer's disease.
---
In Memoriam
Sheena
2.21.2009
---
Ethiopian Coffee Ceremony!
Yes, like the Japanese with their tea traditions, the Ethiopians have a very special way of enjoying coffee. Click here to learn more!
---
Coffee Health News!
Coffee May Boost Memory
in Older Women
Women older than 65 who drank more than three cups of coffee a day — or the caffeine equivalent in tea — showed better memory retention than men, a French researcher reports. To read more in a Scientific American article, click here.
---
COFFEE NEWS!
Ethiopia announces commercial culitvation of low-caffeine coffee plants! Ric Gostwick's "dream" coffee from Decaffeinated Corpse is no longer fiction! To read about this amazing breakthrough, click here.
---
AND NOW
FOR SOME
OF CLEO'S
PAST
COFFEE PICKS...
---------------------------
SEPTEMBER '07
Cleo's Coffee Pick:
MAGNOLIA GRILL BLEND
With the tip of a chef's hat to the married couple who run Magnolia Grill, Cleo's coffee pick for SEPTEMBER 2007 was Magnolia Grill Blend sold by Counter Culture Coffee roasters.
---
OCTOBER '07
Cleo's Coffee Pick:
GOMBE RESERVE
Cleo's pick for OCTOBER 2007 was Gombe Reserve sold by Green Mountain Coffee Co. and endorsed by Dr. Jane Goodall.
---
NOVEMBER '07
Cleo's Coffee Pick:
MAJOR DICKASON'S BLEND
In tribute to the late, great Alfred Peet, Cleo's pick for NOVEMBER 2007 was Major Dickason's Blend sold by Peet's Coffee and Tea. To read Cleo's past featured article "Alfred Peet and the Birth of Coffeehouse Culture" as well as the article after it about the Major Dickason coffee blend itself, go to Cleo's article archives by clicking here and scrolling down.
---
JANUARY '08
Cleo's Coffee Pick:
"YIRG" - ETHIOPIAN YIRGACHEFFE
Cleo's pick for JANUARY 08 was Ethiopian Yirgacheffe sold by Counter Culture Coffee Company. This coffee was also featured in Cleo Coyle's Coffeehouse Mystery: FRENCH PRESSED.
---
FEBRUARY '08
Cleo's Coffee Pick:
RWANDAN VILLAGE BLEND
Cleo's FEBRUARY '08 pick was Rwandan Village Blend sold by Land of a Thousand Hills Coffee Co. To read Cleo's archived article on this coffee, click here and scroll down.
---
MARCH '08
Cleo's Coffee Pick:
KENYA
Cleo's MARCH '08 pick was Kenya, sold by Counter Culture Coffee, Co. and Peet's Coffee. This coffee was also featured in Cleo Coyle's Coffeehouse Mystery: FRENCH PRESSED.
---
APRIL '08
Cleo's Coffee Pick:
PURPLE PRINCESS
Cleo's April '08 pick was the amazing "Finca El Puente" from a coffee in Honduras nicknamed "Purple Princess" by the coffee director of Counter Culture Coffee of Durham, NC. This coffee was also featured in Cleo Coyle's Coffeehouse Mystery: FRENCH PRESSED.
---
MAY - JUNE '08
Cleo's Coffee Pick:
PAPUA NEW GUINEA
Cleo's June '08 pick was the "Jamaica Blue Mountain" of the South Pacific. An award-winning coffee grown on the exotic island of Papua New Guinea (north of Australia).
---
JULY - AUGUST '08
Cleo's Coffee Pick:
SOLAR ROAST COFFEE
Cleo's July - August '08 pick was Solar Roast Coffee of Pueblo, Colorado, the only company in the world that roasts its coffee using solar energy! Meet Dave and Mike, the two brothers who invented this one-of-a-kind solar roaster, and learn how you can purchase their delicious coffees for yourself by clicking here or typing SolarRoast.com into your browser.
---
SEPT. - OCTOBER '08
Cleo's Coffee Pick:
JOE'S VIENNA ROAST
from the NYC coffeehouse:
Joe, The Art of Coffee
The September-October '08 pick was Joe's Vienna Roast, sold by Joe, The Art of Coffee café in Greenwich Village, New York, recently named one of the best coffee bars in the country by Food and Wine magazine (and one of Cleo Coyle's inspirations for her fictional Village Blend!). CLICK HERE to visit Joe online. (To read Cleo's archived article about the Joe cafe, click here.)
---
NOV. - DECEMBER '08
Cleo's Coffee Pick
BOUCHON BLEND
This smooth, delicious coffee is the House Blend served at Bouchon Bakeries, which are owned and run by award-winning chef Thomas Keller. This coffee was featured in Cleo Coyle's 7th Coffeehouse Mystery: ESPRESSO SHOT. It is blended and roasted by Equator Estate Coffee and Teas, a women-owned company based in northern California. Click here to visit the company and try their coffees for yourself.
---
JANUARY 2009
Cleo's Coffee Pick
NOT KOPI LUWAK!
One of the rarest coffees on the planet, Kopi Luwak is also one of the most expensive. Kopi Luwak was also a featured coffee in Cleo's 7th and most recently released Coffeehouse Mystery: ESPRESSO SHOT. To read Cleo's brief archived article on Kopi Luwak and learn how it got its hilarious nickname: "cat poop coffee," click here and scroll down.
---
SPRING 2009
Cleo's Coffee Pick
ROOSTER BROTHER's
LA MINITA ESTATE
(Costa Rica)
This outstanding single-origin bean is treated with love by the coffee team at Rooster Brother, a store for cooks housed in a historic Victorian building in Ellsworth, Maine. Master Roaster Gene (pictured) does a masterful job of bringing out the very best in this smooth, bright, delightful coffee with the kind of hints of citrus and berry usually found in high-quality African beans. Click here to visit George and Pamela Elias's Rooster Brother store online and order some of this superb coffee for yourself! (Thanks to Coffeehouse Mystery reader Bud Knickerbocker of Bangor, Maine, for suggesting it!)
---
MAY - JUNE '09
Cleo's Coffee Pick
BISHOPS BLEND
Creating blends is a culinary art, and I'm happy to report that the roasters for Bishops Blend have done a masterful job at creating theirs. The beans are roasted medium dark and the package came to me (via UPS) freshly roasted, beautifully oily, and smelling of chocolate. The coffee is perfectly balanced; and as it cools, the notes include a slight vanilla flavor and a touch of cinnamon. Even better, when you purchase a bag, a percentage of the money goes toward ERD, a charity that provides disaster relief around the world as well as enabling people in the poorest communities on our planet to climb out of poverty.
---
SUMMER 2009
Cleo's Coffee Pick
DALLMAYR PRODOMO
Imported from Munich, Germany
To learn about this beloved German coffee brand, including tips on where to purchase it in America, read Cleo's feature article by clicking here. This is an archived article and make take a minute to load.
---

FALL 2009
Cleo's Coffee Pick
AMARO GAYO
(Ethiopia)
roasted by
Gimme! Coffee
An exotic Ethiopian coffee sold by the outstanding roaster Gimme! Coffee, which takes pride in getting it to you expertly and freshly roasted. Visit the roaster by clicking here.
---
SPRING 2010
Cleo's Coffee Pick
FRENCH LAUNDRY
ESTATE BLEND
roasted by
Equator Estates Coffee
"Roaster of the Year"
~ Roast Magazine

This "chef's blend" was created especially for award-winning Chef Thomas Keller's world-renowned French Laundry restauant. The roaster is Equator Estates. Visit the roaster by clicking here.
---
Summer-
Fall 2010
Cleo's Coffee Pick
Kafe Lespwa
"Coffee of Hope"
from Haiti
To purchase this coffee
or learn more about it,
CLICK HERE.

To Read Cleo's
feature post on
this coffee, CLICK HERE
and scroll down

---
Spring-
Summer 2011
Cleo's Coffee Pick
Cops Coffee

COPS
COFFEE
"Midnight
Shift"
dark roast

"Your safest cup
of brew..."
---
Mocha Java
Blend

To learn
more or buy,
click here.
and...

Dancing
Goats Blend


To learn
more or buy,
click here.
---
Winter
2011 - 2012

Cleo's
Coffee Picks
from
Rooster
Brother

A boutique
roaster in
Ellsworth,
Maine
Costa Rica's
La Minita Estate

"The Lafite of coffees."
An amazing cup
of joe from


To visit the
Costa Rican farm
where this coffee
is grown,
click here...
To read more
about this coffee
or purchase it
for yourself,
click here.
and...
100% Kona
Coffee

Grade:
Extra Fancy

Grown by
Kona Star Farms
of Kona, Hawaii
To learn
more, click here.
NOW
SOLD OUT
---
Cleo's
Spring 2012
Coffee Pick
Brazil's
Poco Fundo
"Almond joy
in a cup"
Roated by
Seattle
Coffee Works
---
Cleo's
Summer 2012
Coffee Pick...
From the
"Coffee Goddesses"
of Maine
Bistro Blend
&
Fireside Blend
Roasted by
Carpe Diem
Coffee Roasters

To learn more
or purchase,
click here.
---
---
WIN COFFEE
---
---
---
FREE
READING
GUIDES

---