CONTACT
CLEO COYLE AT

CoffeehouseMystery(at)
gmail(dot)com
CLEO IS ON
FACEBOOK!


Click here to visit Cleo's Facebook Page. If you read her books, she will be delighted to accept your friend request. See you there!
---
---
To learn
more or buy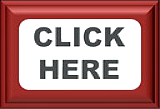 Or to find an
Independent
Bookstore
near you,

CLICK HERE.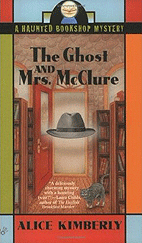 HAUNTED BOOKSHOP
MYSTERIES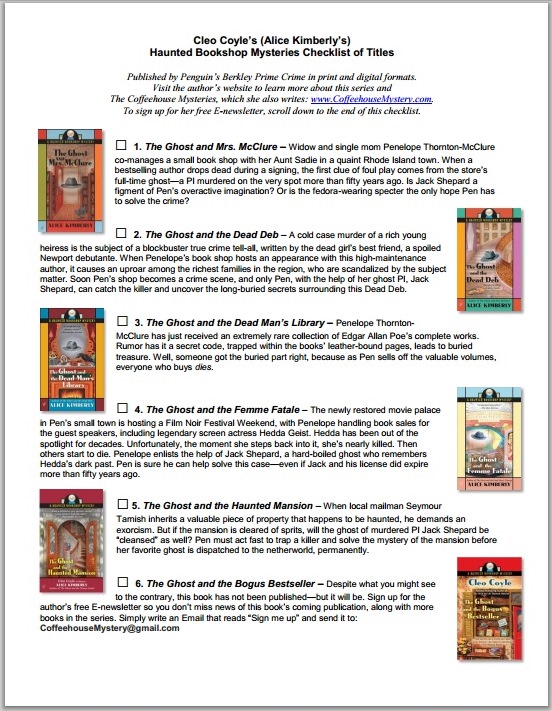 CLICK HERE
FOR TITLE
CHECKLIST



---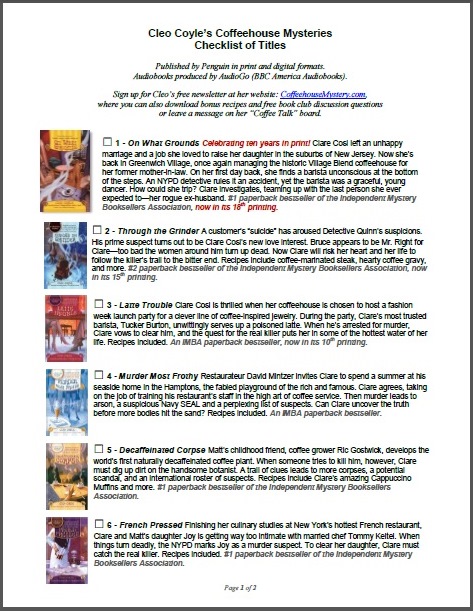 For a free checklist of the Coffeehouse Mystery books in order click here.
---
WHO IS
CLEO
COYLE?

To read Cleo's
essay "Brewing
up Murder"
The essay
appeared in
the Quarterly
Issue of Mystery
Readers Journal
---
To read
Cleo Coyle's
WIki Entry
Click Here
---
American
University
Magazine
interviewed
Cleo Coyle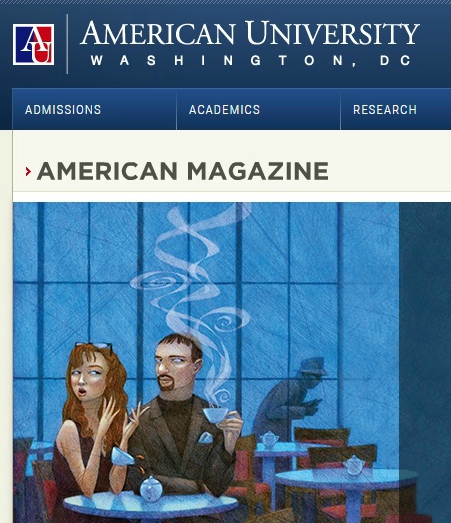 ---
**NEW**
INTERVIEW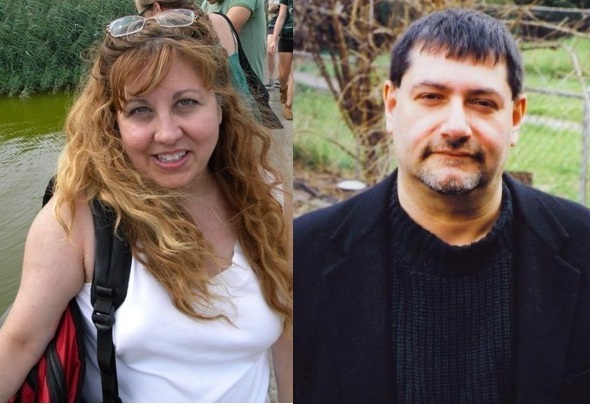 *NEW*
Cleo Coyle Interview, Click Here to read it at the award-winning blog: Lesa's
Book Critiques
*
---
What is a
cozy mystery?
The Cozy
Mystery
List tells you!

Click here
to learn more...
---

Gumshoe
Review
Interviews
Cleo Here
---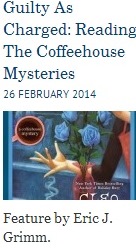 Sprudge.com
is the "most popular
coffee publication
on the planet."
Read Cleo's
interview with
Sprudge by
clicking here.
---
LIBRARY
THING
Hosted a chat
with Cleo.

Read it by...
---
A BLOG
POST FOR
WRITERS:
Read Cleo's
Guest Post at
Mystery Writing
Is Murder

"Genre Blending
and Your Character's
Love Life"
Click here
to read.
---
Cozy Murder
Mysteries Blog
Interviews
Cleo
---
Fun Foodie
Book Resort
Interview
with Cleo
Here.
---

Cleo's Q&A
with the
Hartford
Examiner


---
FREE
READING
GUIDES

COFFEEHOUSE
MYSTERIES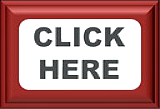 Book Club
Discussion
Questions
---
How to Clean
Your Drip
Coffee Maker...
Your best tasting
cup of java will
come from a clean
coffee maker!
*
*
For more coffee
tips, scroll down
this left column...
---
NYPD DET.
MIKE QUINN'S
BEAT
Click » NYPD: Official Website for New York's Finest
Click » NY Crime File (Daily News)
Click » Police Blotter (NY Post)
---
How to Make
Cuban Coffee
CLICK HERE
for video
* * *
For more
info on the
Moka Express
stovetop pot
used in the
above video,
---
*Starred Review*
~Library Journal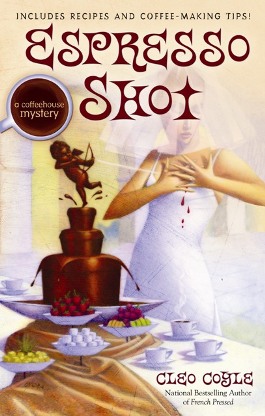 To learn more
or buy...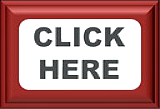 CLICK HERE
TO READ A
FREE EXCERPT
---
How to Make
Coffee in a
French Press
---
Cleo's Past
Coffee Pick was...
Kafe Lespwa
"Coffee of Hope"
from Haiti

Click here to
visit Just Haiti.org
and sample the
coffee for
yourself!
A
Good
Cause!
See more of
Cleo's past
coffee picks
by scrolling
down the
right column.
---
Publishers
Weekly
Bestseller
LEARN MORE
OR BUY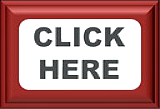 "Fun and gripping…"
~ Huffington Post


"Some of the most
vibrant characters
I've ever read."
~ Mystery Scene


"This one will keep
your cup
piping hot."
~ Kirkus




vif
---
Welcome to Cleo's
Coffee Talk
Message Board!
TYPE YOUR POST BELOW.
HIT THE SAVE BUTTON.

Readers are also welcome to
"Friend" or "Follow" Cleo on
Facebook by clicking here.


You can also e-mail Cleo at this address...
CoffeehouseMystery@gmail.com

jazzy egg * donut egg * haunted egg
December 4, 2008
Clare and Mike
I just finished reading 'Decaffeinated Corpse' and have to say that I will be very upset if Clare dumps Mike to give Matteo another chance (seems to me it would be more like his 42nd chance). He knows that
she doesn't want him back, and if he really loved her like he professes, he would want her to be happy. I don't care if he marries Breanne, I just don't want him getting Clare back!!! He doesn't deserve her!!
Cleo's reply: HA! LOL! Thanks for posting! I always enjoy hearing readers' thoughts about my books and characters.
I don't want to type any spoilers here so I'll just say keep reading! If you liked Decaffeinated Corpse, I honestly think you'll love French Pressed and Espresso Shot (the next two titles in the series)!. Come on back to let me know what you think of what happens next at the Village Blend!
Warmest java wishes,
—Cleo Coyle
December 3, 2008
Easy Turkey Pie
Thanks for the recipe Cleo. It turned out to be a great idea to use up all that left over Thanksgiving Turkey. :0)
~K.Evans~
Cleo's reply: Excellent to hear, K. Thanks for letting me know!
I have great respect for leftovers—and so do most working chefs out there. Their first test of a wannabe line cook is to have them prepare the staff meal using the leftovers from the night before. So we should all feel coolly creative when we pull out those bits and pieces of last night's meal and make them into something at least semi-tasty. Waste not, I say!
Java joy to you and yours for the holidays,
—Cleo Coyle
December 2, 2008
Ono Coffee in Hawai'i
Posting from Maui, where I am spending my children's inheritance. Family owned ONO Organic Farms is certified organic by the Hawaii Organic Farmers Association (HOFA), and a Partner of the Natural Resources Conservation Service (NRCS).
[ Click here to visit them: http://www.onofarms.com/ ]
They are one of many coffee producers here on the island. I still like Medaglia D'Oro the best. *Your mileage may vary*
—geekette
e-post script: Thanks for a look at Joy! 36 days and counting down to the next Haunted Bookshop book!
Cleo's Reply:
Hi geekette!! So great to hear from you again!!
I activated your link to the ONO farms. You are too funny (spending your children's inheritance. You go, girl!!) And kiss one of those hunky island native dudes for me, will ya?
No kidding though - thanks for posting from our 50th state. I can feel the Pacific breeze and smell the wild island flowers in your post!
Wishing you Kona Joy,
—Cleo Coyle
(GeekGirl2)
P.S. So glad you enjoyed the Joy Allegro addition to the Village Blend Staff page...Mike Quinn is now on deck! (Also glad to see you're anticipating the Jan. pub of The Ghost and the Haunted Mansion. It was a BLAST to write the latest HB, and I can't wait until it's in the hands of Jack & Pen's fans. I hope you enjoy it!)
December 2, 2008
Anginetti Cookie Recipe
Hi Cleo -
Just finished Espresso Shot and loved it! I just lent the book to a friend and forgot to copy the cookie recipe which sounds identical to my Mom's. Is it printed anywhere on your site?
—Lisa
Cleo's reply:
Hi Lisa! Thanks for stopping by my *virtual* coffeehouse. I'm so glad you enjoyed the book!
I have always LOVED anginetti cookies - ever since I first tasted them as a little girl at the wedding of a relative. This is one reason I put the recipe in the back of my first hardcover: Espresso Shot. It's one (of many foods) that has emotional meaning for me.
For those of you who aren't familiar with "anginetti", they are a buttery soft Italian cookie with a slight lemon flavor and brushed with a white sugar glaze.
The sweetness of the glaze beautifully complements the slight tartness of the lemon in the cookie. The contrast of textures is fantastic, too: As you bite into the anginetti, you can feel that delightful little snap of hard glaze giving way to the buttery-soft texture of the sweet, cake-like cookie beyond.
It makes for a super satisfying eating experience, especially when paired with coffee. And if you're wondering why I think lemon and coffee go well together...
Espressos are often served with a lemon twist - and the best African coffee beans have a slight hint of lemon to them. And that's why the anginetti are wonderful cookies to enjoy with coffee.
My recipe at the back of Espresso Shot is well tested and really delicious - it came from my late aunt, but I've tweaked it.
ALSO at the back of Espresso Shot is my own version of the Italian cookie known as "baci di romeo" (translation: Romeo's
Kisses).
See my photo at the right for my version of Romeo's Kisses - two delicate almond cookies sandwiched together with a filling of rich, chocolate ganache. (While still warm this ganache also doubles as a great chocolate glaze for a cake...)
So, anyway, Lisa, I hope you're able to borrow back my book from you friend and get these tested recipes because they are not on my web site! They are only available in the recipe section of Espresso Shot, which was just published in October.
There are other "bonus" recipes here on my web site that I've provided as a thank you to my readers. I hope you can take advantage of them. And I appreciate your giving me the chance to talk about the anginetti!! (It sounds like you have fond memories of them, too!)
Warmest java wishes to you for the holidays,
Cleo Coyle
December 1, 2008
Reply From Needs Help in SC
Cleo,
Thank you so much for your reply. It really means a lot. I do believe that I am worth a lot more than this job represents and I know that God is in control of my life. I will start taking those walks. I listen to WMHK (a Christian radio station) everyday, when I'm getting ready for work, traveling and sometimes at work. This station is uplifting. Thanks for your prayers and I will let you know what happens.
—V Wooten
Cleo's reply:
Cheers to you, V! You will remain in my thoughts and prayers (and I hope my readers will include you in theirs, as well).
May the true meaning of Christmas keep your spirit strong through the New Year.
Keep in touch for sure!
- Cleo
November 29, 2008
Needs Help - A note from SC
Cleo,
I have thoroughly enjoyed all of your Coffeehouse Mystery Books and I have received Espresso Shot. I haven't read it yet, because I'm having a difficult time at work right now. I have worked for this company 22 1/2 years and received good reviews. My boss has decided that I've made some errors this year and has put me on probation and can fire me at will for anything he considers as messing up. I don't know what the outcome of this situation will be because it will be ongoing for as long as he wants it to be or decides to fire me.
I believe I could be close to a breakdown because of the stress. I am 58 and it would certainly not be easy to find work at my age anyway and it will be much harder with the economic situation as it is. I am asking all of your readers out there that are praying people to add me to their prayer list. I would so appreciate it. Maybe my mood will improve and I can sit down and read again.
Thanks from South Carolina,
—V Wooten
Cleo's Reply:
Hi "V" -- I will certainly keep you in my prayers and I ask my readers to keep you in their thoughts and prayers, too. There's a mock Latin saying that applies in this situation:
Non Illegitimus Carborundum
"Don't let the bastards
grind you down."
I know from experience that "WORK" can be a four letter word, especially when those above you fear for their own jobs -- and there are plenty of companies and industries that are feeling the need to "downsize" or prune staff so I know there's an epidemic of hellish offices out there right now.
One of the ways companies attempt to prune staff is to "discourage" employees by making their lives so miserable that the emplohyees will quit or find another job, which frees the company from the responsibility of paying severance upon termination. It also frees the company of committing a crime by firing or forcing out someone because of age.
So DO NOT let the bastards (or in this case, the bastard) grind you down. You hang in there, V. Get tough. Dig for your grit (my favorite word these days): noun, Middle English: firmness of mind or spirit; unyielding courage in the face of hardship or danger.
A-Number 1 - Take care of your health. Get fresh air. Take walks to clear your mind. Make sure you eat a balanced diet. Keep up your strength and health. And start looking for another job. The process alone will empower you - help you feel more in control, give the choice to YOU to stay or go.
This economic downturn is only temporary. Remember that. This country will NOT stay down for long. It never does. Think about a worse case scenario; think it through. Okay, I get fired. And then what? For one thing: I'll be getting severance pay. I'll also get unemployment checks for many months.
Do you relaize that state unemployment offices have very good resources these days for helping the unemployed find new jobs? I know this because I've been laid off and downsized and fired and shoved aside and gotten rid of.
(Being a writer, I'm the sort of person who isn't very good at, shall we say, "managing up." Problems with authority? CHECK. Can't keep her jokes about the boss to herself? CHECK. - I never was a model corporate employee. Oh, well. I think I can live with that.)
Anyway, it totally sucks to be fired. It's devastating, knocks you out like a Rocky punch, but it does NOT have to keep you down. And it is not the end of your life - it's the beginning of a new one. Yes, even at the YOUNG age of 58. Screw the people who don't want to hire people over 40 or 50 - it's against the law for them to ask your age, by the way!
Anyway, I actually met some great people at the unemployment office. I am NOT kidding. Getting fired or laid off is NOT the end of the world. It's a part of life in America these days. Don't let THE THREAT of it hurt your health or sanity.
Worst case scenario survivable? YES! And that worse case may NEVER happen. You could find another job. Or things at work could get better in the next few months.
It's important not to let dread eat you alive. "Fear is the little death." Don't die that way. Remind yourself to stay strong and stay healthy - physically and mentally. Ask God to help you do this - ask him daily - and he will.
And listen to some really upbeat, spirit-building music on a regular basis. Listen to it before you go into work and after you leave. (If you have a Walkman, listen to it on your breaks.)
I cannot stress this enough. And the brisk walking! The fresh air! You'd be surprised how strengthening it is just to listen to some music on a brisk walk. Your entire way of looking at the world can change.
One of my favorite tunes is Chumbawumba: "I get knocked down, but I get up again. You're never gonna keep me down." That's the whole of life for everyone, as you know, V - we all get knocked down. It's what we DO when we're down that makes the difference. It's getting UP AGAIN that matters. And YOUR WORTH as a human being does NOT depend on the job you are doing or not doing for some bottom-line oriented boss or company.
What your boss says you are - that's not real. That's not the whole of you. What your job is - that's an artificial construct. It's not a measure of your worth. It's a measure of some owner's need to have an employee do a task to earn him money. So keep it all in perspective, and...
Non Illegitimus Carborundum!
Signed, your once-fired, laid off, and shoved aside friend,
—Cleo Coyle
(Who surived to write bestselling fiction - so who's laughing now?!)
November 29, 2008
coffeehouse mysteries
Hey Cleo,
This is Dawn. I have long since finished Espresso Shot, and I CAN'T wait for the next one. It is killing me to have to wait until January for the next haunted bookshop mystery too. My sister and I have read them all and love them all. We talk about them after we have read them. She is anxiously waiting the next ones too. I really love the receipe section in your books. I agree that a book signing would be great. But instead of the Indy 500 in May, I'm thinking Wichita Falls,TX in April. It is beautiful in Texas in the spring.
Cleo's Reply:
Hi Dawn! Thank you for posting! I LOVE to hear that friends or family members are able to share their enjoyment of my books with each other. It's AWESOME that you AND your sister are reading my books. Thank you for letting me know. And thank you for the invite to your beloved Lone Star State. I LOVE Texas!!
My sister lived in Houston for a time, my husband's a Robert E. Howard scholar - Howard grew up in Cross Plains - and I still have very fond memories of visiting some writer friends who live just outside of the Dallas - Fort Worth metroplex (probably not so very far from you).
So it would NOT be a hardship to visit y'all in Wichita Falls. I'll keep in mind that spring's a good time to head on down there (and get some decent Tex-Mex at last! Trust me on this: New York's attempt at Tex-Mex is god-awful).
Warmest java wishes,
Cleo Coyle
November 29, 2008
Jim Rand
A little late, I know. Yet, I wanted to congradulate you on ESPRESSO SHOT. The book was wonderful. I loved the return of Mike (as always) and the Fish Squad. My feelings for Breanna even took a turn. I really got to see a grudging respect between her and Claire, one that definitely felt right for the series as written so far. My main reason for the post, however, is...
Will Jim Rand [from Murder Most Frothy] ever return??
You see, I've recently re-read all seven of the Coffee House books, and I've found that a great mystery could come from Rand's return. His character even has a potential to shake up Claire and Mike's world. (Not that I don't want Claire and the detective together... I do. I just also like Rand, and I want to see him return. I've always felt like his story was yet to be completed.) As always...
Java Junkie and Rapid Reader,
--Christie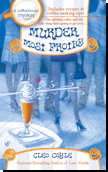 Cleo's Reply:
Hi Christie! Great post! I'm very glad to hear that you enjoyed Espresso Shot!
As to Jim Rand - I'm so glad you asked about the mystery man from Murder Most Frothy!
I really like that character - and, you are not wrong, Jim is going to make another appearance in the series down the line. The scenario is clear to me and if it all comes together, it should be a rip-roaring time for a few of the main characters in the series. So stay tuned. Jim Rand, ex-navy seal and part-time celeb photographer, is coming back for sure.
Thanks for posting, Christie. Come on back and post again anytime!
Cleo Coyle
November 28, 2008
Coffeehouse Mystery Honeymoon!
Just read the first in the series on our honeymoon and we both loved it. We look forward to the rest of the series....We live in Shrewsbury, MA, and I just ordered book #2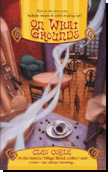 All the best,
Sue
Cleo's Reply: Hi Sue! As I said in my Fall '08 newsletter this week, Congratulations to you and your new husband!
I'm thrilled to hear that you took Clare and Matt and Madame on your honeymoon with you! Thank you for letting me know! CHEERS to you for the future - may it bring you every good thing. Here's a *VIRTUAL* champagne toast to you both!
Warmest java wishes,
Cleo Coyle
November 27, 2008
LOVE AND ROSES
Dear Cleo,
I happened to read to Espresso Shot first, then just finished reading French Pressed. I've enjoyed all of your Coffeehouse Mystery books, but somehow I really identified with these 2.
I lived in Brooklyn Heights in the 60s, and the exploits of Clare, and especially her employees at the Village Blend, feel so much like what we were doing and feeling then. So, so much fun to read, remember and experience!!! Thank you.
By the way, I don't always share this, but I will tell you: 2 friends and I formed the Brooklyn Heights Hyacinth Club when we were living there. "If but 2 loaves of bread be your dole, Sell one and buy some hyacinths for your soul."
Our signature was to sign letters with "Roses". When we wrote to each other, which we did regularly, even though we saw each other daily, we would footnote our letters, only we would call them "Rose Petals". I'm the only one still living, and I miss my pals terribly, but I keep up the tradition. Actually, when the President of BHHC died, I tried to stop because it hurt so much – and discovered that "Love and Roses" had become identified with me so deeply that I couldn't stop signing my letters that way!! So it became my private and personal tribute to a super lady and a wonderful man.
Love and roses,
Geni
CLEO'S REPLY:
Thank you, Geri! Thank you for your amazing note and also for letting me re-post it on my message board to share with others.
As I mentioned in my e-mail to you, when I first lived in the East Village, it was above a little bakery called "Bread and Roses," and my late mother's name was Rose, so that flower has a lot of meaning for me.
I could not agree more with your wonderful "Hyacinth Club" motto. In fact, I'd like to become a member--and invite all of my readers to join your club, too! That motto could not be more apropos during these unsteady economic times.
Some say, you can't eat a book or a piece of art or music, but the things that inspire us and let us dream feed us as much as the bread in our stomachs. They make us want to keep going; to get up another day and try again. Give us bread but give us roses. Amen! And keep in touch!
Love and roses to you as well!
Cleo Coyle/Alice Kimberly
November 27, 2008

From a coffeehouse in Kodiak Island (Alaska)
hi! just finished espresso shot (via our library) and loved it. am a brand new barista, just opened a new coffee shop here in kodiak island, alaska. have worn many hats in my first year here on kodiak, working for one company-- front desk at the airport, driving the airport van, air cargo coordinator, running the charter tour bookings booth, and now getting the new airport coffee shop up and running. In a very small airport in a very small town that already has six other cool coffee shops... what a blast! am in my second month of learning the art of espresso, cleaning madly, organizing stock, pricing, hours, creating signs and blackboards on a remote island with little to no retail (very fun- we have to make our own everything). it has been so fun to read Espresso Shot and get a glimpse into the coffee business while doing the coffee shop start up in person. thanks for writing such fun interesting books,,, can't wait to go to the beginning and read them all from start to finish... reading is one of those huge alaskan hobbies as you can imagine! kudos from kodiak! Karen Gear Up coffee shop at island air Kodiak, Alaska


November 27, 2008
Happy Thanksgiving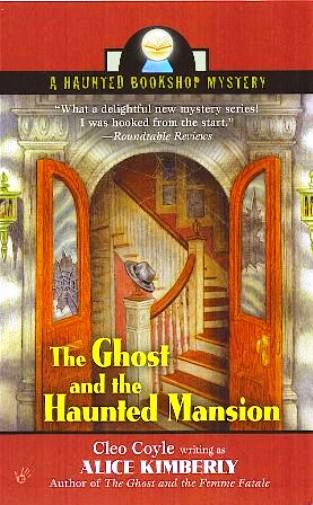 Everyone always asks what are you thankful for on Thanksgiving, welll that is such a silly question the answer is....Cleo's and Alice's books of course!!!! Did I butter you up enough to talk you into getting that new book out a little earlier??? It would make such a great Christmas present for everyone that bugs me to death wanting to know if I have finished reading the new book yet so they can have it. Oh well, I guess a person will resort to anything to get something they really want, huh? Seriously I hope you and your family have a fantastic Thanksgiving.
Plainfield, IN
Grandma Rusty
P.S. A book signing in Indy would be great!! Just a little thought May at Indy 500 time is fantastic.
Cleo's Reply: LOL, Grandma Rusty! Thank you SO much for wishing me a happy Thanksgiving! You're the sweetest! Of course, I send my blessings to you and yours for today and the entire holiday season. It's readers like you who make me want to KEEP writing!
Java joy to you,

—Cleo
P.S. The Indy 500 rocks!
November 25, 2008
Love the series
I am a library director, and have asked my staff to order all of your books, including the Ghost series, as well as the coffeeshop mysteries. I am a big fan. Keep them coming.
—Ellen F.
I am now officially YOUR fan, Ellen! (And, of course, everyone knows librarians got it goin' on.) No kidding. Thank you. You made my night!
Java joy to you & Happy Thanksgiving!
—Cleo Coyle (aka Alice Kimberly)
November 21, 2008
Hi from Coffee Talk Band~
Hi Cleo,
my friend recommended your site. It is GREAT~ so many interesting topics, I don't know where to begin. So.....I guess I just brew a cup of java and sit down and enjoy. Please stop by our myspace when your get a chance. I started the page just to talk about one of my passions, coffee and meet others.
God bless!
Donna/CoffeeTalkBand
www.myspace.com/witness2band
Cleo's reply: Thanks, Donna! I activated your link. Great page! (If anyone would like to visit Donna's page, click on her myspace link above.)
November 21, 2008
Large Print
Hi!
I am trying to find each coffee house mystery in large print. Can you tell me if each one is available in large print? I have the first three but am getting no where with Murder Most Frosty......
Thanks!
—Trudi
Cleo's reply: Hi Trudi. For sure, all of the Coffeehouse Mysteries were published in Large Print. I'll try to find a link for you to the Large Print of Murder Most Frothy...
November 19, 2008
Newsletter
Hey Cleo!
My new High School Book Club is going to be reading "On What Grounds" after the Christmas Break. It will fun to hear these young peoples take on your stories. I'll keep you posted! P. S. I use to receive your email newsletter but do not get them anymore. Please be sure I am on your send out list. Thanks so much!
Cleo's reply: I'm so sorry it's taken me so long to reply to your post! I hope you see this. Post again so I know you did! I'm THRILLED that your high school book club is going to read my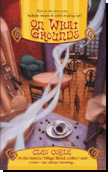 first Coffeehouse Mystery: ON WHAT GROUNDS.
I would really enjoy hearing what your book club says about it, too, and I look forward to your "report"!! LOL!
As for the newsletter, by now you should have received my Fall 2008 newsletter. If you did not, then write to me at VillageBlend@aol.com and tell me that you did not receive it. I will send it again to you and we'll try to figure out why you aren't receiving it. Maybe it goes into a Spam folder or you have a firewall up to prevent it from going to your box.
In the meantime, I want to thank you for dropping by my *virtual* coffeehouse.
I whipped you up a *virtual* cappuccino and baked you a plate of *virtual* Italian biscotti to enjoy. There's even enough for you to *virtually* bring to your book club!
Warmest java wishes to you,
—Cleo Coyle
November 18, 2008
Sauce Note
0n page of 15 of French Pressed you indicate that Joy's chef jacket is covered in brown sauce. On page 18 you note that the Sous-chef threw Bearnaise sauce. Bearnaise sauce is yellow. Later on in the book you note that the dried blood looked like the the sauce on Joy's jacket. I believe the sause you wanted to highlight was bordelaise sauce which is a brown sauce that is brown sauce and is generally
not served with vegatables so there would not have been a reason for Joy to be using the sauce if she was doing the vegatable service two nights a week as you wrote in your book. I am a professionally trained chef so these little things make me crazy. All this being said I love your books and can't wait to read the next one.
Cleo's reply: Hey, there! Great to hear from you and thanks for the note! Good catch! You are absolutely right. The sauce should have been bordelaise! It was correct in an early draft and through the editing process was changed to Bearnaise in error - but I'm happy to report that this is going to be corrected in the next printing. (Great news, too -- French Pressed is indeed going into a new printing! Wee-haaa!)
The vegetable station thing is not a factor, however. The sauce was thrown on Joy by her enraged boss during a dressing down in the restaurant kitchen. There were many sauces used in the kitchen that night, of course, and it was never stated that the sauce came from Joy's veg station. Still, I'm glad you were able to enjoy the book anyway! Because you are a pro, I'd love to hear from you again with kitchen tips or favorite recipes - feel free to e-mail me at VillageBlend@aol.com. I'd be glad to post them with your name/background, etc...
Java joy to you,
Cleo
November 17, 2008
Miho
Hello!! I'm Japanese your fan!! I'm going to reading 5th book just now!! (not finished),very exciting, interesting!! Your books are so nice!! I buy it on every sale 1st day!! I'm wating for your 6th book!! Thanks...
Cleo's reply: Thank you for posting, Miho!
I am so happy that you enjoy my books! I love my Japanese editions. I especially love the cover art.
To everyone reading my books in English: The Japanese editions feature Java, the coffeehouse cat. Check out the Japanese cover of LATTE TROUBLE -Coffeehouse Mystery #3). >>>>>>>>
Notice Java holding the bottle of "Latte" and reading a "New Fashion" magazine! Too cute!
Thank you for posting, Miho! I hope you continue to read and enjoy my little books. My publisher in Japan (Random House Kodansha) just picked up the rights to publish my latest Coffeehouse Mystery - ESPRESSO SHOT. Clare goes through a lot in that book, and I think you'll really enjoy it. Look for the Japanese edition to hit print in 2009!
Joy to you,
—Cleo Coyle
CLEO WILL REPLY TO MORE POSTS ALL WEEK...
November 16, 2008

Just finished Through the Grinder
I just finished the second book to the coffeehouse series (I read the haunted bookshop series first) and it's my favorite so far. I love when Clare invents 'Fuego', I laughed out loud. Mostly because Matteo sounds like my ex-husband (sad for me) and for a moment I pictured him rather than Matteo and couldn't contain myself. I also love how you observe the difficulties of a relationship-especially when Clare recalls meeting Matteo for the first time and realizes that he wanted her most when she was walking away. I had a dysfunctional marriage myself; and Clare's character gives me a little hope that maybe I can start over too. It may be just a mystery series, but Frued said that we internalize what we see, hear and read to make the image of ourselves and heal what ails us. Thanks for the wonderful therapy! ---Amanda W in Tennessee


November 16, 2008
Working my way up!!!
Congratulations on Espresso Shot. I'm currently reading Decaffinated Corpse and trying to get to the newest as soon as possible. I've recently started classes for my Associates in Paralegal and dumped the job from hell for a low stress one all at the same time. This is still only half of the plans that I have to complete for the year. I just love when the watershed years finally turns into that year when you do the so called "house cleaning" before you go bonkers. But then againg I am 35 and WHOOO. I was worried that "finally" would be my only posting for this sight and I really enjoy this spot. Especially with my early morning coffee from The Little Coffeeshop of Horrors. Its a caramel blend called Shock a Rama. Anyway, thank you for the warm comfort of the books and recipes. They have been a sanity saver.
November 14, 2008

Your Buttermilk Apple Snack Cake Recipe
I am so into instant gratification. So I took your snack cake recipe and nuked it. I used an 8 inch by 1 1/2 inch round pan (microwaving cooks corners into bricks) and microwaved it at 50% power on the rotating turntable checking every 2 minutes until it was done. Since microwave ovens vary so greatly I won't attempt to tell anyone an exact time but it was in the "less than ten minutes" range. I let it rest until I could handle it reasonably safely. Not until it was cool (see first line). Yummy. Not chocolate, but still yummy. Thanks!


November 12, 2008
I love your books!
I just wanted to say I love both the Coffee Shop and Haunted Bookshop series. I was wondering if you ever considered writing a murder book combining all the characters from both series. I can't wait til January for your next book.
—Deanna
November 10, 2008

Reading your books in order using the Kindle.
I am partway through "Through the Grinder". Just wanted to drop you a note that ALL seven of your books are available for the Kindle on Amazon.com. I don't think your books are lightweight at all. Please put me on your mailing list at lists@kl7gl.com. Mike, Fairbanks, AK


November 8, 2008

BLOG BOOK REVIEW
Hey, I have a web site which includes reviewing food related murder mysteries and I just encountered the first of your series, ON WHAT GROUNDS? So, please stop by and check out the site? The url is http://www.cookingwithideas.typepad.com -- leave a note and/or let me know if you'd be willing to do an interview.


November 7, 2008

I love your books,as I finish one, I want to read another pronto!
YOur books are wonderful mysteries. I like the way the coffee information is interspersed throughout, and Claire's amateur detective pursuits.I so admire her ex mother-in-law, Madame Dubois. She jumps right in to assist whenever a crime needs to be solved. And of course, there's Matteo, her ex, and partner of the Village Blend, and last but not least. Detective Mike Quinn, who really cares for Clair, but is married. For me, each book is better than the last. Thank you for your mystery stories. Marion Philadelphia, Pa

Click here
to learn more about the Coffeehouse Mystery novels.
To purchase the books,
click here
or
here
or
here
.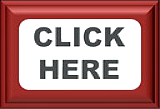 ---
Clare Goes to
Washington!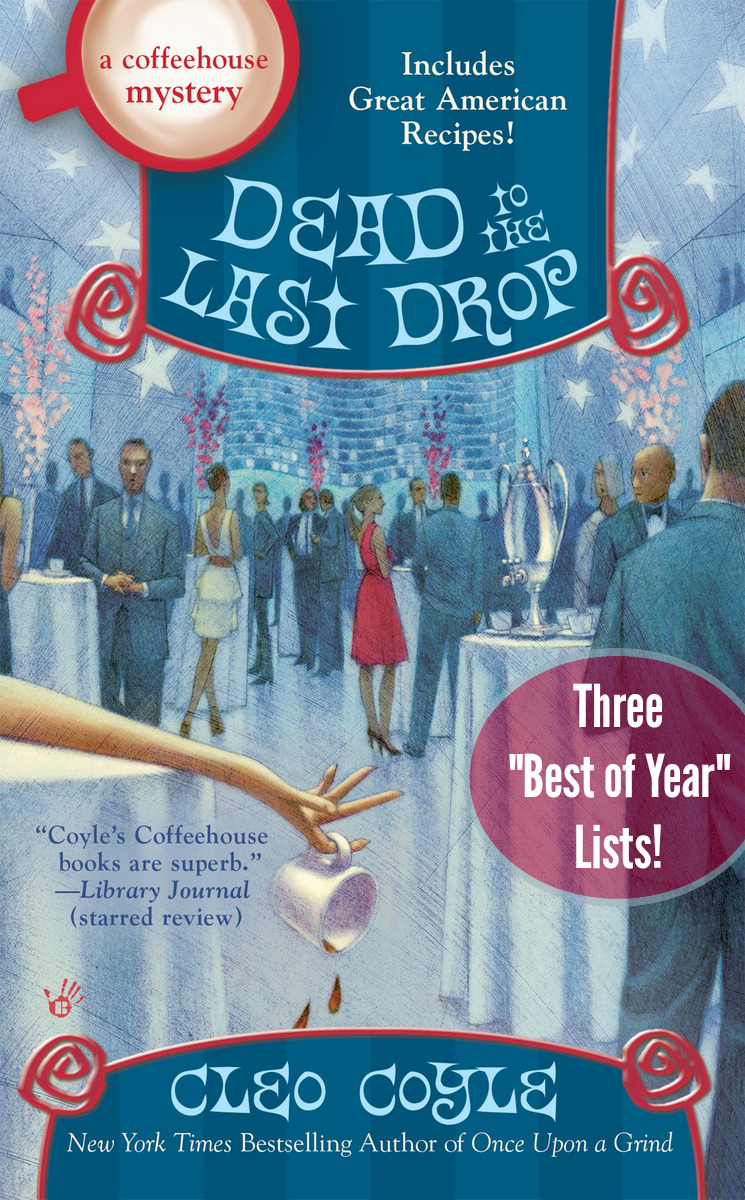 Dead to the
Last Drop
National Bestseller
3 Best of Year Lists!
TO LEARN
MORE or BUY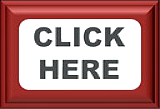 With an appendix of
amazing recipes...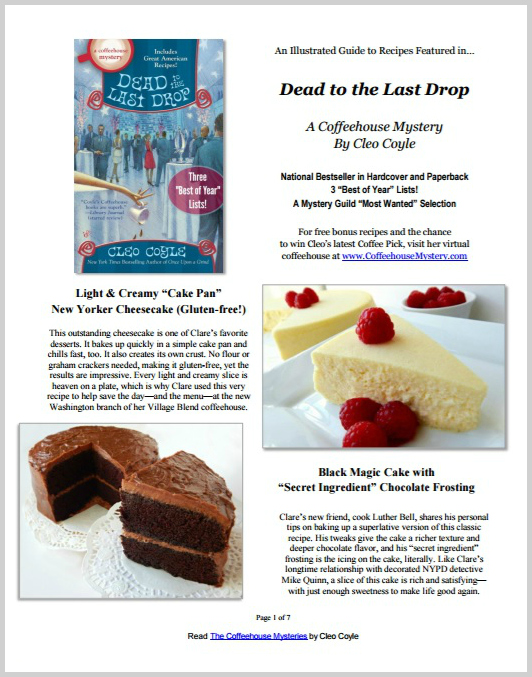 ---
FREE
READING
GUIDES

---
---
It's Official!

Now a
BESTSELLER
in paperback!
#3 bestselling
paperback mystery
at B&N Stores
Nationwide!

Cleo's 10th
Coffeehouse
Mystery
Murder
by Mocha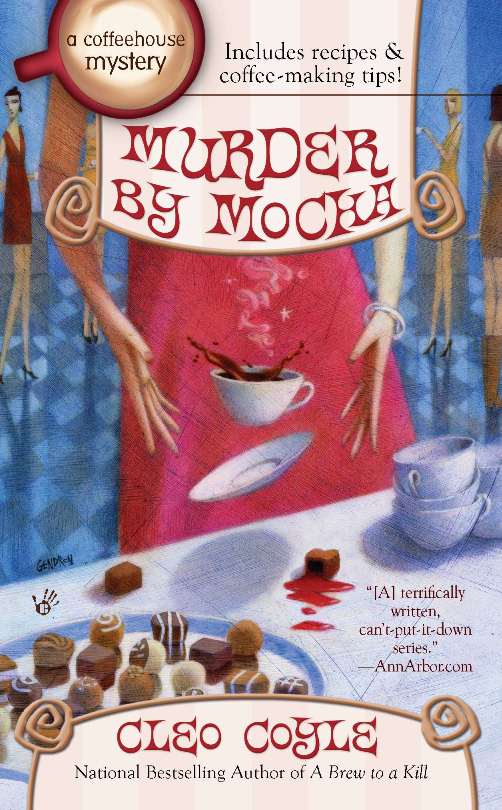 4 Year-End
Best Mystery
Lists!
This bestselling
hardcover is
now reprinted
in paperback,
and a...

TOP-10*
Mystery
Bestseller,
Nationwide!

*Barnes & Noble
*
Includes
Chocolate
Recipes!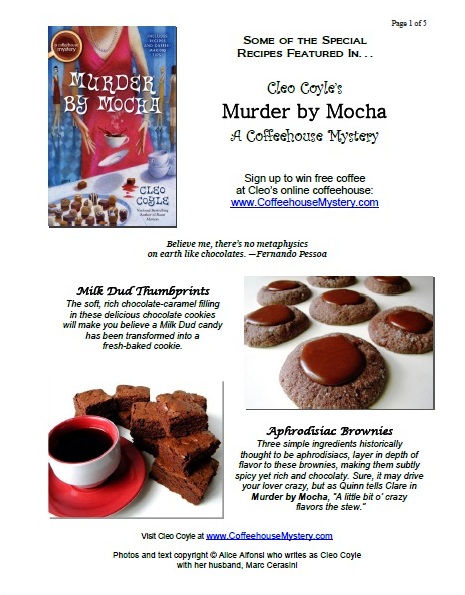 This is a
PDF document
and will take a
minute to load.
"...a tasty tale
of crime and
punishment
lightened by
the Blend's
frothy cast of
lovable
eccentrics."
~ Publishers
Weekly


---
Read
with joy!

~ Cleo
---
Arson leads
to murder
in...
ROAST
MORTEM

Named as a
"Favorite Book
of the Year!"
Reviewer's Pick
~ Bookreporter.com
Now a
National
Mystery
Bestseller!*
A deliciously
thrilling
culinary mystery
that's also a
tribute to
firefighters...

See some of
Roast Mortem's
featured recipes by
CLICKING HERE.


---
---
#1
Bestselling
Paperback
French
Pressed

#1 Bestseller
Independent
Mystery
Booksellers
Association
April 2008
---
Caffeinated
Cheers

to
COUNTER
CULTURE
COFFEE
"Top Innovator"
DETAILS magazine named Counter Culture Coffee as #1 (of North Carolina) among five industry "innovators creating coffees that have the complexity of fine wines."
I'm a big fan of Counter Culture and have written about them on this site and in my books. Read my Coffeehouse Mystery: French Pressed or scroll down this column to my "Coffee Pick" list.
Says Counter Culture: "We hope that such media coverage helps spread awareness that coffee can not only be an authentic, delicious food experience, but also a conduit for community, sustainable agriculture, and cultural exchange."
~ Cleo
---
A
#1 Bestselling
Paperback
Decaffeinated
Corpse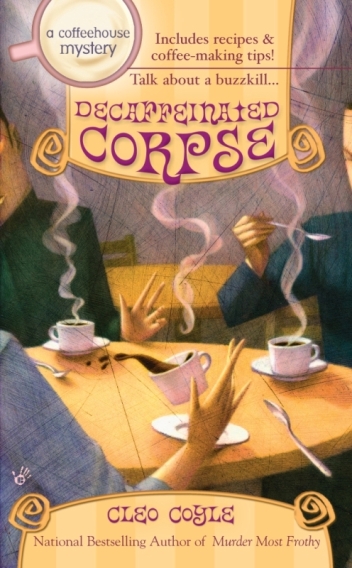 #1 Bestseller
Independent
Mystery
Booksellers
Association
July 2007
---
BULLETS
ON THE
BEACH
Murder
Most Frothy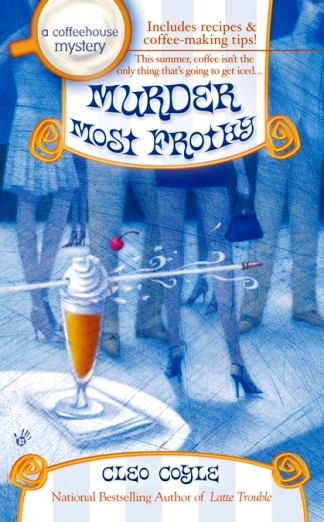 Murder Most Frothy
Cleo's 4th Coffeehouse Mystery gave her amateur sleuth, Clare Cosi, a summer job as a "coffee steward" at a posh new eatery in the Hamptons, the fabled seaside escape for New York's rich and famous.
When a co-worker is gunned down, she's on a case that leads her to strange clues on the beach, a rogue Navy SEAL, and a suspicious manager at the restaurant where she's pouring gourmet cups of joe...
NEW YORK
HAMPTON'S
COFFEE CO.
CLICK HERE to visit some real coffee peeps who work hard to give the Hamptons folks a great cuppa joe.
* * * * * *

And
just for fun...
Peter Pans

"Overstaying the
Hamptons Party"

New York
Times
Click below to read a past Times feature about "house shares" in the Hamptons and men who try to keep the postcollege "boys of summer" party going decades after their undergrad days. Shades of my character Matt Allegro? Hmm...
---
2010 WORLD
BARISTA
CHAMP
Mike Phillips, our U.S. Barista Champ, finished among the top 3 baristas in his first World competition, held in Atlanta, Georgia. The following year, in Olympia, London, he won FIRST PLACE and is now THE WORLD CHAMPION FOR 2010! Way to go, Mike!

How did he get there? "I really care about coffee and the entire chain of things, from where the coffee is grown and processed, all the way to the shop where it's prepared and the customers who enjoy it."
Mike worked at Intelligentsia Coffee & Tea when he won the barista competitions. To virtually visit the store, click here.
*
---
Java Master Gives
Tips on Making
the Perfect Cup
Italian-born Gennaro Pelliccia is responsible for the taste of the 108 million cups of Costa coffee sold in Britain each year. His policy with Lloyd's of London insures his tongue for 10 million pounds!

Click here to read Mr. P's tips on making a great cuppa joe...
FREE
EXCERPT!
for Cleo Coyle's
2nd series...
Haunted
Bookshop
Mysteries
THE GHOST
AND THE
HAUNTED
MANSION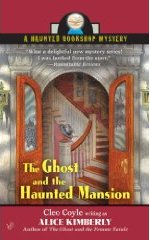 * National Mystery
Bestseller!
Independent Mystery
Booksellers Association
Meet the ghost at...
* A Fresh Fiction
Fresh Pick!
Click here
to read a
Free Excerpt

---
Want to Grow
Your Own
Coffee Plant?
Thanks to CM reader Linda for posting info about where to buy coffee plants and seeds. Click here to go to the coffee seed catalog page and scroll down. Look for the "coffea" plants listed in ITALIC alphabetically.
Coffea arabica
Coffea catura
Coffea kona
Linda also says: "Gurney's Plant and Seed catalog has small coffee plants for $8.95 each. Click here and look for item # 11295 for coffee plants."
---
WAKE UP AND SMELL...
THE CANVAS!
"I started painting with coffee because I wanted a cheaper medium that was accessible to me," says Filipino artist Sunshine Plata. A tube of oil paint costs at least 500 pesos ($11), while a jar of instant coffee is only around 150 pesos ($3). Click here to read more about Sunshine and her coffee art.
---
Caffeine
Myths
A New York Times story by the amazing Jane Brody examines coffee and health, click here to read more. (I learned a lot about the myths of caffeine!)
*
Click here to read about a Harvard study that shows coffee's link to preventing heart disease.
*
Click here to read how a cup of coffee a day may offset Alzheimer's disease.
---
In Memoriam
Sheena
2.21.2009
---
Ethiopian Coffee Ceremony!
Yes, like the Japanese with their tea traditions, the Ethiopians have a very special way of enjoying coffee. Click here to learn more!
---
Coffee Health News!
Coffee May Boost Memory
in Older Women
Women older than 65 who drank more than three cups of coffee a day — or the caffeine equivalent in tea — showed better memory retention than men, a French researcher reports. To read more in a Scientific American article, click here.
---
COFFEE NEWS!
Ethiopia announces commercial culitvation of low-caffeine coffee plants! Ric Gostwick's "dream" coffee from Decaffeinated Corpse is no longer fiction! To read about this amazing breakthrough, click here.
---
AND NOW
FOR SOME
OF CLEO'S
PAST
COFFEE PICKS...
---------------------------
SEPTEMBER '07
Cleo's Coffee Pick:
MAGNOLIA GRILL BLEND
With the tip of a chef's hat to the married couple who run Magnolia Grill, Cleo's coffee pick for SEPTEMBER 2007 was Magnolia Grill Blend sold by Counter Culture Coffee roasters.
---
OCTOBER '07
Cleo's Coffee Pick:
GOMBE RESERVE
Cleo's pick for OCTOBER 2007 was Gombe Reserve sold by Green Mountain Coffee Co. and endorsed by Dr. Jane Goodall.
---
NOVEMBER '07
Cleo's Coffee Pick:
MAJOR DICKASON'S BLEND
In tribute to the late, great Alfred Peet, Cleo's pick for NOVEMBER 2007 was Major Dickason's Blend sold by Peet's Coffee and Tea. To read Cleo's past featured article "Alfred Peet and the Birth of Coffeehouse Culture" as well as the article after it about the Major Dickason coffee blend itself, go to Cleo's article archives by clicking here and scrolling down.
---
JANUARY '08
Cleo's Coffee Pick:
"YIRG" - ETHIOPIAN YIRGACHEFFE
Cleo's pick for JANUARY 08 was Ethiopian Yirgacheffe sold by Counter Culture Coffee Company. This coffee was also featured in Cleo Coyle's Coffeehouse Mystery: FRENCH PRESSED.
---
FEBRUARY '08
Cleo's Coffee Pick:
RWANDAN VILLAGE BLEND
Cleo's FEBRUARY '08 pick was Rwandan Village Blend sold by Land of a Thousand Hills Coffee Co. To read Cleo's archived article on this coffee, click here and scroll down.
---
MARCH '08
Cleo's Coffee Pick:
KENYA
Cleo's MARCH '08 pick was Kenya, sold by Counter Culture Coffee, Co. and Peet's Coffee. This coffee was also featured in Cleo Coyle's Coffeehouse Mystery: FRENCH PRESSED.
---
APRIL '08
Cleo's Coffee Pick:
PURPLE PRINCESS
Cleo's April '08 pick was the amazing "Finca El Puente" from a coffee in Honduras nicknamed "Purple Princess" by the coffee director of Counter Culture Coffee of Durham, NC. This coffee was also featured in Cleo Coyle's Coffeehouse Mystery: FRENCH PRESSED.
---
MAY - JUNE '08
Cleo's Coffee Pick:
PAPUA NEW GUINEA
Cleo's June '08 pick was the "Jamaica Blue Mountain" of the South Pacific. An award-winning coffee grown on the exotic island of Papua New Guinea (north of Australia).
---
JULY - AUGUST '08
Cleo's Coffee Pick:
SOLAR ROAST COFFEE
Cleo's July - August '08 pick was Solar Roast Coffee of Pueblo, Colorado, the only company in the world that roasts its coffee using solar energy! Meet Dave and Mike, the two brothers who invented this one-of-a-kind solar roaster, and learn how you can purchase their delicious coffees for yourself by clicking here or typing SolarRoast.com into your browser.
---
SEPT. - OCTOBER '08
Cleo's Coffee Pick:
JOE'S VIENNA ROAST
from the NYC coffeehouse:
Joe, The Art of Coffee
The September-October '08 pick was Joe's Vienna Roast, sold by Joe, The Art of Coffee café in Greenwich Village, New York, recently named one of the best coffee bars in the country by Food and Wine magazine (and one of Cleo Coyle's inspirations for her fictional Village Blend!). CLICK HERE to visit Joe online. (To read Cleo's archived article about the Joe cafe, click here.)
---
NOV. - DECEMBER '08
Cleo's Coffee Pick
BOUCHON BLEND
This smooth, delicious coffee is the House Blend served at Bouchon Bakeries, which are owned and run by award-winning chef Thomas Keller. This coffee was featured in Cleo Coyle's 7th Coffeehouse Mystery: ESPRESSO SHOT. It is blended and roasted by Equator Estate Coffee and Teas, a women-owned company based in northern California. Click here to visit the company and try their coffees for yourself.
---
JANUARY 2009
Cleo's Coffee Pick
NOT KOPI LUWAK!
One of the rarest coffees on the planet, Kopi Luwak is also one of the most expensive. Kopi Luwak was also a featured coffee in Cleo's 7th and most recently released Coffeehouse Mystery: ESPRESSO SHOT. To read Cleo's brief archived article on Kopi Luwak and learn how it got its hilarious nickname: "cat poop coffee," click here and scroll down.
---
SPRING 2009
Cleo's Coffee Pick
ROOSTER BROTHER's
LA MINITA ESTATE
(Costa Rica)
This outstanding single-origin bean is treated with love by the coffee team at Rooster Brother, a store for cooks housed in a historic Victorian building in Ellsworth, Maine. Master Roaster Gene (pictured) does a masterful job of bringing out the very best in this smooth, bright, delightful coffee with the kind of hints of citrus and berry usually found in high-quality African beans. Click here to visit George and Pamela Elias's Rooster Brother store online and order some of this superb coffee for yourself! (Thanks to Coffeehouse Mystery reader Bud Knickerbocker of Bangor, Maine, for suggesting it!)
---
MAY - JUNE '09
Cleo's Coffee Pick
BISHOPS BLEND
Creating blends is a culinary art, and I'm happy to report that the roasters for Bishops Blend have done a masterful job at creating theirs. The beans are roasted medium dark and the package came to me (via UPS) freshly roasted, beautifully oily, and smelling of chocolate. The coffee is perfectly balanced; and as it cools, the notes include a slight vanilla flavor and a touch of cinnamon. Even better, when you purchase a bag, a percentage of the money goes toward ERD, a charity that provides disaster relief around the world as well as enabling people in the poorest communities on our planet to climb out of poverty.
---
SUMMER 2009
Cleo's Coffee Pick
DALLMAYR PRODOMO
Imported from Munich, Germany
To learn about this beloved German coffee brand, including tips on where to purchase it in America, read Cleo's feature article by clicking here. This is an archived article and make take a minute to load.
---

FALL 2009
Cleo's Coffee Pick
AMARO GAYO
(Ethiopia)
roasted by
Gimme! Coffee
An exotic Ethiopian coffee sold by the outstanding roaster Gimme! Coffee, which takes pride in getting it to you expertly and freshly roasted. Visit the roaster by clicking here.
---
SPRING 2010
Cleo's Coffee Pick
FRENCH LAUNDRY
ESTATE BLEND
roasted by
Equator Estates Coffee
"Roaster of the Year"
~ Roast Magazine

This "chef's blend" was created especially for award-winning Chef Thomas Keller's world-renowned French Laundry restauant. The roaster is Equator Estates. Visit the roaster by clicking here.
---
Summer-
Fall 2010
Cleo's Coffee Pick
Kafe Lespwa
"Coffee of Hope"
from Haiti
To purchase this coffee
or learn more about it,
CLICK HERE.

To Read Cleo's
feature post on
this coffee, CLICK HERE
and scroll down

---
Spring-
Summer 2011
Cleo's Coffee Pick
Cops Coffee

COPS
COFFEE
"Midnight
Shift"
dark roast

"Your safest cup
of brew..."
---
Mocha Java
Blend

To learn
more or buy,
click here.
and...

Dancing
Goats Blend


To learn
more or buy,
click here.
---
Winter
2011 - 2012

Cleo's
Coffee Picks
from
Rooster
Brother

A boutique
roaster in
Ellsworth,
Maine
Costa Rica's
La Minita Estate

"The Lafite of coffees."
An amazing cup
of joe from


To visit the
Costa Rican farm
where this coffee
is grown,
click here...
To read more
about this coffee
or purchase it
for yourself,
click here.
and...
100% Kona
Coffee

Grade:
Extra Fancy

Grown by
Kona Star Farms
of Kona, Hawaii
To learn
more, click here.
NOW
SOLD OUT
---
Cleo's
Spring 2012
Coffee Pick
Brazil's
Poco Fundo
"Almond joy
in a cup"
Roated by
Seattle
Coffee Works
---
Cleo's
Summer 2012
Coffee Pick...
From the
"Coffee Goddesses"
of Maine
Bistro Blend
&
Fireside Blend
Roasted by
Carpe Diem
Coffee Roasters

To learn more
or purchase,
click here.
---
---
WIN COFFEE
---
---
---
FREE
READING
GUIDES

---