CONTACT
CLEO COYLE AT

CoffeehouseMystery(at)
gmail(dot)com
CLEO IS ON
FACEBOOK!


Click here to visit Cleo's Facebook Page. If you read her books, she will be delighted to accept your friend request. See you there!
---
---
To learn
more or buy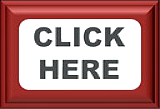 Or to find an
Independent
Bookstore
near you,

CLICK HERE.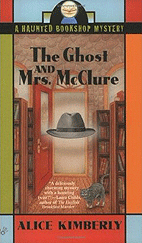 HAUNTED BOOKSHOP
MYSTERIES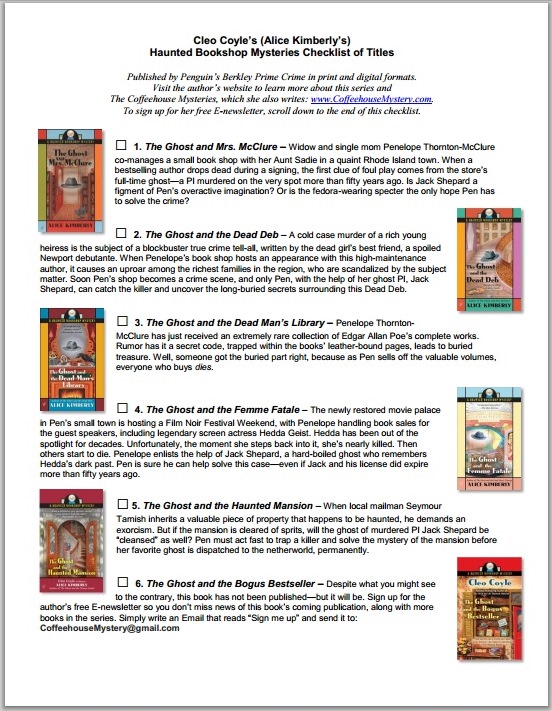 CLICK HERE
FOR TITLE
CHECKLIST



---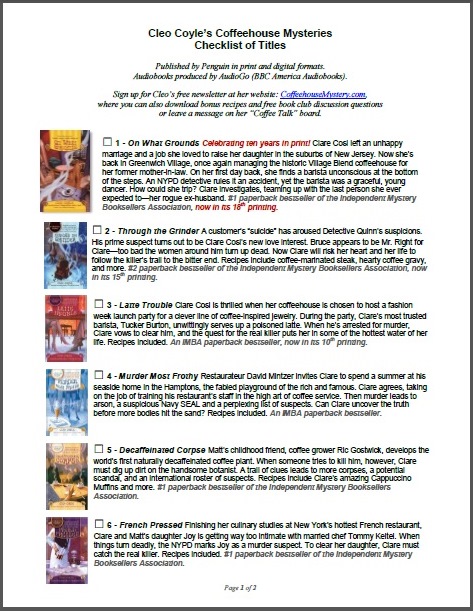 For a free checklist of the Coffeehouse Mystery books in order click here.
---
WHO IS
CLEO
COYLE?

To read Cleo's
essay "Brewing
up Murder"
The essay
appeared in
the Quarterly
Issue of Mystery
Readers Journal
---
To read
Cleo Coyle's
WIki Entry
Click Here
---
American
University
Magazine
interviewed
Cleo Coyle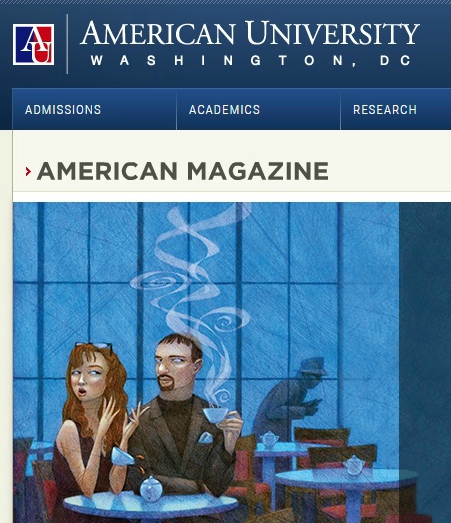 ---
**NEW**
INTERVIEW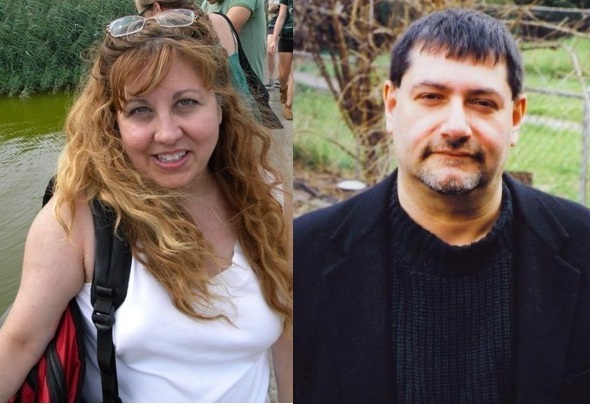 *NEW*
Cleo Coyle Interview, Click Here to read it at the award-winning blog: Lesa's
Book Critiques
*
---
What is a
cozy mystery?
The Cozy
Mystery
List tells you!

Click here
to learn more...
---

Gumshoe
Review
Interviews
Cleo Here
---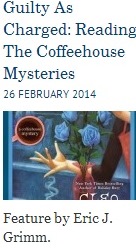 Sprudge.com
is the "most popular
coffee publication
on the planet."
Read Cleo's
interview with
Sprudge by
clicking here.
---
LIBRARY
THING
Hosted a chat
with Cleo.

Read it by...
---
A BLOG
POST FOR
WRITERS:
Read Cleo's
Guest Post at
Mystery Writing
Is Murder

"Genre Blending
and Your Character's
Love Life"
Click here
to read.
---
Cozy Murder
Mysteries Blog
Interviews
Cleo
---
Fun Foodie
Book Resort
Interview
with Cleo
Here.
---

Cleo's Q&A
with the
Hartford
Examiner


---
FREE
READING
GUIDES

COFFEEHOUSE
MYSTERIES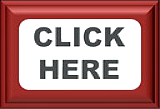 Book Club
Discussion
Questions
---
How to Clean
Your Drip
Coffee Maker...
Your best tasting
cup of java will
come from a clean
coffee maker!
*
*
For more coffee
tips, scroll down
this left column...
---
NYPD DET.
MIKE QUINN'S
BEAT
Click » NYPD: Official Website for New York's Finest
Click » NY Crime File (Daily News)
Click » Police Blotter (NY Post)
---
How to Make
Cuban Coffee
CLICK HERE
for video
* * *
For more
info on the
Moka Express
stovetop pot
used in the
above video,
---
*Starred Review*
~Library Journal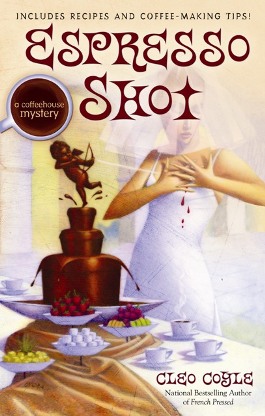 To learn more
or buy...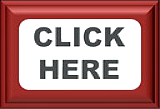 CLICK HERE
TO READ A
FREE EXCERPT
---
How to Make
Coffee in a
French Press
---
Cleo's Past
Coffee Pick was...
Kafe Lespwa
"Coffee of Hope"
from Haiti

Click here to
visit Just Haiti.org
and sample the
coffee for
yourself!
A
Good
Cause!
See more of
Cleo's past
coffee picks
by scrolling
down the
right column.
---
Publishers
Weekly
Bestseller
LEARN MORE
OR BUY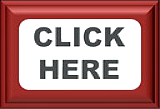 "Fun and gripping…"
~ Huffington Post


"Some of the most
vibrant characters
I've ever read."
~ Mystery Scene


"This one will keep
your cup
piping hot."
~ Kirkus




vif
---
Welcome to Cleo's
Coffee Talk
Message Board!
TYPE YOUR POST BELOW.
HIT THE SAVE BUTTON.

Readers are also welcome to
"Friend" or "Follow" Cleo on
Facebook by clicking here.


You can also e-mail Cleo at this address...
CoffeehouseMystery@gmail.com

jazzy egg * donut egg * haunted egg
September 14, 2008
decaffeinated plant?
Is the decaf coffee plant purely fiction in Decaffeinated Corpse?
Thanks,
—Jenna
Cleo's reply: Hi, Jenna. Thanks for stopping by. Great question.
The idea of a coffee tree that can grow decaffeinated beans was science fiction when I began writing Decaffeinated Corpse. I knew there were people out there trying to achieve this, but it hadn't yet happened. Then, shortly after Decaffeinated Corpse was published, it did happen!
Click here to read the article from Reuters African Desk - in Aug. 2007 a naturally low-caffeine plant was announced to the public. Now it's no longer science ficiton. It's botanical fact!
So how long will it be until we can drink this naturally low caffeine coffee? It will likely be years, but there's no doubt about it - it's coming. With demand for decaf coffee dramatically up over the last few decades, growers, exporters, and retailers know it's going to be profitable to find a better quality decaf product. And that's why the future looks bright for decaf drinkers!
Decaf java joy to you, Jenna!
Thanks again for stopping by. Come on back anytime to my "virtual" coffeehouse...
—Cleo
September 14, 2008
And the verdict is....
Okay, I tried the Purple Princess coffee from Honduras. I was anticipating a very fragrant coffee (REAL lavender is my favorite scent in the whole wide world) and was slightly disappointed to smell just coffee. Really nice coffee, but just coffee. Then, as I was moving the bag away from my nose, I caught a fleeting light sweet floral scent. It didn't last long enough for me to identify it as lavendar but it was definitely floral. So, being the generous person that I am (why is my husband laughing??, I took the ENTIRE bag to work and donated it to our special coffee stash (we have a percolator that we pull out just for a select few of us). I told them that it was from Honduras and to let me know what they thought. The concensus was it was good coffee but no floral overtones, undertones, or anytones noted. I think I'll stick to the IRW, which I am NOT sharing with work. I can't wait for Espresso Shot (I need to hide it from my daughter or she'll "borrow" it before I get to read it) so in the meantime I guess I'll read "Ethical Dilemmas and Nursing Practice". It's a real page turner...sigh.
~~Judy Mac
Cleo's reply: As Tucker might put it: "People, people, people! If you are spending money on premo beans, you should probably not be percolating them!" Okay, I have to agree. An office percolator is probably not the best way to bring out and judge the subtle flavor notes of a unique bean. (In fact - I could almost see Chef Gordon Ramsey throwing knives about now.)
But, listen, before you accuse me of being a total coffee snob, remember: "To each his own" is a phrase made for cuisine. Of course, everyone has different preferences, palates, and tastes - some coffee drinkers love light roasts. Others love dark. Some say paying $13 bucks instead of $6 for a pound of premium coffee is a waste of good money. (Just think of all the lottery tickets, cigarettes, junk food and beer you can purchase with that extra 6 bucks!) Some complain espresso is European mud. Others can't get through a day without a double shot.
As for my lovely Purple Princess (my April '08 Coffee Pick) - I love it! Last winter and spring, when I was test sampling Purple Princess and writing about it, I defintely dectected the "purple" notes that led Counter Culture director of coffee Peter Giuliano to nickname the bean. (Earlier this year, Peter was named 2nd VP of the SCAA, the Specialty Coffee Association of America. Check him out hugging a coffee tree!)
Funny how the palate works. My husband actually has a better palate than I, and he's often detecting things I can barely taste. Or it could simply be that this year's Purple Princess crop is not as heavy with the lavender, grape, plum notes and floral is the note that remains (still remarkable in a coffee that's not grown in Africa). On the other hand, some palates are more sensitive than others (just ask Chef Ramsey!) and flavor notes in coffee can be stronger or weaker depending on the crop. (But, no kidding, method can really effect flavor notes in coffee...not to mention an office maker that is not kept in top order.)
It's certainly a wide, wide world of java. And there's lots to like, dislike, and explore. www.CoffeeGeek.com is just one place you can find myriad opinions on all things coffee. Thanks for letting me know your thoughts, Judy. I'm sorry you were disappointed in the PP. But I'm very glad you liked the "IRW" - (Idido Royal Washed) from the region of Yirgacheffe, Ethiopian (My January '08 Coffee Pick) from Counter Culture! All was not lost! And thanks sincerely for ordering Espresso Shot! I know how much IRW ("Yirg") you could have bought for the price of my book, and I appreciate it. Now, of course, I'm going to sweat whether the saga of Matt's wedding gives you as much pleasure!
—Cleo
September 13, 2008
Your books go great with a double espresso!
I love reading your books with my double espresso every day, homemade from an ancient Italian stovetop maker. I also want to share about a great small roaster in Newport Beach, CA. I discovered Alta Roasting Co. just before discovering your Coffeehouse Mysteries. Now the two together makes me enjoy my evenings after a long day at school with my students.
Thank you, Cleo!!!
Cleo's reply: Awesome to hear from a teacher - let alone a coffee-drinking teacher who digs my little books. You made my night! Thank you so much for posting and also for telling me about Alta.
( If anyone would like to learn more about Alta Roasting Co. in Newport Beach, CA, click here! )
And for anyone who is wondering what a "stovetop" espresso maker is: Here's a picture. These come in various sizes. It's a handy little poor-man's espresso maker. The old-school Italians used them when I was growing up - and, like Clare (and you!), I have one, too. CLICK HERE to learn more about stovetop espressos (aka Moka pots).
Java joy to you, "Teach," and thank you so much for posting!
—Cleo
September 13, 2008
9/11
I was at home that morning and my husband called me from work and told me to turn on the news. All I could think was "how many people were there?". I had to work that night and several of the nurses said they had volunteered to go to NYC and help with the victims but had been told to wait. I was listening to the news off and on as I went in and out of patient rooms and heard the statement that NYC was looking for sources of body bags.
That news told me that there were few if any survivors from the Towers. When I heard that the call for body bags had been stepped way down, I realized that few if any of the bodies were intact and my heart broke for the grief I knew the families of those victims were experiencing.
To lose someone you love is heartbreaking enough, but to know that you can't bury that person leaves that loss an open wound. Cleo, my deepest sympathies to you and your fellow New Yorkers and the families and friends of all those priceless people that died in the Towers.
~~Judy Mac
Cleo's reply: Thank you, Judy, for your heartfelt post. The details of that day will (I have no doubt) remain with us all for the rest of our lives.
September 8, 2008
Geekette loves reading Cleo's books with a cup o' joe...
I love reading your books with a cup o'joe, but I keep falling asleep. (I have ADHD and a cup o'joe is better than prescription drugs for me.) This does, however, make the books last longer and the wait for the next book isn't so awful. Write faster, please. --grin-- Oh, OK, well-written books are better than faster books, but I wanna have more books! --whine--whine--whine! BTW, are you sure Joy isn't mildly ADHD? She sure sounds like me when I was her age. I have a pre-teen granddaughter that I think of as a younger "Joy" so I am looking forward to her avatar.
—geekette
Cleo's reply: First of all, I love your geekette signature. (Geeks of the world unite! Thank you.)
I'm pretty sure my husband is also ADHD. He went through the public school system before that sort of diagnosis was made, but I'm often having a "normal" conversation with him (say, about the Loch Ness Monster) and then his brain rockets off in five different directions, and I say, "HEY! We were talking about Nessie!" (Look at the monkey! Look at the monkey!)
So anyway it could be ADHD, or...(umm) you don't suppose it's the excessive amount of caffeine we consume, do ya?...
ANYWAY! I'm glad you're looking forward to seeing the Joy avatar (for newbies my Village Blend Staff Page has avatars of the Coffeehouse Mystery characters and Joy is one). I hope to get Joy added soon (maybe even next month if all goes well with the outline I'm now writing for the 8th Coffeehouse Mystery - more on that in the coming months, too!)
Java joy to you "geekette"! In thanks for stopping by my "virtual" Village Blend coffeehouse, may I now virtually serve you a virtual cuppa Latte Art for Geeks!
—Cleo
(a geek-girl 2)
Behold:
Latte Art
for Geeks
September 6, 2008
Manatee Coffee Company & Medaglia D'oro brownie
Manatee Coffee was doing a sampling at Costco recently. Fairly good. http://www.manateecoffee.com/ "A coffee with a cause." Available at Costco throughout Florida and on the web. Not as good as my fave, Medaglia D' Oro, a twice-roasted Italian-style espresso that has been around longer than I have. Medaglia D'Oro is roasted at Rowland Coffee Roasters' Miami facility. They have recipes on their website. http://www.medagliadoro.com/ The espresso brownies are truly yummy! That's the coffee / chocolate combo I curl up with when I read Coffee House and Haunted Bookshop novels.
Cleo's reply: Cheers for the Coffee Talk! Your links are activated for anyone who would like to check out Manattee Coffee and Medaglia D'oro.
Here's a virtual espresso brownie for your virtual enjoyment. (You're right, the espresso brownie recipe looks delish.)
CLICK HERE for the espresso brownie recipe from Medaglia D'Oro's site. (The yummy picture is their recipe! Click on pic to check it out! ⇒)
Chocolate-coffee joy to you!
—Cleo
September 5, 2008
Check out Small World Coffee
Just as I'm addicted to coffee, I've become addicted to the Coffeehouse Mysteries (and the Haunted Bookshop series as well); looking forward to Espresso Shot in the next few weeks.
There's nothing better than having my favorite cappuccino while reading about Clare's adventures —and I wanted to introduce you to our fabulous coffeehouse in Princeton, NJ (and their even more fabulous coffee): Small World Coffee.
We're so lucky here to have both the community of the coffeehouse(s) (now 2, a smaller one at the other end of town) and the fantastic coffees they roast and prepare with expert love and care. Check out their website: http://www.smallworldcoffee.com/ and check out some of their coffee. And if you're in Princeton, go there. No matter where I travel, it's still my favorite.
—Margery
PS: We grilled coffee-marinated steak last weekend—different and definitely yummy!
Cleo's reply:
A long overdue reply to your post, Margery! I remember trying to post a photo from Small World and my computer crashed. (Oh, joy.)
The writing life pulls one in many directions and I was sidetracked for a time and a few posts from early September didn't get a reply from me until now (late October). I do hope you see this though.
I always enjoy and appreciate suggestions from readers on favorite coffeehouse. Small World sounds wonderful! It's especially good to know what coffeehouses might be open to hosting a future "Coffee with Cleo" night, too. Now that you've told me about Small World, I'll know a place to check out for that kind of event when I begin planning...
Either way, if I'm ever in your area, I'll be sure to check it out myself! Below is a photo of Small World Coffee for anyone who is near or driving through the Princeton, New Jersey, area.
Click here to go to Small World Coffee's Websit
and get directions to the shop.
P.S. I'm glad you liked the coffee-marinated steak recipe. It's nice to put cold coffee to good use! Thanks for posting, Margery! I sincerely hope you'll come back again to post at my virtual Village Blend!
September 5, 2008
Madame Dreyfus Allegro Dubois
Loooove meeting Madame. These are so cool to see the author's picture & the one in my mind match! Can barely wait to see Joy.
Also, forgot to let you know I think it would be great for your character of the 2 series to meet. You're welcome to use any ideas (adapted to your terrific skills) from me -- all I ask in return is total credit (not really, I just think it would be neat to see what you come up with).
Once again from
—Catherine in Texas
Cleo's reply: Hi again, C! Once again, a long overdue reply...
Yes, Madame Dreyfus Allegro Dubois is finally added to my "Village Blend Staff" page - and Joy will be coming soon, along with Mike and the other characters who populate my Coffeehouse Mysteries. I'm so happy that you are enjoying these. It's great fun to create the Avatars, although time-consuming, which is why they are going up one at a time, over time. The writing has to come first...as you well know being a writer yourself!
The characters of my two series "meeting" idea has been brought up before to me by fans - and it's still a good idea! I will give you all the credit though!! LOL!
—Cleo
September 5, 2008
Your books keep getting better!
My family is eagerly waiting for the next book of both series. My husband & I live with our daughter and we have limited space because we run our businesses and live in the same building. We prefer paperbacks because of lack of space (our bookshelves include many favorite authors & amazingly we like the same ones). We also have research books for our writing. When we run out of room, we give away or sell some of our books. YOURS, however, have prominate places on our shelves & will remain so.
Also since the authors can't possibly write & publish as fast as we read, we re-read the series from the beginning whenever we get a new one. Not only does this method refresh our memories (& sometimes we notice things the next time around that we either missed or did not realize its importance), but it also makes it seem like the next book is closer to being released.
Of all the authors we read, there are some we would love to meet in person. You're at the top of that list! So if your ever in the Amarillo Area, we'd love to know.
—Catherine Lane of Amarillo, Texas
Cleo's reply: Hi again, Catherine! A long overdue reply...
I continue to be thrilled and flattered that you, your husband, and your daugther are ALL fans of my series. Amarillo is my new favorite city. If ever I'm really able to do that wished-for "Coffee with Cleo" tour, you can bet I'll want Amarillo to be on the stop!!
Until then, I hope you'll keep in touch via my "virtual" coffeehouse here or through e-mails. Always love hearing from you!
Warmest wishes and java joy always,
—Cleo
September 5, 2008
Hello from England
I've recently discovered your books & have purchased the full set from Amazon & am working my way through them. I love this style of mystery book, so long may the series continue!
—Carolyn O'Connor
(Leicestershire, England)
Cleo's reply:
A long overdue but heartfelt HELLO to you, Carolyn O'Connor! How wonderful to have a fan "across the pond"! God Save the Queen!
Really. You made my day! I hope you will return to my little virtual coffeehouse and post again.
Until then, I warmly wish you Java Joy!
In thanks for dropping by, I "virtually" baked you a plate of America's favorite treat: Chocolate Chip Cookies! Enjoy them with a smooth cuppa virtual U.S. Hawaiian Kona in my virtual coffeehouse!
September 4, 2008
Just a few more weeks
Already have Espresso Shot pre-ordered. Can't wait!!!!
—Barbara B.
WA
Cleo's reply: Thanks, Barbara B.!
September 4, 2008
French Pressed is your best yet!
Just finished French Pressed and loved it! Sat on my swing and had my chocolate orange coffee by my side (home made). Thoroughly enjoyed the whole experience.
I think I read this one in record time, too. That is the best way to read your novels, with a cup of coffee. I've read all your Coffee House Mysteries and each one is better than the last! Keep them coming! Can't wait to read Espresso Shot!
Also I have to keep my eyes open for french roast Kenya as I also love chocolate covered cherries.
Affectionately,
your chocolate orange friend,
—Sandy
Cleo's reply: SANDY! I remember your chocolate-orange post! Welcome back to my "virtual" coffeehouse. THRILLED to hear you enjoyed French Pressed - I agree with you. It's the strongest book so far - but when you read Espresso Shot, I think you'll be even happier. As I've said before, Clare's adventures are non-stop in my first hardcover CM and it's also the longest one to day with the most story. I'm so psyched to hear from you again. Come on back now, y'hear?!
Chocolate-orange joy to you,
—Cleo
September 2, 2008
Love your books
I am on my third read through. I feel like they can't come fast enough to keep me reading.
Cleo's reply: Awesome! You made my night! Thanks for letting me know how much you are enjoying the books - it means the world to me.
September 2, 2008
I'm too selfish to share my IRW coffee!
I'm afraid that the incredible bouquet and flavor of the IRW coffe would be lost on my co-workers whose palates have been ruined by old, cold, stale and half-burned coffee. I have a french press here at work and make myself fresh coffee throughout the night and let them SMELL it, but no taste tests! Okay, Cleo, I have broken down and pre-ordered Espresso Shot in HARDBACK!!! I hate to buy a book in hardback because I can buy more paperbacks with the same amount of money. Yes, you're right, I am selfish AND cheap, and it IS all about me! What's your point? Also, I would like to volunteer my services as a proofreader for any and all of your upcoming and future books. I have excellent English and spelling skills, totally AROC about consistent timelines within stories and read very fast. This has nothing to do with me getting your stories first AND not have to spend money at the same time. Just a suggestion!
~~ Judy McIntosh
(known as "Judy Mac" to nurses and patients alike)
Cleo's reply: Hi again, Judy Mac!! (Great nickname.) LOL on everything - the french press on the nursing job, the breaking down to by my first hardback (God BLESS you!), and even the proofreading. However, "Mary T" from Wisconsin (who often posts here) has already gotten in line in front of you for the
proofreading offer. LOL! (She e-mails me when she sees typos on this site, and I am always appreciative!) BUT if I start self-publishing or decide to launch an online publishing company myself (a fantasy of mine - who knows) I'll get back to ya!
Warmest wishes and thanks again for buying the hardcover
Espresso Shot...
I know it's a very special buy and I appreciate it! But I think you'll be very happy to have it - It's non-stop adventure for Clare; it's the longest Coffeehouse Mystery tale to date (a lot of story!); and it's got some really delish recipes, too!
Cheers and good luck with the masters studies!
—Cleo
September 2, 2008
baseball..and candied apples !
What a great combo....baseball and a candied apple! thanks for the go Brewers.. they won today..and the pitcher should have had a no hitter ! will see what develops. Yes...the Mets are doing better than the Yankees. I don't care who wins.. as long as it is NOT the Yankees !!!!
—Mary T., Appleton, WI
Cleo's reply: LOL! Ha-ha-ha-haaaaaa!!!!! Absolutely!
September 1, 2008
Espresso Shot Congrats!!
Congrats, Cleo, on the first hardcover printing of one of your wonderful books! Reading them has been a pleasure, and, I have learned so much about coffee that my drinking/brewing habits have changed dramatically. I purchased an authentic ibrik from Damascus online! I dubbed this summer "the summer of espresso" and have been diligently trying to achieve "crema" in my ibrik (with only modest success so far)... What a fun hobby, and I have you and Clare to thank!
Keep up the great work!
—Lori
Cleo's reply: Hi, Lori! What a fun post! I'm psyched that you're really getting into the coffee thing - bought an ibrik and everything! Awesome!
For those of you wondering what we're talking about, here's a picture of an ibrik ⇒
Click here to read more about this handled pot that's used to make "Arabic - Turkish - Greek coffee" to quote this informative website of Sweet Marias - a great place to learn about coffee or even buy GREEN coffee beans to roast yourself at home. You can learn all about home roasting from this site, too.
Thanks for posting, Lori. Come on back anytime with coffee thoughts - or any thoughts. Love to hear from such enthusiastic readers. And as long as you keep reading, I'll keep writing...
Java joy to you,
—Cleo
August 31, 2008
Great books
Hey Cleo,
I just wanna say keep up with the great books. Whenever I know a new one is coming I pre-order right away cause I look forward to what Clare and Joy and the ex are up to. I feel for Joy, how Clare butts in—when Joy is old enough to take care of herself—but Clare is there when Joy gets in trouble. I have to say, keep the books rolling our way. You have a fan here forever, and I know when I start one of your books I can't put it down. So I'm looking forward to your next one.
—Holly
Cleo's reply:
Hi, Holly!
Haaaa! You made me laugh out loud tonight with your PERFECT description of the Joy-Clare relationship!
Thanks for being such a fantastically loyal fan. It means the world to me - and thanks also for taking the time to drop into my "virtual" coffeehouse and let me know personally how much you're enjoying your visits to my fictional Village Blend.
Here's a great big delish "virtual" chocolate chip cookie for you to enjoy with your next pot o' coffee.
Java joy to you,
—Cleo
August 31, 2008
your eager to read reply
Hi...
Just read your reply to my Aug 19 post. Love those red candied apples....and will try the recipe. Have not had one for ages....used to get them at the state fair in Milwaukee.
Appleton is named after a man of the same name. Will send you more info in an email. and yes Harry Houdini did live here in Appleton at one time. Will send you more info in my email :)
The Brewers are hanging in there...but are still behind the Cubs...who keep finding ways to win. I am hoping the Brewers can get the wild card spot...if nothing else. So looking forward to the new books.
Have a great Labor Day weekend, all.
—Mary T.
Appleton WI
Cleo's reply:
Go Milwaukee Brewers!
(That's for you, Mary T.)
And, of course, for me: Go Mets! (They're doing better than the Yankees this year. Yay.) Okay, after your mention of the state fair (I LOVE state fairs!!!), I am now obsessed with having a red candied apple. This is bad. I have no time to make them. Maybe next week!!
Cheers to you again,
—Cleo
August 31, 2008
Note to Cleo
Congratulations on a positive Kirkus review. As a librarian who has used their reviews for years I know they don't give praise lightly!
—Marlene
Cleo's reply: THANK YOU, Marlene! You made my week saying that! Or, as Matteo Allegro says to Detective Mike Quinn in Espresso Shot, "I could kiss you!"
(Yes, I know that sounds like it would NEVER happen, but it does make sense when you read the book! LOL!)
Here's a special cup o' "virtual" latte art in thanks to you for stopping by my virtual coffeehouse!
Java joy to you,
—Cleo
P.S. I (heart) librarians! They are the hippest kids on the block. Click the link below to go to an article I so enjoyed last year in the NY Sun: "Brooklyn, home of the hip librarian..." Click here to go to NY Sun article.
August 31, 2008
Idido Royal Washed is an AWESOME coffee!!
After reading through the monthly picks, I ordered the Purple Princess and the Idido Royal Washed beans from Counter Culture. I opened the IRW beans and couldn't believe how wonderful they smell!! And the brewed coffee tastes like the beans smell! I can't wait to open the Purple Princess beans. Still waiting (im)patiently for the next books.
~~Judy McIntosh
Cleo's reply: Hi Judy!! I love your posts! I remember your telling me about you and your daughter both reading the Coffeehouse Mysteries. (That was incredibly gratifying to hear since there are so many mother-daughter issues in these books - not just Joy and Clare but Clare and her former mother-in-law, as well.)
I'm glad to hear you liked the Idido Royal Washed beans at Counter Culture Coffee! The region of Yirgacheffe Ethiopia is seminal when it comes to coffee - the motherland. (For anyone who wants to learn more about what "Yirg" coffee is...click here. It will take you to my article archives where I talk about Yirgacheffe coffees and explain how important they are to the trade.)
Judy: Come back when you can and tell me what you think of the famous "Purple Princess" coffee from Honduras ("purple princess" is the nickname. It's officially known as Finca El Puente - which translates to "the bridge farm" and it is also sold by Counter Culture Coffee under their coffees from the Americas page).
If anyone wants to learn more about the exotic, award-winning Purple Princess coffee, which (amazingly) has notes of lavender, plum, and grape, then just click here. The link will take you to the section in my archived articles where I wrote about Purple
Princess for the Web and featured the Marysabel, the woman who owns the farm and grows the coffee with her husband. (This coffee played an important role in my novel FRENCH PRESSED.)
Java joy to you, Judy
(and your daughter, too!),
—Cleo
P.S. I answered your other post below!
August 29, 2008
Labour Day & Labour Day 2
We also have that holiday here in Canada, we just spell it with a U in there lol. I'll be starting school on Tuesday and will be having to get up at 5 am now, what a change that will be from 1 pm lol. I'll be taking an administration course. Can't wait.
—Chelle
Cleo's reply: 5 AM - Yikes! I like getting up early. But even that's a TAD too early for moi! Still, it certainly sounds worthwhile. It's always fun to take a new class, learn something new, meet new people. Good luck and have a great time of it! (Canada's Labour Day is May 1...it's funny, yours marks the beginning of summer and ours the end...maybe because you all are north of us - tee hee...)
Cheers!
—Cleo
--------------------------------------------------------------
Labour Day 2 - Chelle replies...
What? May 1st??? Where'd you get that crazy idea? lol our Labour day is this Monday, the day before school starts.
—Chelle
Cleo's reply: Oops! Sorry, Chelle!I stand corrected. May 1 is "Labour Day" for much of Europe as well as Mexico, Sweden, Iceland, Chile, Costa Rica, Korea, Syria, Turkey, Albania, Greece, India, Russian Federation, Malaysia, the Philipines, much of Africa, and a lot of the rest of the world! (Click here to read more.) I didn't realize Canada's is the same day as the USA! Apologies and...
Happy Labour Day, Canada!
—Cleo
August 28, 2008
Waaitinggggggg
Hi Cleo:
Is it September 30 yet? I have drank regular coffee, coffee shop coffee, fixed my own brew and even resorted to my Moca Pot to get my Coffee House Mystery fix, but it AIN'T doin the job. I am almost ready to camp out on my book store front walk maybe they will feel sorry for me and provide free expresso's, doubtful. Any way there must be no substitute for an "Espresso Shot" than the book. So I wait shaking like a leaf like a good Coffee House fan. Actually I just wanted to say hi and that I am getting eager for the new book. i won't even mention the Haunted Bookshop new book that's just too long to think about.
Love ya,
Plainfield Rusty
Cleo's reply: Hi Rusty! GREAT to hear from you again! Here's a virtual shot of espresso (with a lovely head of crema) to keep you going until the book comes out.
Thanks sincerely for being such an enthusiastic fan of my series (both of them). Be sure to stop back and let me know how you like the new CM book. I always enjoy your posts!
Java joy to you,
Cleo
August 25, 2008
Hi Cleo/Alice
How are you doing? just popping by to leave a note and say hi. I just up graded from dial up to cable internet. What a difference!!! BTW who knew that you can feel so much happier by breaking up with a guy and not talking to him anymore!! lol never thought it would be so easy to be single but for now I'm loving it (hmm maybe that's my prozac talking eh?) anyway keep pumping out the good books, I bought 5 new books the other day still waiting for them to get to the store. My next card will go toward getting the books I still don't have in the Coyle and Kimberly series. I get 50 dollar gift cards with my airmiles points every 3 months or so. Looking forward to the next pile.
—Chelle - your north american sister
on the canadian coffee coast.
Cleo's reply: Hi Chelle! (I updated my subscriber list with your new e-mail) REALLY happy to hear time is helping you. (or it could be the prozac - lol) Funny how you started the post - sometimes life can feel like it goes from dial-up to high speed. Wow, I can think of a dozen cheesy analogies to make about love and the Internet - could probably start an e-greeting card company on that concept alone! No kidding, though, it really cheered me to hear from you and know that things are looking up (airmiles and all)...We have a holiday here in the States this weekend (Labor Day on Monday). I hope you have a great weekend - I should finally be getting my newsletter out, too...
—Cleo, your all-american
bean-juice crazy girlfriend
August 20, 2008
double shot, extra hot
Your new book, The Ghost and the Femme Fatale was great. Loved the jump from present to past and back again. Jack is great. Looking forward to Jan 09 for the new one. Keep writing—you've got my husband and I hooked.
—Wendy M.
New Mexico
Cleo's reply: Hi, Wendy in NM! The ghost of Jack Shepard has really hit a chord with a lot of readers. For me, he provides a much needed counterpoint to the continuing parade of silliness in our modern world - I can just see Jack turning on the TV and cracking wise over everything from Pimp My Ride to feel-good car commmercials to public therapy on the Dr. Phil Show...in fact,, now that I think about it, these are things he probably WILL be cracking wise about when I sit down to write my next Haunted Bookshop novel!
In the meantime, thank you sincerely for taking the time and trouble to stop by my "virtual" coffeehouse and let me know you enjoyed the book! I'm also thrilled that your husband is liking Jack and Penelope, too.
Java joy to you and your husband too
—Cleo (aka Alice Kimberly)
August 19, 2008
eager to read.......
yournew books. Was wondering where you were :) Look forward to Sept 30...and Jan 09...two must reads.
—Mary T
Appleton WI
Cleo's reply: Hi Mary T! Great to hear from you again! We're heading into appple picking season here in NY state. LOTS of bags of fresh apples always come available in our markets in Sept. and Oct. Looking foward to some apple dishes...(Click here or on the pic for a candy apple recipe I might try this year.)
Is Appleton surrounded by apple orchards? Or is the name of your fair city just a name (Houdini once lived there, right? I think I read that some time ago - because he's buried where I live in Queens!).
Baseball - I've been so busy I've totally lost track of my Mets. (I usually tune in late in the bball season. How's your team doing this year? I know you're a big fan...)
Thanks again for virtually dropping by my virtual coffeehouse!
—Cleo
Click here
to learn more about the Coffeehouse Mystery novels.
To purchase the books,
click here
or
here
or
here
.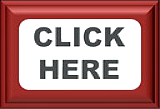 ---
Clare Goes to
Washington!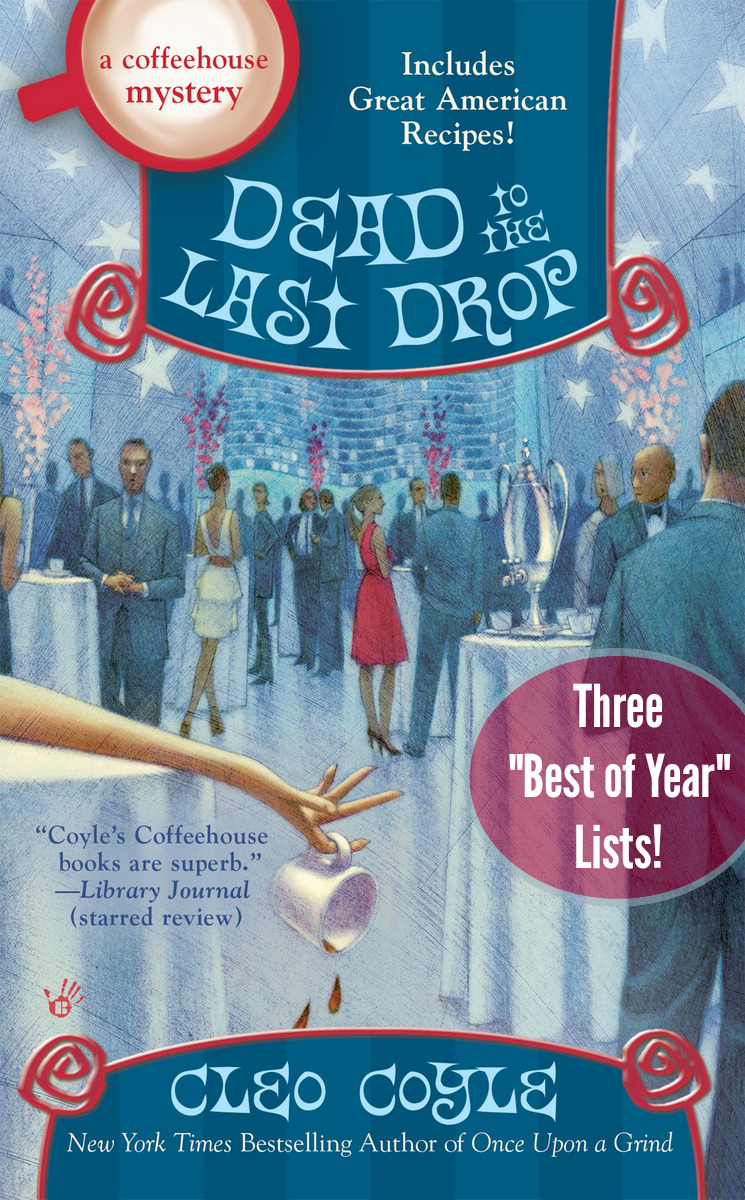 Dead to the
Last Drop
National Bestseller
3 Best of Year Lists!
TO LEARN
MORE or BUY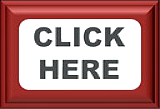 With an appendix of
amazing recipes...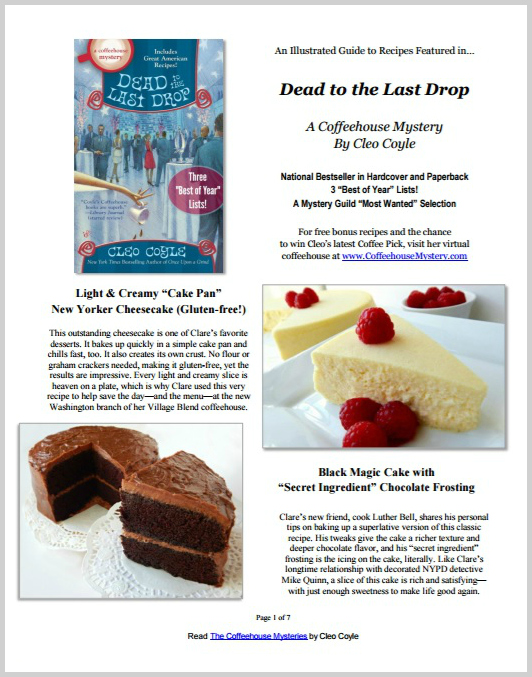 ---
FREE
READING
GUIDES

---
---
It's Official!

Now a
BESTSELLER
in paperback!
#3 bestselling
paperback mystery
at B&N Stores
Nationwide!

Cleo's 10th
Coffeehouse
Mystery
Murder
by Mocha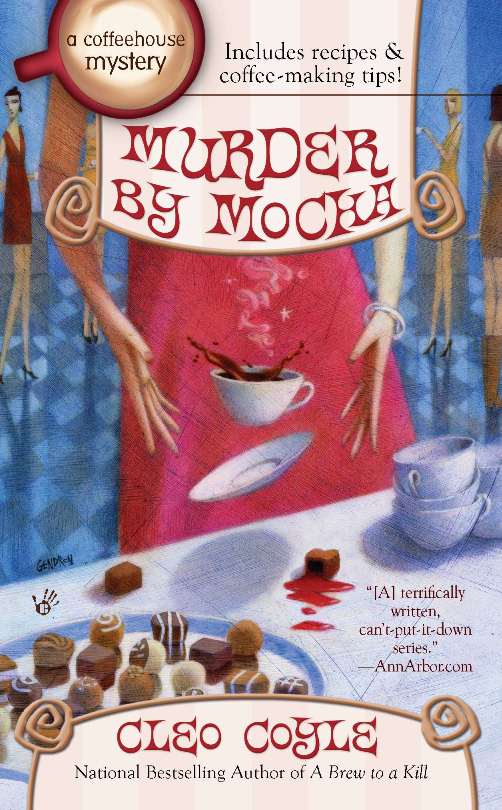 4 Year-End
Best Mystery
Lists!
This bestselling
hardcover is
now reprinted
in paperback,
and a...

TOP-10*
Mystery
Bestseller,
Nationwide!

*Barnes & Noble
*
Includes
Chocolate
Recipes!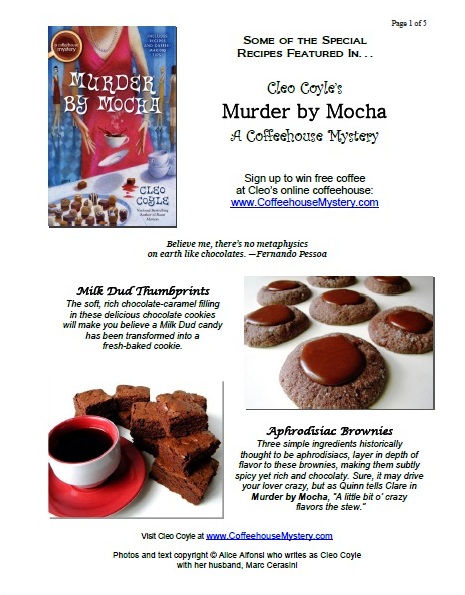 This is a
PDF document
and will take a
minute to load.
"...a tasty tale
of crime and
punishment
lightened by
the Blend's
frothy cast of
lovable
eccentrics."
~ Publishers
Weekly


---
Read
with joy!

~ Cleo
---
Arson leads
to murder
in...
ROAST
MORTEM

Named as a
"Favorite Book
of the Year!"
Reviewer's Pick
~ Bookreporter.com
Now a
National
Mystery
Bestseller!*
A deliciously
thrilling
culinary mystery
that's also a
tribute to
firefighters...

See some of
Roast Mortem's
featured recipes by
CLICKING HERE.


---
---
#1
Bestselling
Paperback
French
Pressed

#1 Bestseller
Independent
Mystery
Booksellers
Association
April 2008
---
Caffeinated
Cheers

to
COUNTER
CULTURE
COFFEE
"Top Innovator"
DETAILS magazine named Counter Culture Coffee as #1 (of North Carolina) among five industry "innovators creating coffees that have the complexity of fine wines."
I'm a big fan of Counter Culture and have written about them on this site and in my books. Read my Coffeehouse Mystery: French Pressed or scroll down this column to my "Coffee Pick" list.
Says Counter Culture: "We hope that such media coverage helps spread awareness that coffee can not only be an authentic, delicious food experience, but also a conduit for community, sustainable agriculture, and cultural exchange."
~ Cleo
---
A
#1 Bestselling
Paperback
Decaffeinated
Corpse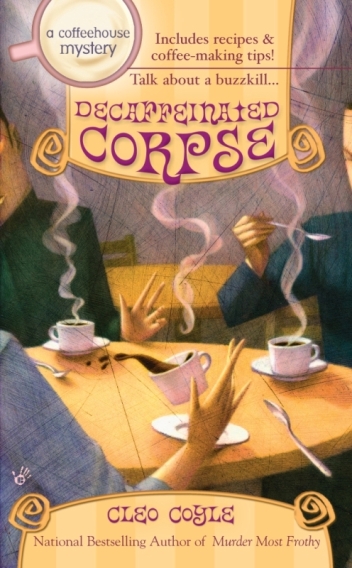 #1 Bestseller
Independent
Mystery
Booksellers
Association
July 2007
---
BULLETS
ON THE
BEACH
Murder
Most Frothy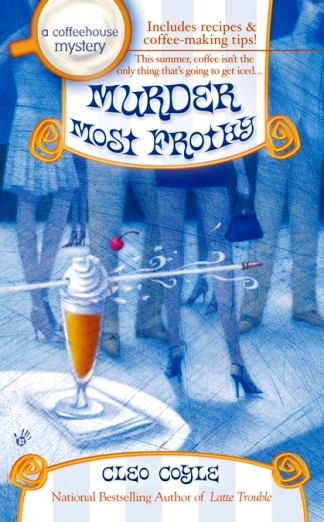 Murder Most Frothy
Cleo's 4th Coffeehouse Mystery gave her amateur sleuth, Clare Cosi, a summer job as a "coffee steward" at a posh new eatery in the Hamptons, the fabled seaside escape for New York's rich and famous.
When a co-worker is gunned down, she's on a case that leads her to strange clues on the beach, a rogue Navy SEAL, and a suspicious manager at the restaurant where she's pouring gourmet cups of joe...
NEW YORK
HAMPTON'S
COFFEE CO.
CLICK HERE to visit some real coffee peeps who work hard to give the Hamptons folks a great cuppa joe.
* * * * * *

And
just for fun...
Peter Pans

"Overstaying the
Hamptons Party"

New York
Times
Click below to read a past Times feature about "house shares" in the Hamptons and men who try to keep the postcollege "boys of summer" party going decades after their undergrad days. Shades of my character Matt Allegro? Hmm...
---
2010 WORLD
BARISTA
CHAMP
Mike Phillips, our U.S. Barista Champ, finished among the top 3 baristas in his first World competition, held in Atlanta, Georgia. The following year, in Olympia, London, he won FIRST PLACE and is now THE WORLD CHAMPION FOR 2010! Way to go, Mike!

How did he get there? "I really care about coffee and the entire chain of things, from where the coffee is grown and processed, all the way to the shop where it's prepared and the customers who enjoy it."
Mike worked at Intelligentsia Coffee & Tea when he won the barista competitions. To virtually visit the store, click here.
*
---
Java Master Gives
Tips on Making
the Perfect Cup
Italian-born Gennaro Pelliccia is responsible for the taste of the 108 million cups of Costa coffee sold in Britain each year. His policy with Lloyd's of London insures his tongue for 10 million pounds!

Click here to read Mr. P's tips on making a great cuppa joe...
FREE
EXCERPT!
for Cleo Coyle's
2nd series...
Haunted
Bookshop
Mysteries
THE GHOST
AND THE
HAUNTED
MANSION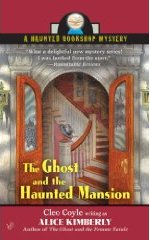 * National Mystery
Bestseller!
Independent Mystery
Booksellers Association
Meet the ghost at...
* A Fresh Fiction
Fresh Pick!
Click here
to read a
Free Excerpt

---
Want to Grow
Your Own
Coffee Plant?
Thanks to CM reader Linda for posting info about where to buy coffee plants and seeds. Click here to go to the coffee seed catalog page and scroll down. Look for the "coffea" plants listed in ITALIC alphabetically.
Coffea arabica
Coffea catura
Coffea kona
Linda also says: "Gurney's Plant and Seed catalog has small coffee plants for $8.95 each. Click here and look for item # 11295 for coffee plants."
---
WAKE UP AND SMELL...
THE CANVAS!
"I started painting with coffee because I wanted a cheaper medium that was accessible to me," says Filipino artist Sunshine Plata. A tube of oil paint costs at least 500 pesos ($11), while a jar of instant coffee is only around 150 pesos ($3). Click here to read more about Sunshine and her coffee art.
---
Caffeine
Myths
A New York Times story by the amazing Jane Brody examines coffee and health, click here to read more. (I learned a lot about the myths of caffeine!)
*
Click here to read about a Harvard study that shows coffee's link to preventing heart disease.
*
Click here to read how a cup of coffee a day may offset Alzheimer's disease.
---
In Memoriam
Sheena
2.21.2009
---
Ethiopian Coffee Ceremony!
Yes, like the Japanese with their tea traditions, the Ethiopians have a very special way of enjoying coffee. Click here to learn more!
---
Coffee Health News!
Coffee May Boost Memory
in Older Women
Women older than 65 who drank more than three cups of coffee a day — or the caffeine equivalent in tea — showed better memory retention than men, a French researcher reports. To read more in a Scientific American article, click here.
---
COFFEE NEWS!
Ethiopia announces commercial culitvation of low-caffeine coffee plants! Ric Gostwick's "dream" coffee from Decaffeinated Corpse is no longer fiction! To read about this amazing breakthrough, click here.
---
AND NOW
FOR SOME
OF CLEO'S
PAST
COFFEE PICKS...
---------------------------
SEPTEMBER '07
Cleo's Coffee Pick:
MAGNOLIA GRILL BLEND
With the tip of a chef's hat to the married couple who run Magnolia Grill, Cleo's coffee pick for SEPTEMBER 2007 was Magnolia Grill Blend sold by Counter Culture Coffee roasters.
---
OCTOBER '07
Cleo's Coffee Pick:
GOMBE RESERVE
Cleo's pick for OCTOBER 2007 was Gombe Reserve sold by Green Mountain Coffee Co. and endorsed by Dr. Jane Goodall.
---
NOVEMBER '07
Cleo's Coffee Pick:
MAJOR DICKASON'S BLEND
In tribute to the late, great Alfred Peet, Cleo's pick for NOVEMBER 2007 was Major Dickason's Blend sold by Peet's Coffee and Tea. To read Cleo's past featured article "Alfred Peet and the Birth of Coffeehouse Culture" as well as the article after it about the Major Dickason coffee blend itself, go to Cleo's article archives by clicking here and scrolling down.
---
JANUARY '08
Cleo's Coffee Pick:
"YIRG" - ETHIOPIAN YIRGACHEFFE
Cleo's pick for JANUARY 08 was Ethiopian Yirgacheffe sold by Counter Culture Coffee Company. This coffee was also featured in Cleo Coyle's Coffeehouse Mystery: FRENCH PRESSED.
---
FEBRUARY '08
Cleo's Coffee Pick:
RWANDAN VILLAGE BLEND
Cleo's FEBRUARY '08 pick was Rwandan Village Blend sold by Land of a Thousand Hills Coffee Co. To read Cleo's archived article on this coffee, click here and scroll down.
---
MARCH '08
Cleo's Coffee Pick:
KENYA
Cleo's MARCH '08 pick was Kenya, sold by Counter Culture Coffee, Co. and Peet's Coffee. This coffee was also featured in Cleo Coyle's Coffeehouse Mystery: FRENCH PRESSED.
---
APRIL '08
Cleo's Coffee Pick:
PURPLE PRINCESS
Cleo's April '08 pick was the amazing "Finca El Puente" from a coffee in Honduras nicknamed "Purple Princess" by the coffee director of Counter Culture Coffee of Durham, NC. This coffee was also featured in Cleo Coyle's Coffeehouse Mystery: FRENCH PRESSED.
---
MAY - JUNE '08
Cleo's Coffee Pick:
PAPUA NEW GUINEA
Cleo's June '08 pick was the "Jamaica Blue Mountain" of the South Pacific. An award-winning coffee grown on the exotic island of Papua New Guinea (north of Australia).
---
JULY - AUGUST '08
Cleo's Coffee Pick:
SOLAR ROAST COFFEE
Cleo's July - August '08 pick was Solar Roast Coffee of Pueblo, Colorado, the only company in the world that roasts its coffee using solar energy! Meet Dave and Mike, the two brothers who invented this one-of-a-kind solar roaster, and learn how you can purchase their delicious coffees for yourself by clicking here or typing SolarRoast.com into your browser.
---
SEPT. - OCTOBER '08
Cleo's Coffee Pick:
JOE'S VIENNA ROAST
from the NYC coffeehouse:
Joe, The Art of Coffee
The September-October '08 pick was Joe's Vienna Roast, sold by Joe, The Art of Coffee café in Greenwich Village, New York, recently named one of the best coffee bars in the country by Food and Wine magazine (and one of Cleo Coyle's inspirations for her fictional Village Blend!). CLICK HERE to visit Joe online. (To read Cleo's archived article about the Joe cafe, click here.)
---
NOV. - DECEMBER '08
Cleo's Coffee Pick
BOUCHON BLEND
This smooth, delicious coffee is the House Blend served at Bouchon Bakeries, which are owned and run by award-winning chef Thomas Keller. This coffee was featured in Cleo Coyle's 7th Coffeehouse Mystery: ESPRESSO SHOT. It is blended and roasted by Equator Estate Coffee and Teas, a women-owned company based in northern California. Click here to visit the company and try their coffees for yourself.
---
JANUARY 2009
Cleo's Coffee Pick
NOT KOPI LUWAK!
One of the rarest coffees on the planet, Kopi Luwak is also one of the most expensive. Kopi Luwak was also a featured coffee in Cleo's 7th and most recently released Coffeehouse Mystery: ESPRESSO SHOT. To read Cleo's brief archived article on Kopi Luwak and learn how it got its hilarious nickname: "cat poop coffee," click here and scroll down.
---
SPRING 2009
Cleo's Coffee Pick
ROOSTER BROTHER's
LA MINITA ESTATE
(Costa Rica)
This outstanding single-origin bean is treated with love by the coffee team at Rooster Brother, a store for cooks housed in a historic Victorian building in Ellsworth, Maine. Master Roaster Gene (pictured) does a masterful job of bringing out the very best in this smooth, bright, delightful coffee with the kind of hints of citrus and berry usually found in high-quality African beans. Click here to visit George and Pamela Elias's Rooster Brother store online and order some of this superb coffee for yourself! (Thanks to Coffeehouse Mystery reader Bud Knickerbocker of Bangor, Maine, for suggesting it!)
---
MAY - JUNE '09
Cleo's Coffee Pick
BISHOPS BLEND
Creating blends is a culinary art, and I'm happy to report that the roasters for Bishops Blend have done a masterful job at creating theirs. The beans are roasted medium dark and the package came to me (via UPS) freshly roasted, beautifully oily, and smelling of chocolate. The coffee is perfectly balanced; and as it cools, the notes include a slight vanilla flavor and a touch of cinnamon. Even better, when you purchase a bag, a percentage of the money goes toward ERD, a charity that provides disaster relief around the world as well as enabling people in the poorest communities on our planet to climb out of poverty.
---
SUMMER 2009
Cleo's Coffee Pick
DALLMAYR PRODOMO
Imported from Munich, Germany
To learn about this beloved German coffee brand, including tips on where to purchase it in America, read Cleo's feature article by clicking here. This is an archived article and make take a minute to load.
---

FALL 2009
Cleo's Coffee Pick
AMARO GAYO
(Ethiopia)
roasted by
Gimme! Coffee
An exotic Ethiopian coffee sold by the outstanding roaster Gimme! Coffee, which takes pride in getting it to you expertly and freshly roasted. Visit the roaster by clicking here.
---
SPRING 2010
Cleo's Coffee Pick
FRENCH LAUNDRY
ESTATE BLEND
roasted by
Equator Estates Coffee
"Roaster of the Year"
~ Roast Magazine

This "chef's blend" was created especially for award-winning Chef Thomas Keller's world-renowned French Laundry restauant. The roaster is Equator Estates. Visit the roaster by clicking here.
---
Summer-
Fall 2010
Cleo's Coffee Pick
Kafe Lespwa
"Coffee of Hope"
from Haiti
To purchase this coffee
or learn more about it,
CLICK HERE.

To Read Cleo's
feature post on
this coffee, CLICK HERE
and scroll down

---
Spring-
Summer 2011
Cleo's Coffee Pick
Cops Coffee

COPS
COFFEE
"Midnight
Shift"
dark roast

"Your safest cup
of brew..."
---
Mocha Java
Blend

To learn
more or buy,
click here.
and...

Dancing
Goats Blend


To learn
more or buy,
click here.
---
Winter
2011 - 2012

Cleo's
Coffee Picks
from
Rooster
Brother

A boutique
roaster in
Ellsworth,
Maine
Costa Rica's
La Minita Estate

"The Lafite of coffees."
An amazing cup
of joe from


To visit the
Costa Rican farm
where this coffee
is grown,
click here...
To read more
about this coffee
or purchase it
for yourself,
click here.
and...
100% Kona
Coffee

Grade:
Extra Fancy

Grown by
Kona Star Farms
of Kona, Hawaii
To learn
more, click here.
NOW
SOLD OUT
---
Cleo's
Spring 2012
Coffee Pick
Brazil's
Poco Fundo
"Almond joy
in a cup"
Roated by
Seattle
Coffee Works
---
Cleo's
Summer 2012
Coffee Pick...
From the
"Coffee Goddesses"
of Maine
Bistro Blend
&
Fireside Blend
Roasted by
Carpe Diem
Coffee Roasters

To learn more
or purchase,
click here.
---
---
WIN COFFEE
---
---
---
FREE
READING
GUIDES

---