CLEO IS ON
FACEBOOK!


Click here to visit Cleo's Facebook Page. If you read her books, she will be delighted to have you "follow" her, which allows you to see, share, and even comment on her posts. While her Facebook "friend" list is presently full, she encourages you to "friend" her anyway, and she will make room for you as soon as she's able. See you there!
---
---
---
CONTACT
CLEO COYLE AT

CoffeehouseMystery(at)
gmail(dot)com
---
To learn
more or buy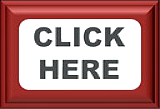 Or to find an
Independent
Bookstore
near you,

CLICK HERE.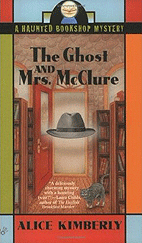 HAUNTED BOOKSHOP
MYSTERIES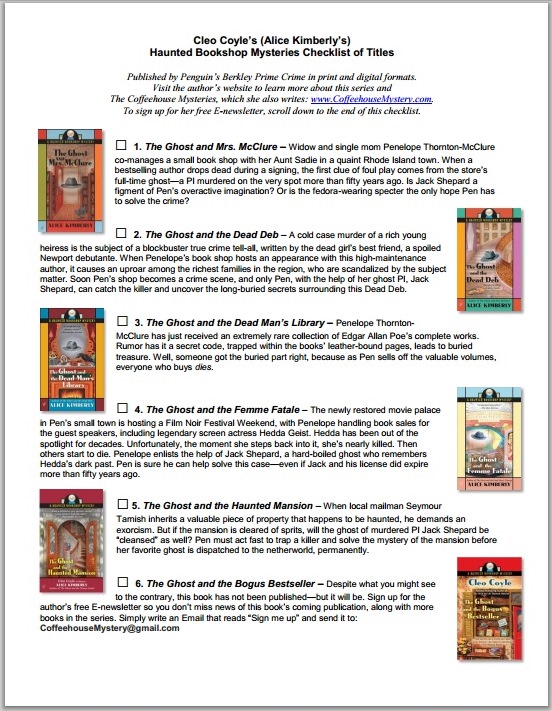 CLICK HERE
FOR FREE TITLE
CHECKLIST



---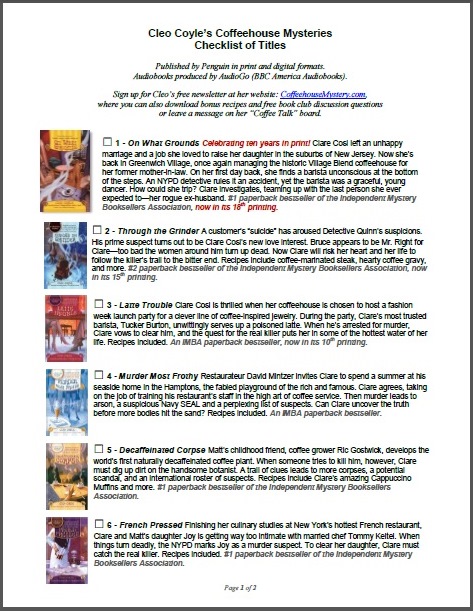 For a free checklist of the Coffeehouse Mystery books in order click here.
---
WHO IS
CLEO
COYLE?
**NEW**
FORBES
INTERVIEWS
CLEO COYLE


**NEW**

Click Here
to read the
Forbes
interview.
---
To read Cleo's
essay "Brewing
up Murder"
The essay
appeared in
the Quarterly
Issue of Mystery
Readers Journal
---
To read
Cleo Coyle's
WIki Entry
Click Here
---
PAST
INTERVIEWS
American
University
Magazine
interviews
Cleo Coyle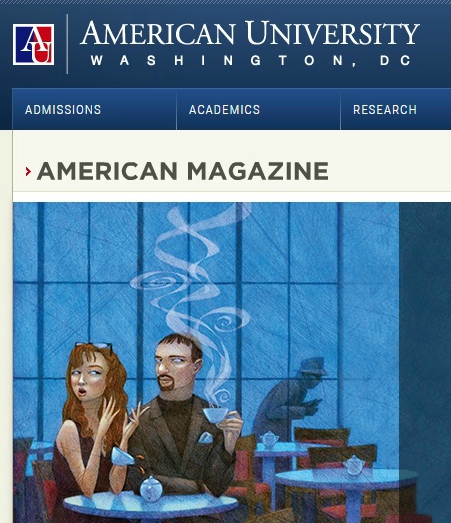 Another
Cleo Coyle
Q& A interview
with reader
comments
HERE
*
Older Cleo Coyle
Interview, Click Here
to read it at the
award-winning blog:
Lesa's Book Critiques

Older -
"Mists & Stars"
Cleo Interview
click here.
---
What is a
cozy mystery?
The Cozy
Mystery
List tells you!

Click here or
on the rocking
chair (above)
to learn more.
---

Gumshoe
Review
Interviews
Cleo Here
---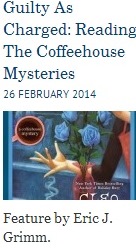 Sprudge.com
is the "most popular
coffee publication
on the planet."
Read Cleo's
interview with
Sprudge by
clicking here.
---
LIBRARY
THING
Hosted a chat
with Cleo.

Read it by...
---
A BLOG
POST FOR
WRITERS:
Click Here
& Read Cleo's
Guest Post
"Genre Blending
and Your Character's
Love Life"
at the
award-winning
blog:

Mystery Writing
Is Murder


---
Cozy Murder
Mysteries Blog
Interviews
Cleo
---
Fun Foodie
Book Resort
Interview
with Cleo
Here.
---

Cleo's Q&A
with the
Hartford
Examiner


---
FREE
READING
GUIDES

COFFEEHOUSE
MYSTERIES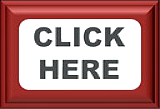 Book Club
Discussion
Questions
---
How to Clean
Your Drip
Coffee Maker...
Your best tasting
cup of java will
come from a clean
coffee maker!
*
*
For more coffee
tips, scroll down
this left column...
---
NYPD DET.
MIKE QUINN'S
BEAT
Click » NYPD: Official Website for New York's Finest
Click » NY Crime File (Daily News)
Click » Police Blotter (NY Post)
---
How to Make
Cuban Coffee
CLICK HERE
for video
* * *
For more
info on the
Moka Express
stovetop pot
used in the
above video,
---
*Starred Review*
~Library Journal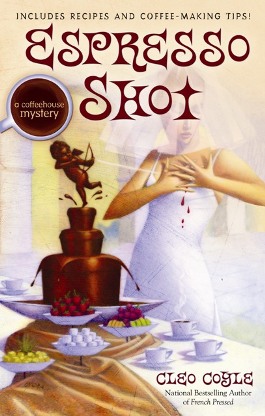 To learn more
or buy...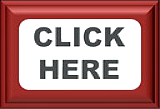 CLICK HERE
TO READ A
FREE EXCERPT
---
How to Make
Coffee in a
French Press
---
Cleo's Past
Coffee Pick was...
Kafe Lespwa
"Coffee of Hope"
from Haiti

Click here to
visit Just Haiti.org
and sample the
coffee for
yourself!
A
Good
Cause!
See more of
Cleo's past
coffee picks
by scrolling
down the
right column.
---
Publishers
Weekly
Bestseller
LEARN MORE
OR BUY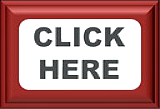 "Fun and gripping…"
~ Huffington Post


"Some of the most
vibrant characters
I've ever read."
~ Mystery Scene


"This one will keep
your cup
piping hot."
~ Kirkus




vif
---
AFFILIATE LINKS
This site is a participant in the Amazon Services LLC Associates Program, an affiliate advertising program designed to provide a means for sites to earn advertising fees by advertising and linking to Amazon.com. Your purchase, through these links, helps to support our writing work, while adding no extra cost to you.
---
Welcome to Cleo's
Coffee Talk
Message Board!
TYPE YOUR POST BELOW.
HIT THE SAVE BUTTON.

Readers are also welcome to
"Friend" or "Follow" Cleo on
Facebook by clicking here.


You can also e-mail Cleo at this address...
CoffeehouseMystery@gmail.com
jazzy egg * donut egg * haunted egg * secret egg
August 21, 2007
Don't drink coffee, but love the coffee house mystries
I do love your coffee house novels and wish you could write them faster. Just finished Dechaffeinated Corpse and it was great as usual. But I have to admit that I do not drink coffee (although I do love the smell) I am a tea drinker and I don't think that being a coffee drinker is a required for loving your books. Keep up the great work.
Carolyn
Cleo here. Hi Carolyn! Of course, I agree with you...
§
Jeopary question: "A culinary mystery series, set in Greenwhich Village, that is enjoyed by tea drinkers as much as coffee drinkers."
Jeopardy answer: "What is the Coffeehouse Mysteries?"
"CORRECT! Alex, tell her what she's won!"
She's won a big shout-out from Cleo Coyle!
§
You, go, tea-drinking girlfriend! More power to the Leaf Lover.
I actually enjoy a good cuppa tea, too. In fact, it's the only thing I can drink when I have a head cold (which is right now). I'm drinking American Classic, the only tea that is grown on U.S. soil, on a tea farm outside of Charleston, South Carolina.
I visited there recently and had a wonderful time. I'll try to post about it with pics in the future (FYI...I also took a cooking class on low country cuisine at a store called Charleston Cooks! and I'll write about that too soon and post a delish rice pudding recipe).
Click on the link above and it will take you to the Bigelow site for the Charleston tea plantation (Bigelow blends and distributes this U.S. tea). They have tours, too, so if you're ever down there, you should definitely check it out!
Happy tea drinking, Carolyn, and happy coffee reading too! Thanks for dropping by, come on back now, y'hear?!
Cleo Coyle
P.S. I made you a virtual pot of tea to enjoy for stopping by my virtual coffeehouse!
August 21, 2007
Ghost Mysteries
I got all 3 ordered so am waiting now for them to come & read them right away. Thanks for telling me about them.
Barbara
Cleo here.
You're very welcome!
August 21, 2007
EEEEEEEW!!!!! Cat Poo Coffee
Yuck, Yuck, Yuck ewwwww who would even try that out in the first place YUCK!!!. Hi Cleo, Chelle from Canada again. I just saw an article on AOL about this cat poo coffee someone came up with, apparently the "Enzymes in the cats' stomach break down the proteins that give coffee its bitter taste, thus enhancing its flavour and creating a brew many consider superb. A cup of the special civet cat or luwak coffee costs $50." !!!! 50 dollars a pop for a cup of cat poo coffee? Gawd that's gross. Lol thought you'd be interested. I'd send a link but I'm not sure where to send it.
Chelle of Canada's Coffee Coast
Cleo here. Hi Chelle! How are you! Of course I laughed out loud when I read your Cat Poo post. Yes, I've known about this coffee for a few years now, and I'll be writing about it in an upcoming CM (the one after French Pressed). I DON'T think I'll be featuring it as a "coffee pick" giveaway simply because I doubt too many people would consider it a valuable prize!!
Java Joy to you and drop by again!
Cleo
August 21, 2007
I really enjoy your books.
Hello, I just wanted to say I really enjoy your books. My two favorite things, coffee and reading, they go hand-in-hand. Thanks for a great and fun read. I'll be on the look out for the next book.
Christi - Bakersfield California
Cleo here. Hi Christi in Bakersfield, CA! You are a sweetheart to take the time and effort to post me about my CM books. I'm sorry it's taken me so long to reply -- deadlines rule my world. But it's worth it when I read posts like yours! Thanks again.
I hope you stop by the virtual Village Blend again to say hi! In the meantime, here's a cuppa sunshine, which you probably get more than enough of in Bakersfield (but belive me we can always use it in NYC)!
Warmest wishes,
Cleo Coyle
August 20, 2007
Coffeehouse Inspiration
Hi Cleo!! I just got back from a summer internship in NYC and I want to kick myself..Why you ask..because last summer I had read that you often go and write your books in an actual coffeehouse. So I was wondering what coffeehouse do you frequent for inspiration or for just a exhilarating cup of joe. I absolutely fell in love with the Village and went there as much as possible, and I'd love to stop by your favorite shop to experience a soothing latte. Love your books, and the recipe's too!
Lynsey
Cleo here. Hello, Lynsey! For goodness sake stop kicking yourself! I'm sure you'll come back to New York again. No kidding...doing an internship in another city is such a great experience. Now that you've lived and worked in NYC, I'm sure it will be no biggee for you to return for visits since you know how to get around and talk with the natives (that would be folks like moi).
Back in the day, I did an internship in Washington, D.C., and now whenever I go back for a visit, I'm always flooded with GREAT memories of the wonderful time I had there as an intern (and discovering that, for instance, the Rayburn House Office Building and the Depatment of Transportation had great cafeterias). But that's beside the point...my point with you is that I know you'll be back to my fair city and you'll love it even more!
A coffeehouse you might want to check out next time you come by is "Joe the Art of Coffee" in the heart of the Village (on Waverly Place). It's small and not marked by a large sign so go to their website to get the exact address. They serve one of the highest rated espressos in the city (and their latte art is very nice). Joe's head barista (Amanda) grew up in coffee-obsessed Seattle, trained at a coffee roaster in MA, and recently appeared on Martha Stewart's show to talk about and demo latte art.
If you're a foodie, don't miss the cheese and freshly made sandwiches at Murray's Cheese and if you want to try an outstanding brewed coffee made on a Clover machine (that drip brews every single customer's cup TO ORDER in 90 seconds), then go to Cafe Grumpy just north of the Village in Chelsea. I also hang out at Starbucks (Union Square, Astor Place, and Astoria, Queens), and like to roam around for new haunts, too. Oh, and if I want a romantic atmosphere in the evening with live music and a fireplace, there's always Caffe Vivaldi in the Village, too.
So there you go...that should get you started!
Thanks for posting Lynsey! I'm so happy you interned in my beloved Apple. I'm sure you'll be back to Clare's stompin' ground soon enough.
Warmest java wishes,
Cleo Coyle
August 19, 2007
love website
just a note to let you know i love your web site. the interaction with your fans is great. makes us feel like we have a friend in cleo coyle! i have written before so keep doing what your doing have turned 3 of my friends on to your fab stories. love l in jersey ( they all love madame& matt also)keep the coffee and mysteries coming!
Cleo here. Thanks I in Jersey....sorry it took so long for me to answer, was buried under deadlines. Ugh. But emerging momentarily to find so many great posts (yours included) that I can't help but feel inspired! Made some virtual cannoli** for you! Thanks for stopping by the virtual coffeehouse. Till next time...
Wishing you fresh java joy!
Cleo
** deep fried pastry filled with sweetened ricotta cheese (for anyone out there who's scratching the ol' noggin on that one).
August 16, 2007
More Coffee please
I just love your books. So does everyone I work with. I am an RN and work nights, so everyone knows we live on coffee. I can't stand the coffee the hospital provides, so I started bringing my own, with the grinder and making it at work and share it. I bring in Jamaica Blue Mountain every now and then, but then I started reading your books, and if a coffee is featured in your book, then I look for it and bring it to work too. The Ethiopia Harrar was a big hit. Everyone can't wait to taste what the next bag might be....
Kristin
Cleo here. Hi Kristin! What a GREAT post! I'm totally psyched that the books are giving you ideas for livening up the ol' community coffee maker at work. And you're a night RN, too, which (as you've said) means coffee-talk is right up your alley.
You've definitely come to the right URL address for hearing about interesting coffees. I'll be spotlighting a new blend or single-origin coffee every month (to coincide with the free coffee drawing from my newsletter subscriber list). So stay tuned for more Coffee Picks.
As you can see, I've recommended Magnolia Grill blend this month. I can also give you a quick additional suggestion from Starbucks (which is very convenient for many people). My husband and I are both in agreement that the Rift Valley Blend is a good cup. I'm not sure how long they'll be selling it, but it's a blend of African beans. Click here to read more about it at Starbucks online store. (Typically African beans are roasted medium and have floral and lemony notes with a bright juicy finish.) Not so with the Rift Valley. This blend is roasted dark and has notes of chocolate and pepper with a dry finish. But it's a bold, interesting cup and I liked it.
Thanks again, Kristin, for posting. You definitely made my day!
Wishing you frothy cappuccino dreams,
Cleo Coyle
August 14, 2007
You've got me hooked
I read Murder Most Frothy, then broke out my French Press - dusted it off - and had to go and get On What Grounds to start from the beginning. These are my first mystery in YEARS!!! I am from NY, and I love that your settings are very familiar to me - easy to imagine because I've been there. Although, I don't venture into the City very often now-a-days. But now I am thinking a trip is in order. I usually read romance and needed a change - a couple of the Coffee House Mysteries were on display at the bookstore so I went for it. But as the saying goes, a tiger can't change her stripes overnight, so I can't help but be interested in the whole Matt/Quinn aspect of the stories. But I can't help but wonder whether Jim will back? Although I think I'm pulling for Matt to change his wicked ways.
P.S. I just realized that I may not have given you my name - Tara. Sorry about that.
Cleo here. I loved you post, Tara! Dusting off the old French Press, eh? LOL! Also loved what you said about the books getting you to think about visiting the City again....per the Matt vs. Quinn debate, it's interesting that you're weighing in with..JIM RAND from MURDER MOST FROTHY. Ha! You're the first fan to do that, and I hear you, girl!
Sure, Jim is totally hot--an ex-Navy SEAL who isn't shy about acting on his attractions to Clare. But I suspect that he's also the sort of guy who'd make a lot of women run for cover. Certainly, when it comes to fiction, I say anything goes with dangerous men (why not!). In reality, I'm betting most women would be wary of Jim since he's such a love-em-and-leave-em type. But Clare's not at a point in her life where she needs a man to make her feel emotionally secure. So getting involved with Jim doesn't scare her.
It's gratifying for me to know that these are the first mysteries you've read in a while. My books are definitely character driven and that could be why you like them--at least I hope so because the characters are very real to me.
As I see Clare, reaching the age of 40 means finally knowing who she is and what she wants. After years of uncertainty, she's finally made that connection with the voice inside herself. At last, she trusts her own instincts. That's a lot of what her sleuthing is really about. She finally trusts herself. She's no longer afraid to be on her own in sketchy situations. In fact, she's curious to see just how far she can push the envelope.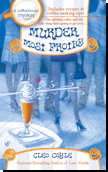 Clare WAS once scared of a lot of things, but because she's up for adventure now, she was definitely up for getting involved with Jim Rand in MURDER MOST FROTHY, so I'm very glad you liked that book.
In answer to your question, YES, keep reading the series, and you'll see Jim appear again in a future book. He gave Clare his card at the end of FROTHY for a reason. Clare will definitely be calling him again—when she finds herself in the middle of a very sticky situation and realizes Jim (with his commando experience) is probably the only guy who can help her out of it. But that particular story won't be happening for several books. Clare's got lots of other adventures to live through first.
Thanks for posting, Tara! I hope you enjoy the rest of the Coffeehouse Mystery series. I'm glad to count you among the growing group of readers who are discovering the CM books. Thanks also for taking the time and effort to post. And I hope you'll come back again to visit the virtual Village Blend!
--Cleo Coyle
P.S. To visit the official US Navy SEAL Website and see some of what Jim Rand's years in the military involved, click here.
August 14, 2007
Thanks
Thanks for the explanation, Cleo. I will definitely look into the "Alice Kimberly" books. They have to be great also Barbara
Cleo here. You are most welcome, Barbara! Thank YOU for taking the time and interest to ask. Come on back anytime to post.
--Cleo Coyle
August 14, 2007
RE: ITALIAN WEDDING SOUP & AUTOMATIC GRIND & BREW COFFEE MAKERS
I HAVE TRIED CANNED WEDDING SOUP AND FOUND IT WANTING. MY SON LIKES, TO MY SUPRIZE, LIKES THE SOUP. I HOPE YOU CAN CAN THE RECIPE SO THAT I CAN MAKE IT FOR HIM. YOUR INPUT IN REGARD TO AUTOMATIC GRIND & GRIND COFFEE MAKERS WOULD BE APPRECIATED. I HAVE BEEN CONSIDERING PURCHASING ONE. THANK YOU, JOAN
Cleo here. Hi, Joan! Thank you for visiting and posting. My sister has used an automatic grind and brew coffee maker for years and has been very happy with it. I grind my whole coffee beans in a separate machine from brewing them, so I asked her to comment since she has the personal experience. Here is what she said...
"I have a Cuisinart grind and brew machine, which has a grinder and a timer, so I can put my whole beans in at night and set the timer and then it turns on in the morning, grinds the beans, and makes a pot of freshly ground coffee. This machine has a cone type filter system (much better than the flat kind!)."
This is an expensive machine. It retails for about $100-150 dollars, but it sometimes goes on sale, too. A lot of people like this machine. There are comments (pro and con) on the Coffeegeek.com Web site. Click here to read those comments on the Cuisinart Grind and Brew machine.
I hope that helps you, Joan! As far as the Italian Wedding Soup recipe, it's wonderful that you want to make it for your son and show him how much better homemade soup tastes versus the canned version! You go, girl!
If you subscibe to my newsletter, then you'll recieve the Italian Wedding Soup recipe later this fall. I'll be publishing it online and also in a future Coffeehouse Mystery book, too, but I'll also be sending it out to my newsletter subscribers so they get it first and don't miss it online.
Thanks again, Joan, for stopping by my virtual Village Blend! Come on back and post again anytime!
--Cleo Coyle
August 13, 2007
Love your books
I've just ordered decaffeinated corpse and I'm looking forward to reading it soon.. Thanks, Joanna
Cleo here. Thanks, Joanna, for keeping me and my husband in coffee beans! (As you can imagine, we purchase A LOT.) I hope you'll drop back to tell me how you liked the book. Good reading!
--Cleo Coyle
August 11, 2007
Love it
Just finished the newest book and loved it like I knew I would. Ok am I missing something..........what "ghost" books?? Barbara
Cleo here. Hi Barbara! Thanks for your kind words about Decaffeinated Corpse - and thanks in the x-treme for supporting the series.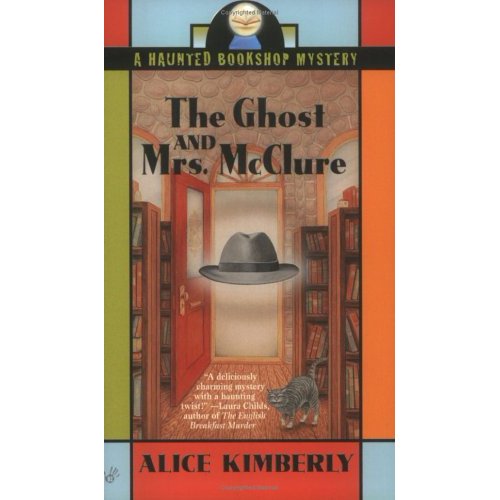 Here's the explanation on the ghost books...
(With apologies to frequent site visitors who've read about this already)...
I also write under the pen name "Alice Kimberly" and the Alice Kimberly series (the Haunted Bookshop Mystery series) centers around a small, independent bookshop in Rhode Island. A young widow who owns the shop solves murders with the help of the ghost who haunts her store. This ghost is the spirit of a private detective who was gunned down in 1949 in the building that the bookstore occupies. The gumshoe "Jack Shepard" is hard-boiled in the tradition of Chandler and Hammett while the young widow is much more prim, a more typical cozy heroine. One reviewer described it as Philip Marlowe meets a young Miss Marple, another reviewer described it as Mike Hammer (a hard-boiled detective written by the great Mickey Spillane) meets Jessic Fletcher (of Murder She Wrote). To read more, CLICK HERE and the link will take you to Amazon's page for the first book in the series, The Ghost and Mrs. McClure. There is lots of description via reviews and you'll get a sense of whether it's something you'll enjoy or not. There are three books so far in my "Haunted Bookshop" series: The Ghost and the Dead Deb (#2); The Ghost and the Dead Man's Library (#3); and a fourth coming next year, The Ghost and the Femme Fatale (#4).
Cheers!
And thanks again for reading and for posting. I hope you'll come back again to visit my virtual Village Blend!
--Cleo Coyle
August 10, 2007
Coffee is the essence of life...for me at least
A few years ago, I had a stomach condition and was unable to eat ANYTHING! Yes, I drank friut & veggie juices but one can really only do so much with a glass of juice or smoothie. It was the jolt from my cup of coffee, espresso or latte that got me through those dark, dragging days. It was the one thing that I could look forward to and truly enjoy when I was deprived of food. For me, coffee truly was (and continues to be) LIFE!
Cleo here. Holy crow, you and Clare would certainly get along like peas in a pod. LOL! I shudder to think about what you went through with your stomach condition (I hope you're feeling better these days).
Here's a very special VIRTUAL LATTE ART POURING JUST FOR YOU!
(Click on the pic and it will take you to more examples of great Latte Art at CoffeeGeek.com)
As far as what you're saying, I completely understand. And I think a lot of the CM readers do, too. I myself work very hard. Many weeks go by without two days off together. So I really look forward to my "reward" of a good meal, or a nice piece of cake, a muffin, or a really good pot of coffee. So many of us feel that way. We're stretched so far with work and/or kids and/or obligations that's it hard for us to take time for ourselves. That moment of having a cup of coffee, pot of tea, something that's a treat...it becomes a bit of a life vest in a sea of trouble (if you'll excuse the sappy metaphor)! Hard to describe it otherwise. To people who don't get it, what can I say? Go golf a few holes, take a drive in your Beemer, and enjoy your $55 lamb chop and $75 bottle of wine at the best restaurant in town. For the rest of us, I'm all for the little moment of luxury we CAN afford. A freshly made cup at our local coffeehouse (whether it's an independent, local chain, or Starbucks). I'm not a snob about Starbucks, by the way. I like them, too. And Dunkin' Donuts and even McDonald's gets my business too. If the local management is vigilant about giving you a fresh, delish experience, more power to them.
--Cleo Coyle
August 10, 2007
Hi Cleo, Here's a weird one for you!!
Hi Cleo Here's a strange problem for you. Have you ever heard of coffee making people sleepy? LOL no kidding! I drink a cup of coffee and it relaxes me to the point where I'm almost asleep. In the Quinn verse Matt debate, I prefer Quinn. Hmmmm wonder if that was a freudian slip I accidently typed Matt first when I was meaning Quinn lol. I probably prefer him because I've been with a Matt before and plus he's a manly man. My ex Fiance turned gay on me a few weeks ago!!!!! How does one deal with that? I also have a coffee question. What is a good coffee brand to start with as I don't have much money I can't afford Gourmet but I sure don't want store brand either lol. The only brand I think I've ever tasted is Folgers. I always liked that Jingle how did it go "The best part of wakin up is folgers in my cup" I think Randy Travis sang it.
OOPS! Hi Cleo I sent the wierd one message and as soon as I clicked Save realized I forgot to sign. "Chelle" Rochelle from Canada's Coffee Coast
Cleo here. Hi Chelle from Canada! Thanks for posting again. LOVED your message (weird or not). Okay, forgive me but my eyes popped on your "my ex-fiance turned gay on me a few weeks ago"! ACK! I'm glad he's an "ex"! I have an acquaintance whose new bride turned gay on him within the first two years of their marriage. So count yourself lucky that you didn't tie the knot. This is EXACTLY the point I touch on in the second
Coffeehouse Mystery, by the way (Through the Grinder). Clare sings up for an evening of Speed Dating. She doesn't actually do this to to meet anyone. She secretly wants to SCREEN the guys who are at the event because her grown daughter Joy has signed up for the same event, and she's worried about the kind of guys Joy is going to be meeting at one of these things. Anyway, one of the guys announces that he's a bi-sexual. His last companion was a man but now he's looking to date a woman. Clare basically tells him to "pick a team" because when you don't make that decision, you end up hurting people down the line. If you're gay, you're gay. If you're straight, you're straight. If you don't know (???!!), then for goodness sake figure it out, certainly BEFORE you marry someone!
To the Matt versus Quinn question, I liked what you said. Interesting! Certainly both men have things to recommend them to Clare, and I can see how each is attractive in his own way. All things considered, it's a nice dilemma to have, choosing between those guys!
As far as the store coffee, you should definitely let your taste buds do the choosing for you. Try different roasts. Some of the store brands are trying to lift their quality. Some offer darker roasts, some lighter. I'd say don't be afraid to try different brands. I don't drink much alcohol or smoke, so I splurge with whole beans from coffeehouses and online vendors. I haven't had store coffee in a long time. My mother used to buy all kinds, so I grew up on Maxwell House, Folger, and Chock Full of Nuts. I also have an elderly aunt who drinks Sanka (and that's been her brand for the last 40 years!)
The sleepy issues is understandable. One cup of coffee to a person used to ingesting caffeine is not going to jolt you much. Coffee is warm, too, like cocoa, and we often put cream in there, so I can see where it would be a good way to relax and yes even make you sleepy! I myself still get a JOLT from it. So I don't drink it very late in the day. One or two cups after dinner and that's usually it for me (unless I find myself deciding to write very late into the night, then all bets are off and a new pot gets brewed to aid in keepig me awake).
Nice to hear from you Chelle! Drop by the virtual Village Blend and post again anytime.
Cheers!
--Cleo Coyle
August 10, 2007
sign me up
one of my best memories of my grandparents when i was small my pop carrying in a fresh brewed cup of coffee to my nani while she told us stories then we got to have a cup with plenty of milk!love your stories please more info on your ghost story series. where do i sign up for e-mail linda lonetto@comcast .net thanks oh still hoping you will reunite clare with matt ttt ewed cup of coffee(not instant)to my nani
Cleo here. Hi Linda! I LOVE your coffee memory. Thank you so much for sharing that! Thanks also for weighing in on the Matt versus Quinn debate (for other site visitors, we're discussing reader preferences on who Clare should end up with! Even though the truth is, Clare's the one who is going to tell me who she wants to end up with. In a series like this one, believe me, characters start taking on a life of their own and tell the writer what to do next. It's a bit cosmic, but other writers will know what I'm talking about. The characters kind of take over! The best thing you can do as a writer is get the heck out of their way.
GHOST: I answered the question about the "ghost" series in some other posts...so if you want more info, just keep reading the messages. The first book in my other series is called "The Ghost and Mrs. McClure" and it's written under "Alice Kimberly" my other pen name. The name of the entire mystery series is called "The Haunted Bookshop" mysteries, and there are three books released thus far with a 4th coming next years.
As far as the newsletter, all you have to do to sign up for the newsletter is send a regular old e-mail to VillageBlend@aol.com Just say Sign me Up, and you'll be all set. Thanks for taking the time to post, Linda. I hope you'll come back again to the virtual Village Blend!
-Cleo Coyle
August 7, 2007
Love the books but not caffeine
Just finished THE DECAFFEINATED CORPSE and really enjoyed it -- as I did all the others in the series. Also enjoy the "ghost" books. Unfortunately, I have a problem with insommnia. But if Ric's Estate Decaf was real, I'd be first in line for it. Husband JJ and I passed by Greenwich Village last night and thought of the Village Blend. Marcia
Cleo here. Hi Marcia! Thanks for posting! I wish Ric's Estate Decaf was real, too. But here's the good news for you and so many like you who have problems with caffeine. There are real coffee industry people out there like Ric who are actually trying to create an organically decaffeinated coffee plant. I'll be posting the news here if and when someone makes the breakthrough and is able to bring those beans to market! Stay tuned! (And hi to husband JJ!!)
Thanks for dropping by and come on back anytime to post at the virtual Village Blend.
--Cleo Coyle
August 6, 2007
A Special Blend. . .
There really is nothing better than curling up with a fresh, hot cup of coffee and the latest Coffeehouse Mystery. Your books are a unique combination of mystery, a heroine I can relate to, and delicious sounding coffee drinks and bean blends!! Keep up your "special blend" of storytelling! Barbara from California
Cleo here. Hi Barbara from sunny California! What a wonderful post! Thank you sincerely for reading and supporting the series. It's fans like you who make it possible for me to keep writing. I'm thrilled that you enjoy spending time with Clare, Matt, Madame and the rest of the Village Blend crew. Thanks for posting. Come on back anytime to my virtual coffeehouse! (If you keep reading, I'll keep writing!)
--Cleo Coyle
August 6, 2007
Completely hooked!
One Christmas, my kids gave me a coffee grinder and my niece gave me On What Grounds. I've been hooked on the Village Blend Mysteries and fresh ground coffee ever since. This summer I discovered the haunted mysteries. (I also discovered the Stephanie Plum books and got a real kick out of Penelope selling a full set for beach reading 'cause that's why I bought them too.) When I'm not writing, I read, and lately I can't get enough of your books. Keep 'em coming! Alison
Cleo here. Hi Alison! Thank you so much for sharing that Christmas story. I love my coffee grinder, too. Okay, I know that sounds weird to some people, but I still remember the first time I figured out that I could grind my own whole beans and then tasted how fantastic and fresh the coffee was just doing that one thing. So, I hear you, girl!
I laughed out loud when you mentioned the Stephanie Plum reference in the Alice Kimberly ghost books. I LOVE Janet Evanovich. She is a fantastic writer and an amazing role model. There's nobody like Stephanie! It's a lot of fun to reference books and writers in the Haunted Bookshop mystery series--since it's a bookshop, I get to have fun with that. And Jack, too. He's A LOT of fun, I can tell you! Thanks again for posting, Alison. I'll keep 'em coming as long as you keep reading 'em!! Come on back to the Blend again, y'hear?!
--Cleo Coyle
August 5, 2007
Love both series
Thanks to the people at Mystery Lovers Bookshop in Oakmont, PA, I have enjoyed both series. I live in Lakeland, FL and get their newsletters and visit each summer. Your stories are great fun! In defense of decaf drinkers (who would love to drink the "real thing"), some diseases make caffeine a nightmare for us. Keep those great stories coming! Nancy
Cleo here. Hi, Nancy in super sunny Lakeland, Florida! It's great that you have such loyalty to a bookshop. Sending virtual pots of fresh brewed decaffeinated java to you and to the folks at the Mystery Lover's Bookshop in Oakmont, PA (my home state!) for turning you onto the Coffeehouse Mystery series as well as the Alice Kimberly Haunted Bookshop series. You know, I wrote Decaffeinated Corpse just for you--and your fellow decaf drinkers. Some day Ric's beans really will be a reality. People in the coffee industry are working hard to create a viable decaffeinated coffee plant. And when they finally do it, I'll be sure to trumpet the news on this site, so stay tuned. Thjanks again for your support of the series. It means the world to me. Drop back anytime to visit the virtual Village Blend!
--Cleo Coyle
August 4, 2007
i love these books and i love java
i have all of the books in your series and throughly enjoy the characters, the mix of mystery, reading and driking my coffee, my girlfriends all thrilled that i have become addicted to these wonderful stories. my dear mother bettina azzarello, raised in brooklyn, married and raised our family in california was so unique and so NY, i used to have cafe'au lait and eat wonderful italian cookies from local deli's or when her friend back east would send her a little pretty pink box of the real deal italian biscotte. i miss her very much and love the fact she introduced me into yummy coffee, expresso, and the finer yet simple pleasures in life, write on, we will read,thanks for the great books, valerie ferrari-haag
Cleo here. Hi, Valerie! By now, you kow that I enjoyed your post so much that I spotlighted it in my feature Blend article "Remembrance of Foods Past." If you didn't get a chance to read it, then just take a look at the article archives (click on the titles on the bottom of the Home Page). Thank you so much for sharing your wonderful memory! And thank you especially for supporting my Coffeehouse Mystery series. It's readers like you who make it possible for me to keep writing! My very best to you and yours...and I hope you'll back again to visit my virtual coffeehouse!
--Cleo Coyle
August 4, 2007
Who Is Mason Casey
Hi Cleo Good Luck with the new book. I need your advice on a strange happening in the East Village. Do you remember me writing to you about that guy I met in Tompkins Square Park? Well the strangest thing happened. The other morning Edgrr, (my trusty beagle) and I went out for a quick cappucino and a croissant at Le Gamin. Kerry was at "Comic Con", so I had nowhere that I had to be and could enjoy a leisurly East Village breakfast. Anyway, I was reading the personals in the Village Voice,(always very entertaining) and noticed an ad. "Mason Casey last seen in NYC"S East Village Tompkins Park Area". If you had seen him or have any info about his whereabouts, Please respond VV765. Cleo, that was the guy from Seattle that I met in the park. I knew there was something a bit strange about him .Should I respond? JCM
Cleo here. Hi JCM. I think you have a real mystery on your hands! If I were you, I'd respond to the Village Voice inquiry. But then I'm a writer, always looking for a good story! My bet is it's a jilted lover, looking for the guy that got away. Why do I say that? Because if it were foul play, you'd have read about it in the New York Daily News crime file! I hope Kerry enjoyed himself at Comic Con. That thing appears to get bigger and wilder every year! Thanks for stopping by again, JCM! You are most welcome to post anytime at the virtual Village Blend!
--Cleo Coyle
August 3, 2007
Call Me Madame!
Used to be I imagined myself as the young heroine in a novel...now @ age 66 I aspire to be Madame. Thanks for the new roll model!
Cleo here. God love you, girlfriend! You know, yours is the very best post I've read on this message board since it started. Bless your heart! I'm Clare's age, but I think you can tell that I aspire to be Madame, too. I think we all should!
Thanks very much for posting and for reading the series and admiring my beloved Madame. I hope she never disappoints you.
Come on back now and post again, y'hear?!
--Cleo Coyle
August 2, 2007
Hi Cleo
I love your books. I have read them all. My friends enjoy them also. I was wondering if you could post the recipies in your books on this web site. My friends keep borowing your coffee house mystery books from me, so I never have access to them. Thanks a lot. Keep writing. Wanda
Cleo here. Hi Wanda! I'm thrilled you enjoy my books and the recipes too. I'll be posting some of the published recipes as well as new ones on this site from time to time. Stay tuned! And tell your friends to check out the Web site. Who knows, maybe they'll even buy copies of their own. (It's a little known fact that when too many readers lend a writer's book, the writer's dip in royalties leaves her electric bills unpaid, and her laptop finally goes black.) *Grin* All kidding aside, Wanda, I'm really thrilled you like the books and recipes that much. Thanks for dropping by and taking the time to post. Come on back anytime (and stay tuned, new recipes will be posted over the coming months).
--Cleo Coyle
August 2, 2007
Cleo Coyle/Alice Kimberly--I've read them all so far!
Hello, Cleo/Alice! Since I am a bookstore haunter and a lover of a cup of good coffee at B&N, your books were a natural attraction for me. There is nothing better than to sip just plain coffee with a bit of half-and-half and begin to read my newest volume at my favorite bookstore. I don't know which series I like better. Your characters are so likable, even lovable. I like Clare, but my real favorite is Jack, the ghost, in your haunted bookstore series. I started reading your coffee house series and then, through the Internet, found out about Alice and the real folks behind the books. Anyway, I keep abreast of your publication dates, and head for B&N as soon as they are available. Thanks for writing such fun characters into such great reads! Ann from Tucson
Cleo here. Hi Ann from beautiful Tucson! I'm so excited that you like both series! I love writing them both, too (in collaboration with my wonderful husband). Jack, the hard-boiled ghost, is especially fun, isn't he? (For readers who are wondering Jack who? He's part of the series I write under the name "Alice Kimberly". Keep reading the posts on this message board and you'll see more info on that series, which is called The Haunted Bookshop mystery series. The first book is "The Ghost and Mrs. McClure." Anyway, Ann, thanks for the vote of confidence. It means a lot to me. I hope you'll drop back again and again to my virtual Village Blend!
I also hope I'll get to do a signing at a B&N in Tucson someday and I can meet you. Wouldn't that be fun? A coffeehouse tour/party at some of the cafes in B&N? If the series continues to grow, maybe it'll actually happen someday!
--Cleo Coyle
August 2, 2007
Coffee Expenditures Increase
Since I started the coffee mystery series, my coffee consumption increased. For Starbucks that is a good thing. I live in Seattle, so Starbucks is convenient and consistant, however, on a recent vacation in Arizona, I stoped by Coffee Plantation and they had some pretty awsome choices. Look forward to trying some of the coffee recipes soon.
Cleo here. Hey, there Seattle Poster! Wow, you live in a real coffee town. New York is just catching up to you guys. I've never heard of Coffee Plantation. I'll have to check them out! (I did find their Web site. So site visitors can click on the link to learn more). Thanks for the heads up, and thanks in the x-treme for reading and supporting the Coffeehouse Mysteries. You made me laugh about the increased coffee consumption. Ain't it the truth! LOL! People tell me it makes them crave a cuppa. No kidding, thanks for posting. Drop back to the virtual Village Blend anytime to tell us about other cool coffeehouses, blends or roasters you like, or anything else on your mind!
--Cleo Coyle
Click here
to learn more about the Coffeehouse Mystery novels.
To purchase the books,
click here
or
here
or
here
.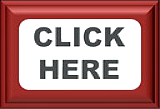 ---
Clare Goes to
Washington!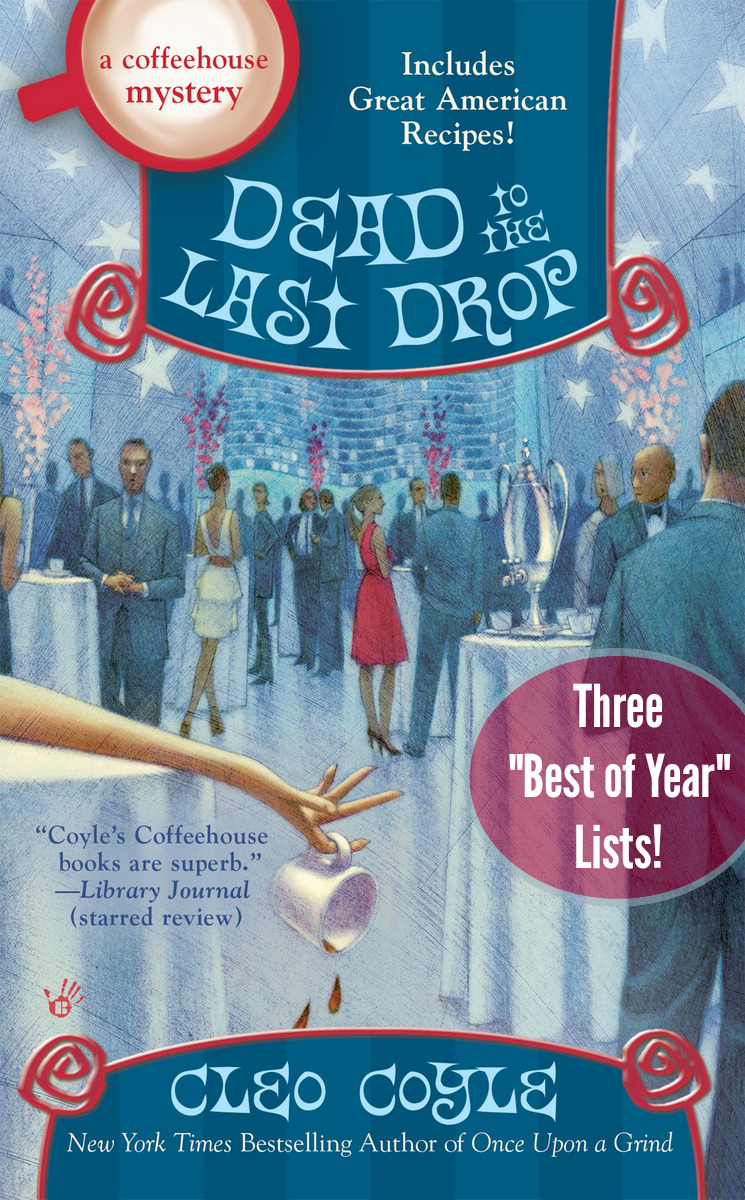 Dead to the
Last Drop
National Bestseller
3 Best of Year Lists!
TO LEARN
MORE or BUY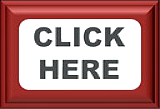 With an appendix of
amazing recipes...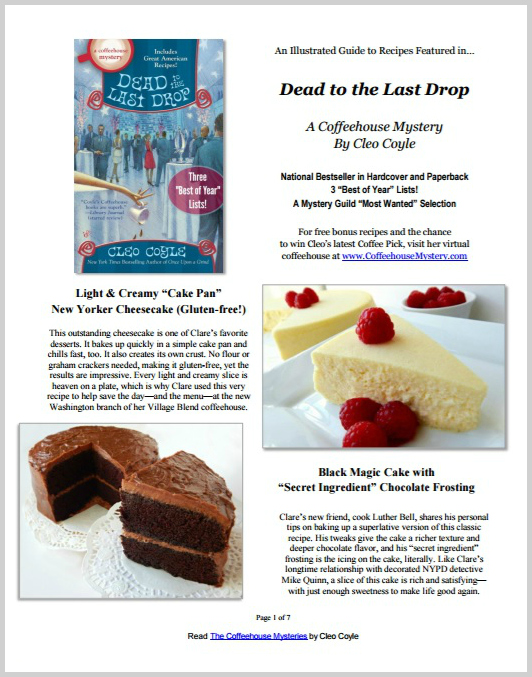 ---
FREE
READING
GUIDES

---
---
It's Official!

Now a
BESTSELLER
in paperback!
#3 bestselling
paperback mystery
at B&N Stores
Nationwide!

Cleo's 10th
Coffeehouse
Mystery
Murder
by Mocha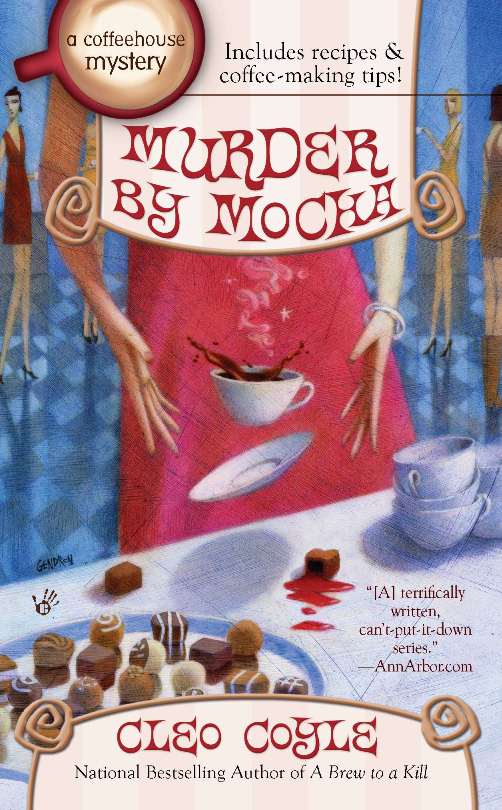 4 Year-End
Best Mystery
Lists!
This bestselling
hardcover is
now reprinted
in paperback,
and a...

TOP-10*
Mystery
Bestseller,
Nationwide!

*Barnes & Noble
*
Includes
Chocolate
Recipes!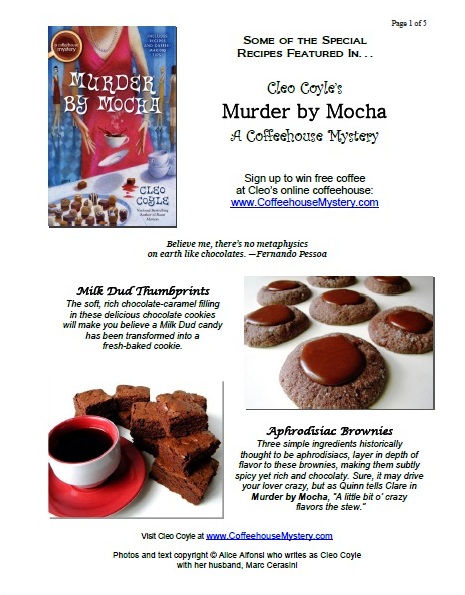 This is a
PDF document
and will take a
minute to load.
"...a tasty tale
of crime and
punishment
lightened by
the Blend's
frothy cast of
lovable
eccentrics."
~ Publishers
Weekly


---
Read
with joy!

~ Cleo
---
Arson leads
to murder
in...
ROAST
MORTEM

Named as a
"Favorite Book
of the Year!"
Reviewer's Pick
~ Bookreporter.com
Now a
National
Mystery
Bestseller!*
A deliciously
thrilling
culinary mystery
that's also a
tribute to
firefighters...

See some of
Roast Mortem's
featured recipes by
CLICKING HERE.


---
---
#1
Bestselling
Paperback
French
Pressed

#1 Bestseller
Independent
Mystery
Booksellers
Association
April 2008
---
Caffeinated
Cheers

to
COUNTER
CULTURE
COFFEE
"Top Innovator"
DETAILS magazine named Counter Culture Coffee as #1 (of North Carolina) among five industry "innovators creating coffees that have the complexity of fine wines."
I'm a big fan of Counter Culture and have written about them on this site and in my books. Read my Coffeehouse Mystery: French Pressed or scroll down this column to my "Coffee Pick" list.
Says Counter Culture: "We hope that such media coverage helps spread awareness that coffee can not only be an authentic, delicious food experience, but also a conduit for community, sustainable agriculture, and cultural exchange."
~ Cleo
---
A
#1 Bestselling
Paperback
Decaffeinated
Corpse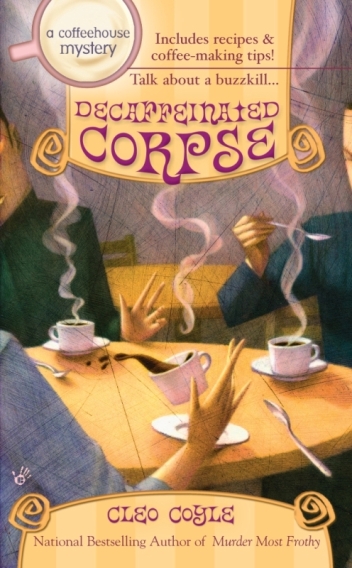 #1 Bestseller
Independent
Mystery
Booksellers
Association
July 2007
---
BULLETS
ON THE
BEACH
Murder
Most Frothy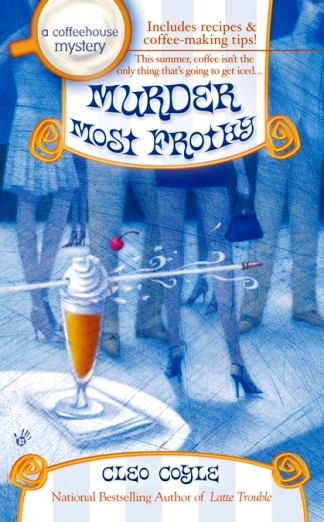 Murder Most Frothy
Cleo's 4th Coffeehouse Mystery gave her amateur sleuth, Clare Cosi, a summer job as a "coffee steward" at a posh new eatery in the Hamptons, the fabled seaside escape for New York's rich and famous.
When a co-worker is gunned down, she's on a case that leads her to strange clues on the beach, a rogue Navy SEAL, and a suspicious manager at the restaurant where she's pouring gourmet cups of joe...
NEW YORK
HAMPTON'S
COFFEE CO.
CLICK HERE to visit some real coffee peeps who work hard to give the Hamptons folks a great cuppa joe.
* * * * * *

And
just for fun...
Peter Pans

"Overstaying the
Hamptons Party"

New York
Times
Click below to read a past Times feature about "house shares" in the Hamptons and men who try to keep the postcollege "boys of summer" party going decades after their undergrad days. Shades of my character Matt Allegro? Hmm...
---
2010 WORLD
BARISTA
CHAMP
Mike Phillips, our U.S. Barista Champ, finished among the top 3 baristas in his first World competition, held in Atlanta, Georgia. The following year, in Olympia, London, he won FIRST PLACE and is now THE WORLD CHAMPION FOR 2010! Way to go, Mike!

How did he get there? "I really care about coffee and the entire chain of things, from where the coffee is grown and processed, all the way to the shop where it's prepared and the customers who enjoy it."
Mike worked at Intelligentsia Coffee & Tea when he won the barista competitions. To virtually visit the store, click here.
*
---
Java Master Gives
Tips on Making
the Perfect Cup
Italian-born Gennaro Pelliccia is responsible for the taste of the 108 million cups of Costa coffee sold in Britain each year. His policy with Lloyd's of London insures his tongue for 10 million pounds!

Click here to read Mr. P's tips on making a great cuppa joe...
FREE
EXCERPT!
for Cleo Coyle's
2nd series...
Haunted
Bookshop
Mysteries
THE GHOST
AND THE
HAUNTED
MANSION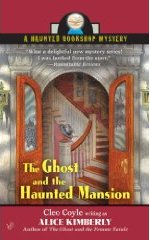 * National Mystery
Bestseller!
Independent Mystery
Booksellers Association
Meet the ghost at...
* A Fresh Fiction
Fresh Pick!
Click here
to read a
Free Excerpt

---
Want to Grow
Your Own
Coffee Plant?
Thanks to CM reader Linda for posting info about where to buy coffee plants and seeds. Click here to go to the coffee seed catalog page and scroll down. Look for the "coffea" plants listed in ITALIC alphabetically.
Coffea arabica
Coffea catura
Coffea kona
Linda also says: "Gurney's Plant and Seed catalog has small coffee plants for $8.95 each. Click here and look for item # 11295 for coffee plants."
---
WAKE UP AND SMELL...
THE CANVAS!
"I started painting with coffee because I wanted a cheaper medium that was accessible to me," says Filipino artist Sunshine Plata. A tube of oil paint costs at least 500 pesos ($11), while a jar of instant coffee is only around 150 pesos ($3). Click here to read more about Sunshine and her coffee art.
---
Caffeine
Myths
A New York Times story by the amazing Jane Brody examines coffee and health, click here to read more. (I learned a lot about the myths of caffeine!)
*
Click here to read about a Harvard study that shows coffee's link to preventing heart disease.
*
Click here to read how a cup of coffee a day may offset Alzheimer's disease.
---
In Memoriam
Sheena
2.21.2009
---
Ethiopian Coffee Ceremony!
Yes, like the Japanese with their tea traditions, the Ethiopians have a very special way of enjoying coffee. Click here to learn more!
---
Coffee Health News!
Coffee May Boost Memory
in Older Women
Women older than 65 who drank more than three cups of coffee a day — or the caffeine equivalent in tea — showed better memory retention than men, a French researcher reports. To read more in a Scientific American article, click here.
---
COFFEE NEWS!
Ethiopia announces commercial culitvation of low-caffeine coffee plants! Ric Gostwick's "dream" coffee from Decaffeinated Corpse is no longer fiction! To read about this amazing breakthrough, click here.
---
AND NOW
FOR SOME
OF CLEO'S
PAST
COFFEE PICKS...
---------------------------
SEPTEMBER '07
Cleo's Coffee Pick:
MAGNOLIA GRILL BLEND
With the tip of a chef's hat to the married couple who run Magnolia Grill, Cleo's coffee pick for SEPTEMBER 2007 was Magnolia Grill Blend sold by Counter Culture Coffee roasters. Visit the Counter Culture website by clicking here.
---
OCTOBER '07
Cleo's Coffee Pick:
GOMBE RESERVE
Cleo's pick for OCTOBER 2007 was Gombe Reserve sold by Green Mountain Coffee Co. and endorsed by Dr. Jane Goodall.
---
NOVEMBER '07
Cleo's Coffee Pick:
MAJOR DICKASON'S BLEND
In tribute to the late, great Alfred Peet, Cleo's pick for NOVEMBER 2007 was Major Dickason's Blend sold by Peet's Coffee and Tea. Learn the story of this delicious and popular Peet's blend as well as the story of its odd name by clicking here.
---
JANUARY '08
Cleo's Coffee Pick:
"YIRG" - ETHIOPIAN YIRGACHEFFE
Cleo's pick for JANUARY 08 was Ethiopian Yirgacheffe sold by Counter Culture Coffee Company. This coffee was also featured in Cleo Coyle's Coffeehouse Mystery: FRENCH PRESSED. Visit Counter Culture Coffee and order their coffee online by clicking here.
---
FEBRUARY '08
Cleo's Coffee Pick:
RWANDAN VILLAGE BLEND
Cleo's FEBRUARY '08 pick was Rwandan Village Blend, and outstanding coffee, sold by Land of a Thousand Hills Coffee Co. Visit their website to order online by clicking here.
---
MARCH '08
Cleo's Coffee Pick:
KENYA
Cleo's MARCH '08 pick was Kenya, sold by Counter Culture Coffee, Co. and Peet's Coffee. This coffee was also featured in Cleo Coyle's Coffeehouse Mystery: FRENCH PRESSED.
---
APRIL '08
Cleo's Coffee Pick:
PURPLE PRINCESS
Cleo's April '08 pick was the amazing "Finca El Puente" from a coffee in Honduras nicknamed "Purple Princess" by the coffee director of Counter Culture Coffee of Durham, NC. This coffee was also featured in Cleo Coyle's Coffeehouse Mystery: FRENCH PRESSED.
---
MAY - JUNE '08
Cleo's Coffee Pick:
PAPUA NEW GUINEA
Cleo's June '08 pick was the "Jamaica Blue Mountain" of the South Pacific. An award-winning coffee grown on the exotic island of Papua New Guinea (north of Australia).
---
JULY - AUGUST '08
Cleo's Coffee Pick:
SOLAR ROAST COFFEE
Cleo's July - August '08 pick was Solar Roast Coffee of Pueblo, Colorado, the only company in the world that roasts its coffee using solar energy! Meet Dave and Mike, the two brothers who invented this one-of-a-kind solar roaster, and learn how you can purchase their delicious coffees for yourself by clicking here or typing SolarRoast.com into your browser.
---
SEPT. - OCTOBER '08
Cleo's Coffee Pick:
JOE'S VIENNA ROAST
from the NYC coffeehouse:
Joe, The Art of Coffee
(Now "Joe Coffee Company)
The September-October '08 pick was Joe's Vienna Roast, sold by Joe, The Art of Coffee café in Greenwich Village, New York, recently named one of the best coffee bars in the country by Food and Wine magazine (and one of Cleo Coyle's inspirations for her fictional Village Blend!). CLICK HERE to visit Joe online.
---
NOV. - DECEMBER '08
Cleo's Coffee Pick
BOUCHON BLEND
This smooth, delicious coffee is the House Blend served at Bouchon Bakeries, which are owned and run by award-winning chef Thomas Keller. This coffee was featured in Cleo Coyle's 7th Coffeehouse Mystery: ESPRESSO SHOT. It is blended and roasted by Equator Estate Coffee and Teas, a women-owned company based in northern California. Click here to visit the company and try their coffees for yourself.
---
JANUARY 2009
Cleo's Coffee Pick
NOT KOPI LUWAK!
One of the rarest coffees on the planet, Kopi Luwak is also one of the most expensive. Kopi Luwak was also a featured coffee in Cleo's 7th and most recently released Coffeehouse Mystery: ESPRESSO SHOT.
---
SPRING 2009
Cleo's Coffee Pick
ROOSTER BROTHER's
LA MINITA ESTATE
(Costa Rica)
This outstanding single-origin bean is treated with love by the coffee team at Rooster Brother, a store for cooks housed in a historic Victorian building in Ellsworth, Maine. Master Roaster Gene (pictured) does a masterful job of bringing out the very best in this smooth, bright, delightful coffee with the kind of hints of citrus and berry usually found in high-quality African beans. Click here to visit George and Pamela Elias's Rooster Brother store online and order some of this superb coffee for yourself! (Thanks to Coffeehouse Mystery reader Bud Knickerbocker of Bangor, Maine, for suggesting it!)
---
MAY - JUNE '09
Cleo's Coffee Pick
BISHOPS BLEND
Creating blends is a culinary art, and I'm happy to report that the roasters for Bishops Blend have done a masterful job at creating theirs. The beans are roasted medium dark and the package came to me (via UPS) freshly roasted, beautifully oily, and smelling of chocolate. The coffee is perfectly balanced; and as it cools, the notes include a slight vanilla flavor and a touch of cinnamon. Even better, when you purchase a bag, a percentage of the money goes toward ERD, a charity that provides disaster relief around the world as well as enabling people in the poorest communities on our planet to climb out of poverty.
---
SUMMER 2009
Cleo's Coffee Pick
DALLMAYR PRODOMO
Imported from Munich, Germany
A beloved German coffee brand.
---

FALL 2009
Cleo's Coffee Pick
AMARO GAYO
(Ethiopia)
roasted by
Gimme! Coffee
An exotic Ethiopian coffee sold by the outstanding roaster Gimme! Coffee, which takes pride in getting it to you expertly and freshly roasted. Visit the roaster by clicking here.
---
SPRING 2010
Cleo's Coffee Pick
FRENCH LAUNDRY
ESTATE BLEND
roasted by
Equator Estates Coffee
"Roaster of the Year"
~ Roast Magazine

This "chef's blend" was created especially for award-winning Chef Thomas Keller's world-renowned French Laundry restauant. The roaster is Equator Estates. Visit the roaster by clicking here.
---
Summer-
Fall 2010
Cleo's Coffee Pick
Kafe Lespwa
"Coffee of Hope"
from Haiti
To purchase this coffee
or learn more about it,
CLICK HERE.

To Read Cleo's
feature post on
this coffee, CLICK HERE
and scroll down

---
Spring-
Summer 2011
Cleo's Coffee Pick
Cops Coffee

COPS
COFFEE
"Midnight
Shift"
dark roast

"Your safest cup
of brew..."
---
Mocha Java
Blend

To learn
more or buy,
click here.
and...

Dancing
Goats Blend


To learn
more or buy,
click here.
---
Winter
2011 - 2012

Cleo's
Coffee Picks
from
Rooster
Brother

A boutique
roaster in
Ellsworth,
Maine
Costa Rica's
La Minita Estate

"The Lafite of coffees."
An amazing cup
of joe from


To visit the
Costa Rican farm
where this coffee
is grown,
click here...
To read more
about this coffee
or purchase it
for yourself,
click here.
and...
100% Kona
Coffee

Grade:
Extra Fancy

Grown by
Kona Star Farms
of Kona, Hawaii
To learn
more, click here.
NOW
SOLD OUT
---
Cleo's
Spring 2012
Coffee Pick
Brazil's
Poco Fundo
"Almond joy
in a cup"
Roated by
Seattle
Coffee Works
---
Cleo's
Summer 2012
Coffee Pick...
From the
"Coffee Goddesses"
of Maine
Bistro Blend
&
Fireside Blend
Roasted by
Carpe Diem
Coffee Roasters

To learn more
or purchase,
click here.
---
---
WIN COFFEE
---
---
FREE
READING
GUIDES

---
*AFFILIATE LINKS
This site is a participant in the Amazon Services LLC Associates Program, an affiliate advertising program designed to provide a means for sites to earn advertising fees by advertising and linking to Amazon.com. Your purchase, through these links, helps to support our writing work, while adding no extra cost to you.
---